Editor's note: This story discusses and contains descriptions of suicide.
If you or someone you know is in crisis or experiencing suicidal thoughts, call or text 988 to reach the 988 Suicide & Crisis Lifeline and connect in English or Spanish. If you're a veteran press 1. If you're deaf or hard of hearing dial 711, then 988. Services are free and available 24/7.
WICKER PARK — By the end of 2020, scandal after scandal seemed to spell the end of former 1st Ward Ald. Proco Joe Moreno's political career.
Facing a tough reelection battle in 2019, Moreno was investigated for falsely reporting his car stolen. He lost his City Council seat to Ald. Daniel La Spata (1st), then was charged with multiple felonies. While that case was pending, Moreno was charged with drunken driving and reckless driving after crashing into eight parked cars on a Gold Coast street, police said.
Moreno pleaded guilty to charges in both cases. He was given "second chance" probation for the first case and community service and court supervision for the DUI.
Moreno said he's since received treatment for alcohol addiction, conducted community service and straightened out his life. He said the suicide of a close friend in 2017 led to his alcohol abuse and his subsequent legal and personal issues.
"I haven't had a drop of hard alcohol in almost two years," he told Block Club in an interview.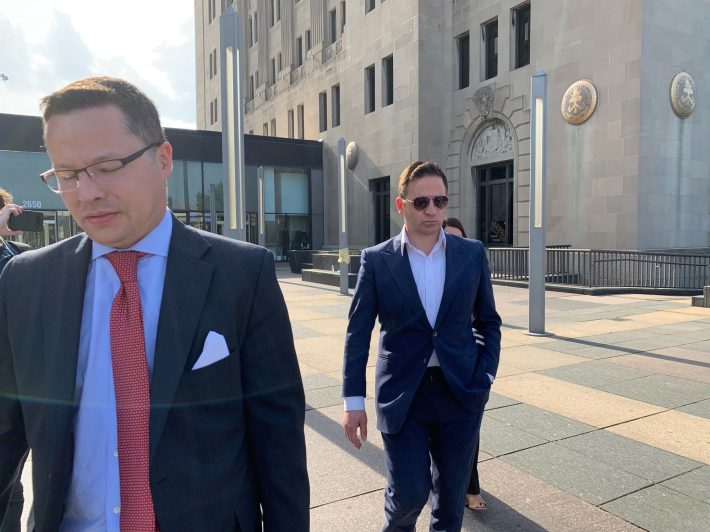 Moreno's also completed his probation, which was terminated almost a year early, according to court records and a spokesperson for the Cook County State's Attorney's Office.
Now, the former alderman is plotting his political comeback, hoping to unseat La Spata and return to City Hall.
"When I was alderman, we got a lot of great things done together, and I believe there's a lot of people … that have been comparing it to what's happened during the past three and a half years, or quite frankly, what's not been happening," Moreno said.
But for some residents in the 1st Ward — which includes parts of Logan Square, Wicker Park, Humboldt Park and West Town — Moreno's public scandals, plus what some call his domineering personal style, aren't easily forgotten.
Greg Nagel, a Wicker Park realtor and former leader with the East Village Association, a neighborhood group which often reviews local development proposals, said he felt Moreno did not always act on behalf of neighbors.
"I actually like Joe personally. … But I also feel that he broke the public trust. And I feel like he broke the public trust because he did many things that were outside what the neighborhood wanted," Nagel said.
Attorney Sam Royko and Logan Square Preservation President Andy Schneider are also running for the 1st Ward seat.
"I think that there are a lot of things that Joe could be good at. … I don't think public service and being alderman is one of them," said La Spata, the current 1st Ward alderman. "What we understand of his character while he was in office, I've got no reason to believe that has changed. I think there's no reason to go backwards in the 1st Ward."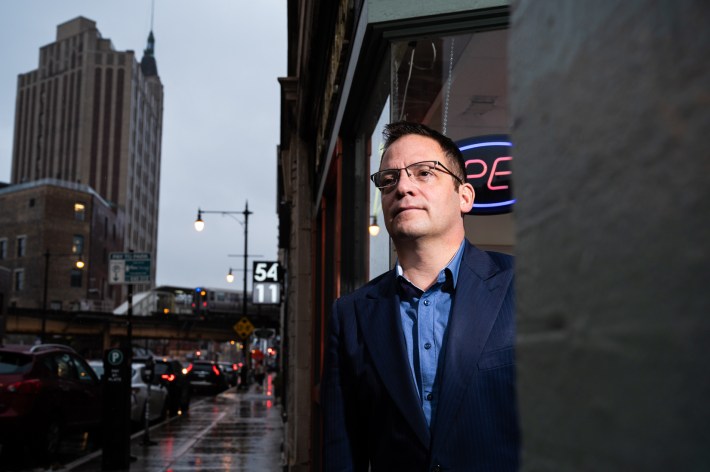 'I Lost That Last Election. Me.'
Moreno said he started abusing hard alcohol in spring 2017, almost immediately after the suicide of his friend and occasional 1st Ward laborer Joe Muntaner.
Muntaner had long been involved in local Democratic politics, and Moreno met him early in his tenure as alderman, he said. Moreno would occasionally pay Muntaner out of his political fund to complete tasks around the neighborhood, such as snow shoveling and graffiti removal, he said.
As Muntaner and Moreno got to know each other, Moreno said Muntaner opened up to him about his struggle with addiction, and he helped Muntaner get into a treatment program at a local hospital.
After that, Moreno said he and Muntaner talked frequently, often every Sunday.
But when Muntaner called Moreno on Mother's Day 2017, he was distressed and threatening to kill himself on the phone, Moreno said. Muntaner had been suffering from bipolar disorder and had recently had his medication changed, said his daughter, Gina Muntaner.
"He's telling me he's going to kill himself. And he's going on and on and on, he has a gun," Moreno said. "About 20 minutes of the phone call, my whole goal was just to find out where he was, because he's on his cell phone, so I couldn't get, he wouldn't tell me where he was. I tried the bad cop, the good cop. I tried every single angle I could. But I was unsuccessful and I heard the gun go off."
Muntaner, 58, was found dead from a gunshot wound to his head May 14, 2017, authorities said at the time.
Muntaner's suicide, Moreno said, "triggered me to start abusing alcohol and not seeking the proper health care that I should have. That led to some bad decisions … with the cases and whatnot. And so I lost that last election. Me. Because of what I was choosing to do," he said.
Gina Muntaner confirmed Moreno was on the phone with her father when he died, and she said she welcomes Moreno talking about her father's death publicly to raise awareness about mental health.
"I know Joe beared a lot of guilt for that situation," Gina Muntaner said. "It's Joe's story to tell. My dad just plays a part in his journey, his story, and I'm really glad that Joe is putting himself back out there."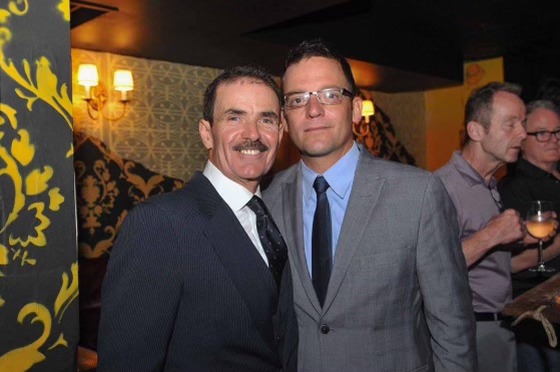 Ex-Girlfriend Speaks Out
Moreno's legal troubles started in early 2019, just weeks before that year's election.
News broke police were investigating if Moreno had falsified a police report that alleged his Audi was stolen in January.
Moreno, who had served as 1st Ward alderman since being appointed in 2010 by Richard M. Daley, then lost his seat to La Spata by almost 4,000 votes.
In May 2019, with only days left in his term, Moreno was arrested on felony charges of insurance fraud and obstruction of justice, with police and prosecutors saying he let Liliya Hrabar, a woman he was dating, get arrested in the car he loaned her after falsely reporting it stolen.
Text messages from the time show the couple was on good terms both before and after Moreno reported the car stolen on Jan. 4.
The day before he filed the report, the alderman wrote to Hrabar, "Meet at my house at 11 you can have my car," according to messages Hrabar shared with WGN at the time.
Almost four years later, Moreno maintains the situation was a misunderstanding. He also said he doesn't remember loaning Hrabar his car because he was "abusing hard alcohol."
"I didn't really drive my car much. I loaned it out all the time. … The misunderstanding was that I didn't remember loaning the car to her," he said.
In 2019, Hrabar sued Moreno for defamation, alleging Moreno damaged her reputation and cost her business clients.
The lawsuit is still pending, Hrabar said in an interview last week, and she scoffed at the idea that the car situation was a misunderstanding, calling that claim "nonsense."
"This wasn't [a] misunderstanding, it absolutely wasn't." Hrabar said. "I had the car for almost a month. How can you not know where is your car for a whole month? …And we keep talking and texting. How? How you do not know where your car is?"
Hrabar said the wrongful arrest led to her losing her license to work as an insurance broker in 2019. Hrabar is now working as a salesperson at a luxury car dealership in the Gold Coast, she said.
Still, she said she "only wishes him the best" in his campaign for City Council.
"The only thing that is bothering me, I don't think that's fair … that I lost my license, which I had for 14 years, because of him. And that's definitely what I wanted to deal with," she said.
Moreno pleaded guilty to two charges related to the case in July 2021 and received "second-chance probation," meaning his record would be cleared if he successfully completed his probation, according to the Sun-Times.
While that case was pending, Moreno was charged in December 2020 with drunken driving and reckless driving after crashing into several parked cars on a Gold Coast street, police said. Moreno spent a week in jail in January 2021 after Judge William Hooks called him an "extreme danger to the community."
Moreno said he continued drinking after he left office in 2019 until he checked himself into rehab after the DUI charge. He later pleaded to guilty to a DUI.
Moreno said he completed a seven-week "intensive outpatient" program through the Hazelden Betty Ford Foundation, which was virtual due to pandemic restrictions.
Moreno said he has stopped consuming hard liquor and told Block Club, "I don't drink beer." He did not say if he consumes other alcoholic beverages.
Moreno's legal troubles have raised questions over whether he can run for office again.
Illinois law prohibits people convicted of "a felony, bribery, perjury, or other infamous crime" from holding public office unless they've been cleared in some way, such as through a pardon or plea agreement.
Moreno said because he completed his probation under the "second chance" law, the charges were wiped from his record.
Block Club reviewed court documents showing the probation had been terminated "satisfactorily" in August. Cook County State's Attorney's Office spokesperson Tandra Simonton said the probation was terminated over prosecutors' objections.
Moreno said that doesn't mean he's off the hook for his past misdeeds, but legally he can move on.
"I still allowed myself to make bad decisions in my personal life. But all the charges were dismissed. … The charges with the woman and the car and all that, all that stuff, they were all dismissed," Moreno said.
1st Ward Foes
La Spata and Moreno have attacked each other's records for years.
Ahead of the 2019 election, La Spata criticized Moreno for what he called the former alderman's close ties to developers, and has said there was a "pay-to-play" system in the 1st Ward where developers who donated to Moreno got favorable treatment.
A Block Club analysis in 2019 showed many local developers who got zoning approval in the ward donated to Moreno's campaign.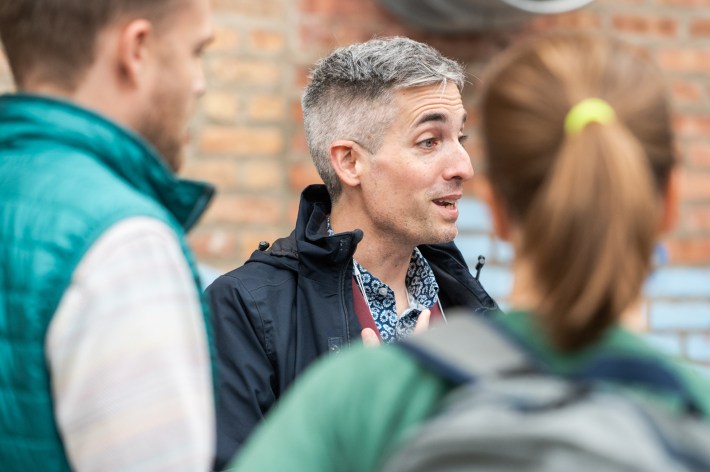 Moreno denied campaign contributions from developers influenced his zoning decisions and said he deferred to community groups on development issues more than "95 percent" of the time.
"Usually they'd have suggestions, right? It wasn't just yes or no. If I was just making decisions based on somebody that contributed to my campaign, I wouldn't have that thorough of a community process," Moreno said.
West Town neighbor Julie Sawicki, who sits on the West Town Neighbors Association's planning and development committee, said Moreno involved neighbors in development decisions.
"I thought Joe was a very effective alderman in terms of working with the community. … He respected the neighborhood associations in the neighborhood," said Sawicki, who said she had previously volunteered for Moreno.
But Nagel said when he was leading the East Village Association, a group Moreno has clashed with, there were occurrences of Moreno pushing through projects and liquor licenses for businesses without neighborhood approval.
The experience left a bad taste in Nagel's mouth, he said. He's supporting Royko in the race.
"I think that Joe at the time was a bit of a bully and willing to use intimidation to get his way," Nagel said. "I feel like once you've arguably broken the public trust, then maybe asking for the public trust again is not the right way to go. Just find other ways to contribute without, you know, holding elected office."
In May 2017, Moreno faced allegations of bullying Brian Strauss, owner of the building formerly home to the Double Door music venue in Wicker Park. The venue owners had been evicted that year after a prolonged legal battle with the landlord.
"You are not going to get a dime out of this building. It's going to be an empty building with no income for you or your family. End of conversation," Moreno told Strauss in a recorded conversation that was broadcast by CBS2 in 2017. "You can come back to me on your knees, which is gonna happen," he said.
Strauss then sought $9.6 million in damages in a 2017 lawsuit that alleged Moreno and the city violated his civil rights when the former Wicker Park politician initiated an inappropriate zoning change — a move that drove away a buyer of the building, Strauss said.
An appeals court ultimately sided with the city and against Strauss in 2021.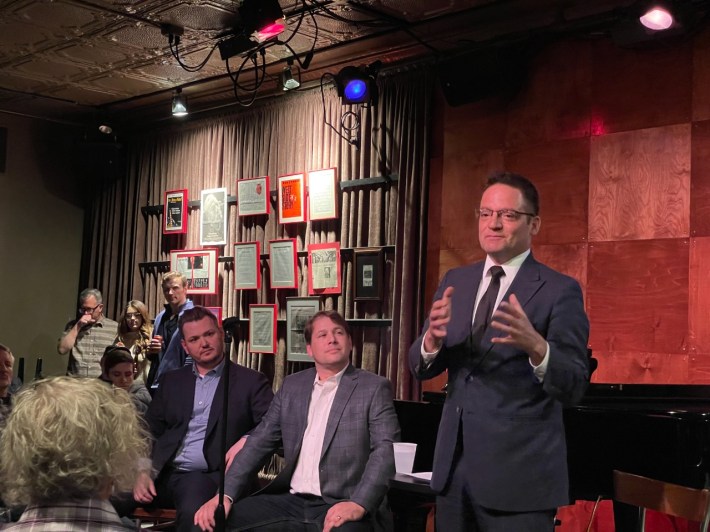 La Spata defended the zoning process he implemented upon taking office, which includes monthly meetings hosted by his office.
"I really believe in the transparent process that we've created. The fact that 1st Ward residents can be heard at the very beginning of the process, at the rough draft phase, at the very end of it," he said. "You can go on my website and literally see every single zoning change that we've approved, denied, considered."
Asked if he'd consider no longer taking donations from developers, Moreno said it'd be a challenging line to draw and raising money is a reality of running for elected office.
"OK, I don't take money from developers, then I don't take money from architects? I don't take money from builders that build developments? Do I take money from the union that's going to be employed? Do I not take money from unions that are going to be employed on that site? I mean, it just goes down and down and down and down. And there are some really good developers in our city. There's some bad ones, just like anywhere," he said.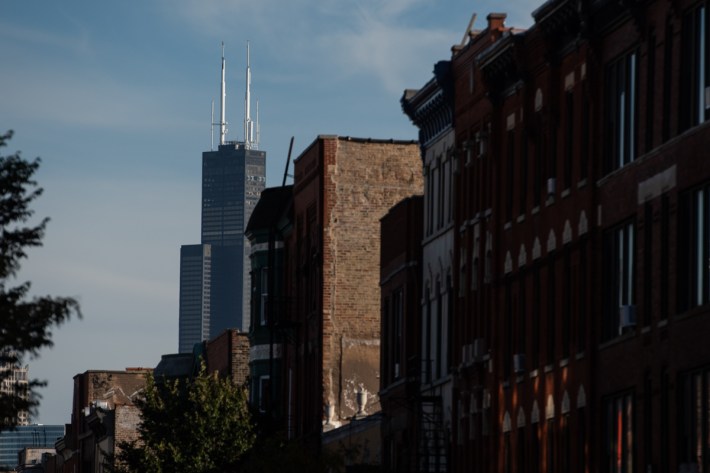 Cider Toss Dust Up
Moreno was linked to a bizarre incident earlier this month when a West Town man threw a cup of cider at La Spata during a bike ride event the alderman had organized to tour the 1st Ward.
Former candidate for state representative Bob Zwolinski took sole responsibility on Twitter, but La Spata and others said they saw Moreno with a crowd of people that included Zwolinski.
"Last night, I threw a solo cup of cider onto the street towards Daniel La Spata, and yelled an expletive at him, while he rode his bicycle down the street I live on. I want to make it clear that I acted alone in this; no one else was involved," Zwolinski tweeted the next day.
Moreno said he was at a barbecue at Zwolinski's house that night, saying he stopped by to get petition signatures from residents. But Moreno said he had nothing to do with the cider toss and didn't realize it had happened until after the fact.
Zwolinski "runs down the block. And the bike parade comes by, and he runs back and says, 'I just threw a cup of cider.' He screamed some expletive, but we couldn't hear what it was, it was too far away," Moreno said. "I had nothing to do with that. I didn't see it. I didn't suggest it. I obviously didn't do it."
La Spata at the time called the incident "jarring and classless." Since then, he's started campaigning off the incident, holding a Ciders With Daniel event last weekend.
For Moreno, the cider toss is the latest distraction as he hopes to shift the public focus away from his personal issues. The former alderman said he's proud of the work he did as alderman to preserve the former CHA-owned Lathrop Homes into mixed-use housing, as well as citywide measures such as an ordinance he sponsored that guaranteed paid sick leave in Chicago.
At a recent candidates forum, Moreno said public safety would be his "number one issue" if reelected to City Council. He said he'd propose a plan to divert funds currently used to pay unarmed security guards contracted by the CTA to instead hire more cops.
"There's going to be a certain percentage of people, just like any election, that aren't going to support me, and I get that, I'm not naive," Moreno said.
"I'm concentrating on what I have done as alderman, and what I will do."
Watch our "On The Block" TV show on The U, CW26 and MeTV.
Listen to "It's All Good: A Block Club Chicago Podcast":