CHICAGO — Grocery shoppers and workers at Jewel-Osco and Mariano's are hoping a proposed mega-merger will not raise already inflated prices — and worry the deal could take away neighborhood stores.
Local grocery powerhouses Jewel-Osco, owned by Albertsons, and Mariano's, owned by Kroger, would fall under one roof under a nearly $25 billion merger the companies hope to close in early 2024.
It's not clear yet how the merger would affect local stores, but Kroger and Albertsons would have to sell or close hundreds of stores nationally for antitrust reasons, analysts told The Associate Press. Some Albertsons stores would be spun off into a new company, according to a Kroger news release.
Other stores may have their names changed based on which brand is more popular in the community, a Kroger executive told investors last week, according to The Associated Press.
The deal is facing pushback from antitrust regulators and political opposition as the companies look to consolidate stores while food costs skyrocket, according to The New York Times. Critics fear less competition could spell grocery prices going unchecked.
Carlos Cornejo, who shopped Wednesday at the Mariano's at 3145 S. Ashland Ave., said he's having trouble keeping up with prices as-is, which "go up every time I come here." Cornejo, a longtime Bridgeport resident, said he remembers when the Mariano's was a Dominick's grocery store.
"This is nothing new. Companies are always doing the changes that benefit them. And I pay what I pay," Cornejo said. "Only difference now is this is happening while we're dealing with these rising prices."
Representatives with Kroger and Albertsons did not immediately respond to requests for comment from Block Club. But Kroger leaders said in a statement it will reinvest $500 million to "reduce prices for customers" and $1 billion to raise employee wages and benefits.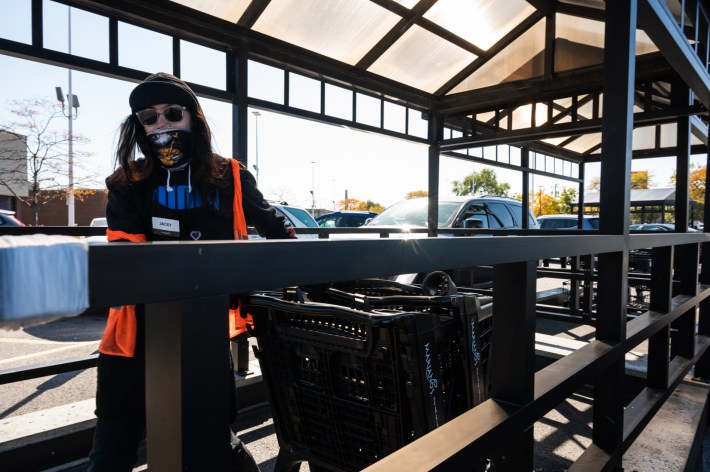 Local 881 United Food and Commercial Workers Union, which represents employees at Mariano's and Jewel-Osco, said in a Tuesday news release the potential merger would allow "dangerous corporate greed and power grabs to go unchecked."
"If allowed, this merger will create an unfair monopoly in the grocery industry, resulting in one company owning a $47 billion market share, in direct violation of anti-trust laws," union President Steven Powell said in the news release. It "will all but eliminate competition in some communities, which in turn will have severe financial consequences for Illinois consumers who are already facing rising prices of groceries … ."
Patrick Smith, a faithful shopper at the Jewel-Osco at 1220 S. Ashland Ave. on the Near West Side, said he wants the deal to "leave my store alone."
"I hope it doesn't change Jewel to Mariano's prices, which seem slightly higher than these," Smith said. "If they merge and don't change the name, I can live with the illusion. I just hope they don't change the products and the system. My favorite stuff is already here."
Other customers said Mariano's and Jewel-Osco are already similar and often have locations in the same neighborhoods, so a merger may not change much. Some weren't aware of the possible merger.
Nia Vargas bargain shops at Mariano's and Jewel-Osco, which have locations close to her home in Bridgeport, she said.
"It'll just be easier to go to one place that has everything, hopefully with reasonable prices," Vargas said. "Maybe they'll be a happy medium."
Lynda Teneyuque of Canaryville said she shops at Mariano's twice a week and at a Jewel-Osco near her work.
"They're comparable as-is," Teneyuque said. "For me, I just care about their locations."
Local 881 has already met with high-profile lawmakers — including senators Dick Durbin and Tammy Duckworth, Gov. JB Pritzker and Mayor Lori Lightfoot — to discuss the merger, according to its news release.
The Senate Judiciary Subcommittee on Competition Policy, Antitrust and Consumer Rights will "hold a hearing focused on this proposed merger and the consequences consumers may face if this deal moves forward," senators Amy Klobuchar and Mike Lee said in a Tuesday statement.
The committee has "serious concerns" about the merger and wants a grocery market that "remains competitive so that American families can afford to put food on the table," Klobuchar and Lee said.
Jewel-Osco shopper Ida Brantley, 71, said she's seen a lot of turnover in Chicago's grocery stores and remembers when "the grocers used to know everyone's name."
Grocery prices today are unmanageable, Brantley said.
"All of this comes down to the almighty dollar," Brantley said. "For us, it's hard to eat right now."
Listen to "It's All Good: A Block Club Chicago Podcast":