MCKINLEY PARK — About 20 Southwest Side residents and environmental activists gathered last weekend in McKinley Park to tour the neighborhood and reflect on environmental challenges in the working-class area.
Saturday's tour, organized by Neighbors for Environmental Justice, was intended to raise awareness of environmental racism and how some prioritize industry over marginalized people, said organizer Alfredo Romo. The group has long tried to raise awareness about pollution in the area.
A key focus for them: MAT Asphalt, which makes road-paving materials at a plant in the neighborhood. It's near a school and two warehouses that are set to be transformed into affordable housing and offices.
Spokespeople for MAT Asphalt have long denied it's a major source of pollution, while Neighbors for Environmental Justice have used the industry as an example of how they believe their neighborhood and its largely people-of-color population are subjected to disproportionate environmental burdens.
Earlier this year, environmental advocates attempted but failed to block the affordable housing project while it was being considered by the Zoning Committee, citing its proximity to the plant.
"Working people of color are disproportionately affected by industrial pollutants," Romo said. "With the recent approval of the affordable housing project, the city is allocating more low-income people in close proximity to a source of pollution."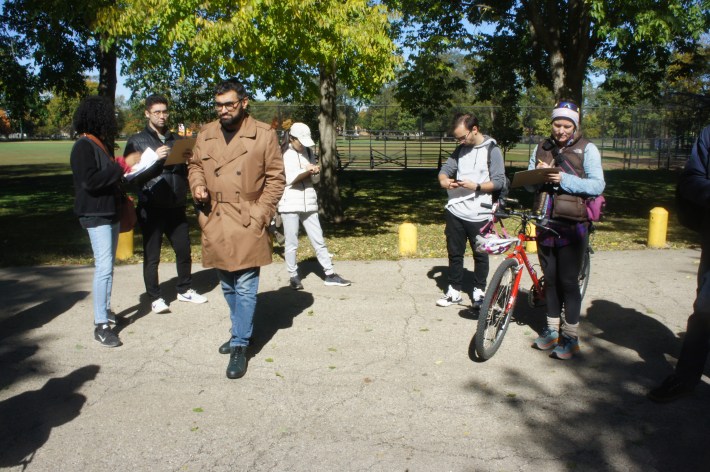 Census data shows 54 percent of McKinley Park residents are Hispanic, 21 percent are Asian and 7 percent are Black. More than 20 percent of residents live below the poverty line.  
This area — among other Southwest Side neighborhoods such as Little Village, Pilsen and Brighton Park — is embedded in the South Branch industrial corridor, which has been a hub for industrial facilities for decades, organizers said.
During the tour, participants read aloud neighbors' complaints to city and state agencies about the stench emanating from the asphalt factory, saying the people making the complaints reported feeling nauseous, having a burning sensation and smelling an invasive odor.
Substances emitted by the plant can be hazardous to people's health and can combine with other air pollutants to increase the chance someone will develop asthma, Romo said.
MAT Asphalt has denied it's a major polluter, with a spokesperson saying in a news release earlier this year the plant's emissions are "one-twentieth of the allowed regulatory limit — and less than 1 percent of the permissible level of particulate matter."
Environmental advocates and MAT Asphalt have debated that, with organizers saying MAT hired a third party to conduct the tests while MAT spokesperson Matt Baron said the Illinois Environmental Protection Agency monitored the eight-hour emissions analysis.
Tour organizers said their concerns go beyond that, though: They gave participants counters so they could measure trucks coming in and out of the area, which can lead to unaccounted-for pollution, Romo said.
Participants counted roughly 20 trucks around the area in 15 minutes.
"Even when facilities do not operate with toxic materials, traffic alone creates a concern," Romo said. "When these vehicles line up and idle, they can really produce a hot spot of air pollution."
Romo, who has survived cancer and who used to work in factories, has been living in McKinley Park for a decade. He founded Neighbors for Environmental Justice in 2018 after MAT Asphalt moved into the neighborhood while failing to notify the community in advance.
Romo said it is challenging to organize around environmental concerns in McKinley Park since many neighbors are working-class immigrants and don't speak English.
Jordan Parker, an environmentalist who came to the event Saturday, said it is frustrating that those environmental challenges have persisted for years in McKinley Park, and people should not choose between economic development and access to a healthy environment.
"Clean air shouldn't be a privileged asset," Parker said. "Having access to green space is a right for everyone."
Listen to "It's All Good: A Block Club Chicago Podcast":