EDGEWATER — One of Chicago's oldest funeral homes has closed and is set to be demolished as its longtime Devon Avenue home is redeveloped.
John E. Maloney Funeral Home, 1359 W. Devon Ave., closed this summer after 125 years. The funeral home on Devon Avenue is being demolished this week, set to be replaced by a building with stores and apartments, records show.
The namesake Maloney was born in 1876 and began working as an undertaker at age 21. He went into business with a partner, opening Mullen & Maloney in Wicker Park, according to the Rogers Park/West Ridge Historical Society.
Maloney bought out his partner and went into business for himself in 1897. It is unclear when the business moved to Devon Avenue. The building that housed the funeral business was constructed in 1934, according to a property listing.
The Maloney family decided to retire after generations of running the funeral business, said John W. Haben, owner of Haben Funeral Home & Crematory in Skokie.
Maloney Funeral Home's website now redirects to Haben's, who took on some of the clients, he said. The retirement had been planned for some time, Haben said.
A Maloney family trust sold the longtime funeral home location on Devon Avenue in July to developer and architect James Vari for $1.22 million, property records show.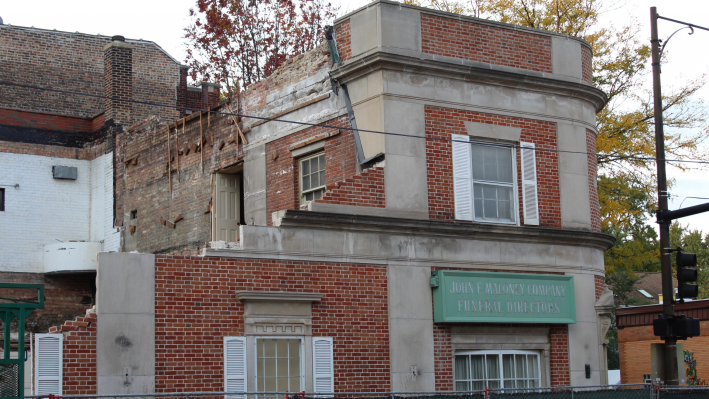 Vari has received a building permit to construct a four-story building with six apartments and ground-floor retail space, according to city building records. The construction permit was issued in mid-September, and a demolition permit was issued Oct. 7.
The sale also included Maloney Funeral Home's parking lot at 1334-38 W. Devon Ave., records show. It is unclear if there is any development planned for the parking lot. No building permits have been sought for that property, according to city records.
The listing billed the property as a prime development opportunity near Loyola University and the Red Line.
Maloney Funeral Home is the latest in a list of longtime Devon Avenue businesses closing this year.
Uncommon Ground, the next building over from Maloney's at 1401 W. Devon Ave., will close this month after 15 years in Edgewater. Its owners hope a new business can move in and continue to operate its award-winning rooftop farm.
The Maloney family could not be reached for comment. Vari, the developer, did not immediately respond to a request for comment Wednesday.
Listen to "It's All Good: A Block Club Chicago Podcast":