UKRAINIAN VILLAGE — A plan to add protected bike lanes and pedestrian improvements to a stretch of Augusta Boulevard in Ukrainian Village and West Town has been postponed, officials said this week.
Chicago Department of Transportation officials held a community meeting in June to announce plans and get feedback on the proposal, which would install a protected bike lane along Augusta from Milwaukee Avenue to Western Avenue.
The lane would be separated from parking and car traffic by concrete curbs, according to plans provided by the transportation department.
Under the proposal, the bike lanes would be installed next to the sidewalk on either side of the street, with parking moved outside the bike lanes next to car traffic.
At the time, officials were hopeful the project could be installed this year. But department spokesperson Erica Schroeder said Wednesday that because of material delays related to a quarry strike this summer, the city will start construction on the bike lane in spring.
"Certain projects ended up getting a little pushed back, but we're looking forward to getting started on the Augusta project in the spring," Schroeder said. It will "definitely be one of the first projects we get going once work picks up next year."
The proposal would also overhaul intersections along Augusta by shortening crosswalks for pedestrians and adding green painted bike markings through each crossing, according to plans shared at the June meeting. The speed limit on that stretch of Augusta would also be reduced to 20 mph.
"Augusta is a really important bike route in the network. … Milwaukee's the busiest street for biking in the city, so it's a great connection," Dave Smith, CDOT's complete streets manager, said in June. "Lowering the posted speed limit, protected bike lanes, pedestrian improvements — all of that will really result in a slower street, more accessible street, safer street."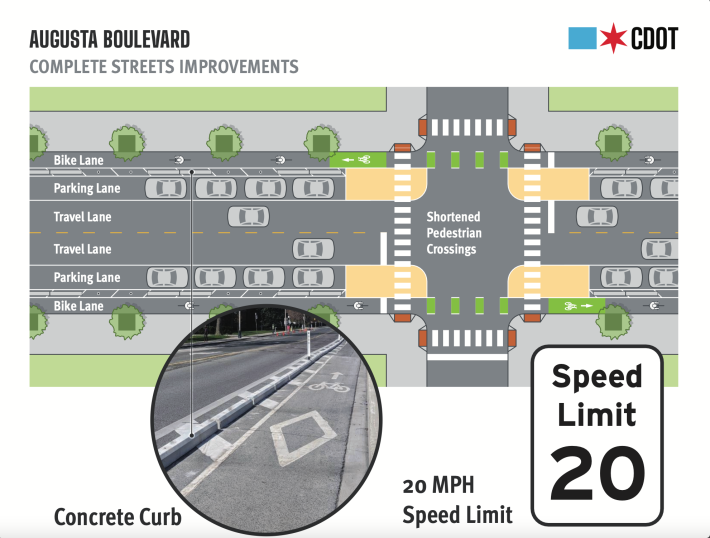 The Augusta bike lane proposal received mostly positive feedback, with several neighbors saying they avoid cycling on the street due to safety concerns.
When built, the project will intersect with the existing Wood Street greenway, a city-designated bike route that's long been a popular option for bicyclists looking to cut through West Town and Wicker Park.
In January, Ald. Daniel La Spata (1st) submitted a proposal to the transportation department to install protected bike lanes along a stretch of Wood Street in the neighborhood.
Approved through the 1st Ward's participatory budgeting process, the proposal would turn Wood from Grand Avenue to Ellen Street into a northbound one-way to accommodate the bike lanes.
But some neighbors have criticized the plan, which would create three one-ways in row: Honore Street, Wood Street and Hermitage Avenue. Others have praised the proposal, saying it would make biking and driving safer along Wood Street.
Officials have had provided few updates on the proposal since February. Schroeder said the department continues "to engage" with La Spata's office about project design, although she didn't have a timeline to share.
La Spata said Wednesday he supports the Augusta and Wood Street proposals and will notify neighbors once more updates are available.
Listen to "It's All Good: A Block Club Chicago Podcast":