HYDE PARK — Ernest Radcliffe is a father figure to thousands of kids on the South Side. 
He's also a football coach with a distinctively gruff voice and screeching whistle. 
"Yeah, he's loud," said Rastus Hill, one of Radcliffe's assistant coaches with his youth football program, Southside Wolfpack. "But the kids, they listen." 
Southside Wolfpack recently celebrated its 25th anniversary. The program has long provided helmets, shoulder pads and a safe haven for Black youth at its field in Jackson Park. Radcliffe and his wife, Tonya, watch over 220 kids, have youth football teams ages 6-13 years old and a national champion cheerleading team. 
Southside Wolfpack has helped thousands of kids go to college, produced hundreds of Division 1 athletes and sent three players to the NFL. 
Ernest Radcliffe dropped his whistle and smiled as he named some of the men who grew up wearing his black and red uniforms: former Kansas City Chiefs wide receiver Da'Ron Brown, former Michigan State University defensive end Demetrius Cooper and Radcliffe's own son, Kendall, a former minor league baseball outfielder. 
Former quarterback Greg Brown is now a chef, and Abdullah Pratt is in residence at the University of Chicago Medical Center, Radcliffe said. 
"I'm proud of all of them," Radcliffe said. "People I used to coach are starting to bring their children."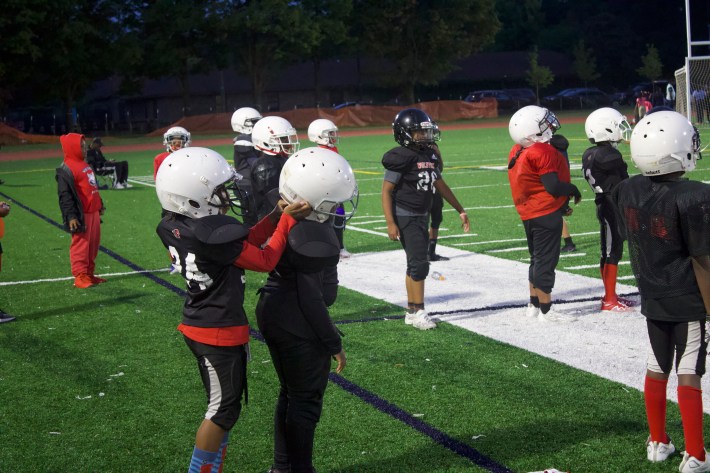 Radcliffe, 59, keeps a full schedule and "still outruns us," said 13-year-old Wolfpack defensive lineman Robert Wise. The coach has won two baseball city championships at Morgan Park High School, directs travel baseball program The Show and has led the Wolfpack since he started it in 1997. 
Radcliffe, a former star athlete from Roseland and the nephew of Negro Leagues legend Ted "Double Duty" Radcliffe, was drafted by the St. Louis Cardinals in 1986. He took a job at the YMCA after a career-ending injury in the minor leagues. 
"I was trying to find my way," Radcliffe said. "I came back home and first worked at the bank, and one day this couple came in and asked me to crunch their numbers. So I put my head down and dozed off. When I woke up, I told them I was praying on their numbers. 
"I quit the next day. Coaching came easy." 
The first Wolfpack team had 25 kids who responded to flyers around the South Side YMCA, 6330 S. Stony Island Ave., Radcliffe said. 
Among them: a running back named Greg Owens, a standout at Mount Carmel High School who went on to play at Northern Illinois University, Radcliffe said. From there, the program "just kept going and going," Radcliffe said. 
"We started winning, getting kids into college, and you can't stop then," Radcliffe said. "Getting called 'coach,' it's special. It was my calling." 
Some of Radcliffe's former players have come back to coach with him.
Daquan Caldwell, an EMT by day who coaches the 10-year-old team, said Radcliffe has always been "commanding, scratchy, kinda terrifying, and the person who always held me accountable." 
"You think he hates you one moment, and the next moment you know it's love. And it shows, because he's brought me back here to change the lives of others," Caldwell said. "We're keeping the tradition of the brotherhood going." 
Christopher Coutee-Bouyer coaches the 8-year-old team and remembers taking a friend to a Wolfpack practice as a kid.
"He has a way of challenging you, getting the best out of you, even without saying it," Coutee-Bouyer said. "He recognized we were competitive guys, and that activated something in us."
Wolfpack coach Charles Williams said he's worked with Radcliffe since 2001, and he's long had his own "effective style of leadership." 
"When he gets emotional, that's passion — for the kids and the sport. And that translates to them," Williams said. "They come here and get love and respect and learn how to love and respect others. This program saves lives."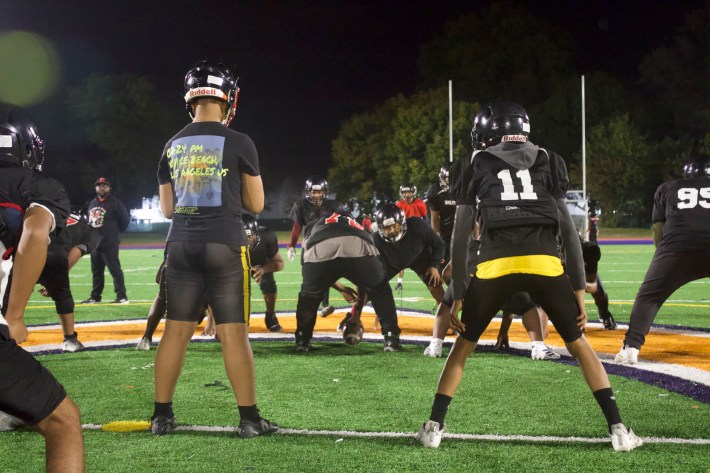 Over the years, the Radcliffes have paid people's bails, spoken at court hearings, helped people through teenage pregnancy and taken players into their home, Tonya Radcliffe said. 
At a recent practice, a young Wolfpack player came up to Tonya Radcliffe and told her he was hungry. 
"Things are always happening to these kids, and it's overwhelming. Sometimes you want to quit, but you can't, because we can be life changers," Tonya Radcliffe said. "We can't leave our kids falling." 
The Radcliffes, Mayor Lori Lightfoot and other community leaders cut the ribbon on a football field in Jackson Park in April. The field was funded by the Obama Foundation — and the former president stopped by for a Wolfpack practice. 
"I saw Obama come down that hill, and it was the highlight of my life. It made me think about how far we had all come," Ernest Radcliffe said. "We'll always be able to tell the kids now that the first Black President walked on their field."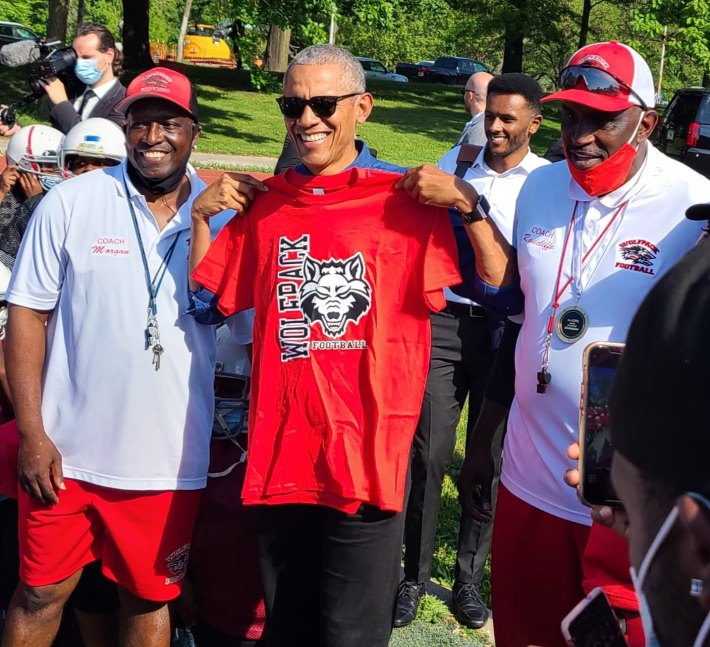 Radcliffe said he'll coach another 25 years if he can. 
"We have to keep pushing our young people. We tell them that they're Division 1 athletes, that they can go somewhere special. We can see it in them before they know," Radcliffe said. "And seeing hundreds of kids on this field, no worries, having a good time, that's the success."  
This season, Angelique Wilson has signed up to be "team mom" for her son Aiden's 10-year-old Wolfpack team. 
"He's all in on sports now. He's only 10, but he talks to his friends about going to UCLA," Wilson said. "This place has given my son some good dreams."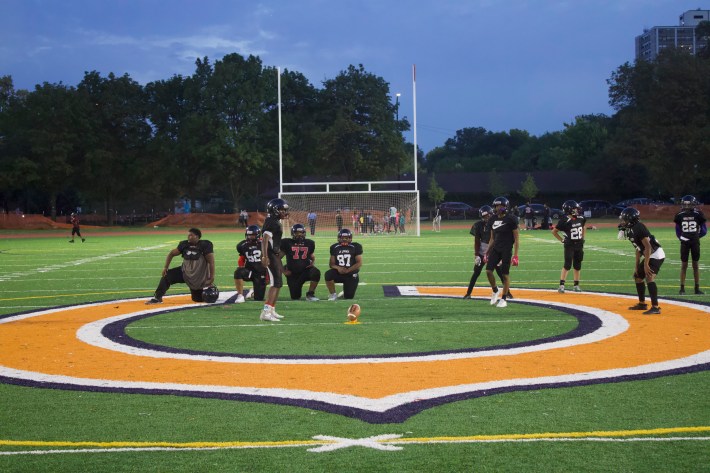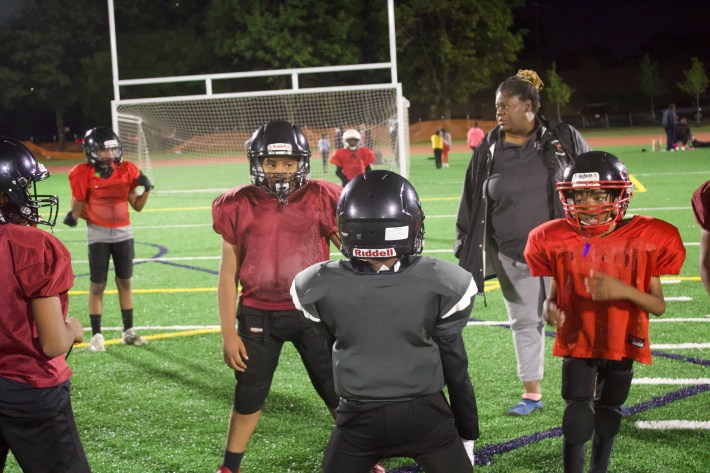 Listen to "It's All Good: A Block Club Chicago Podcast":