RAVENSWOOD — Northwest Side neighbors are pushing city officials to crack down on the owners of three deteriorating vacant homes they say are safety hazards for the area.
The homes at 4427 N. Sacramento Ave., 2858 W. Wilson Ave. and 2925 W. Eastwood Ave. have been abandoned for at least five years, neighbors said. One home was boarded up years ago and causes issues in winter because the sidewalks aren't maintained, residents said. Two others have partially collapsed, and all three have backyards that are overgrown.
The three homes are within a five-minute walk of each other.
Neighbors have reached out to public officials and put in 311 requests over the years about the homes. Some have led to city inspections, but there's been little to no followup from owners to maintain the homes, which pose safety risks, neighbors said.
The homeowners could not be reached for comment.
Some neighbors said they hoped the owners would simply sell the homes so new residents or developers could revive the properties.
"For the sake of the neighborhood and the kids that might get hurt trying to go in there, it would be best if the home had a viable resident," said Jay Mitchell, who lives near the Eastwood Avenue home. "It's weird it's just sitting there. Maybe the city can do something. But it's also private property. What can we do? It's a tough situation."
Now, Ald. Rossana Rodriguez-Sanchez's (33rd) office is pushing for a meeting with the city's buildings, law, housing and police departments to find a resolution, said her chief of staff, Veronica Tirado-Mercado. The office also is collaborating with Ald. Andre Vasquez (40th), whose territory will absorb part of Ravenswood Manor and two of the homes in the ward remap, Tirado-Mercado said.
No timeline for the meeting is in place yet.
"Our first concern is safety and sanitation for the neighbors living, working and playing in the area," Tirado-Mercado said. "The goal with these meetings is to achieve accountability to ensure that owners are maintaining the buildings and keeping them safe for the community while they work on filling the vacancies or any action they are to take with their property."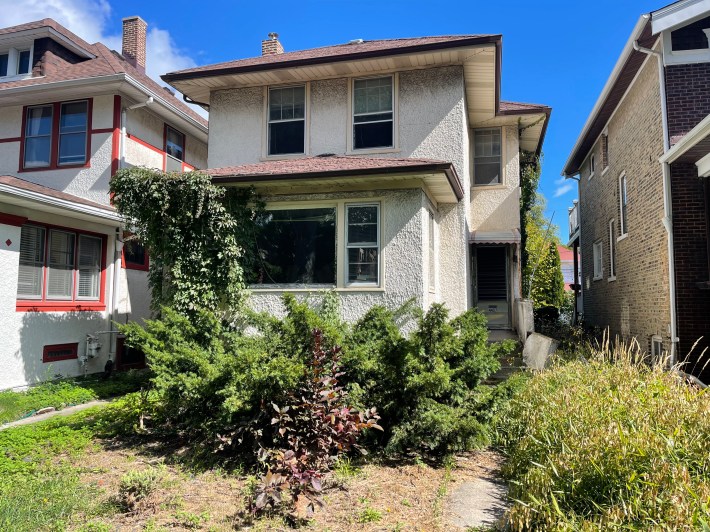 City records show multiple buildings violations and some court cases to impose fines on the owners.
The Sacramento Avenue home was inspected twice by the city in December and has depreciated 19 percent in value, Tirado-Mercado said. It failed two inspections last year and has six violations, including failure to maintain exterior walls, doors, windows and overgrown grass, according to city records.
Department of Buildings inspectors found the property to be vacant and secure and took no further action against the homeowner, spokesperson Michael Puccinelli said.
The Wilson Avenue home was boarded up in August 2021 after community complaints, Puccinelli said. It has a violation for failure to be registered as vacant, according to city records. The homeowner did not appear at an April hearing and was fined $540 for the violation, Tirado-Mercado said. No further enforcement is pending, Puccinelli said.
The Eastwood Avenue home has a garage with a collapsed roof, on which the buildings department will "initiate an enforcement action," Puccinelli said. After getting complaints from constituents, Rodriguez-Sanchez's office filed a 311 request to get the building registered as vacant, Tirado-Mercado said.
Puccinelli said the city is limited in what it can do when it comes to maintaining the homes.
"The city of Chicago is authorized to initiate legal proceedings to acquire privately owned properties in certain limited circumstances as prescribed by state and local laws," Puccinelli said. "The city lacks legal authority to make repairs to privately owned property, or to force an owner to sell their property."
The city's enforcement has not made much of a difference, neighbors said.
The owner of the Sacramento Avenue home "couldn't deal with the house" and left the area around five years ago, said neighbor Brian Robertson, a retired architect who's lived next door nearly 40 years.
The home has a front staircase collapsing under crumbled concrete, an overgrown backyard attracting rodents and wildlife, cracked windows with vines growing through them, gaps in the stucco and lights that are always on, said neighbor Andy Anderson, who bought a home next door in January.
The property has gotten more unsightly and could attract trespassers, Robertson said.
"It was a nice house, even though it was aging. There was no damaged stucco, no weeds," Robertson said. "Now it's just a total mess."
Anderson has filed eight 311 requests about the home, calling it "an active fire hazard."
"In the 10 months I've lived here, nothing has progressed," Anderson said. "It's a real shame. A big part of why we moved here is for the history of the neighborhood, how historic the homes are, so it's sad to see a property like this so neglected."
Neighbor Eric Gosh filed six 311 requests and called the alderman's office to ask about getting it boarded up, "because it still looks like someone just got up and left overnight," he said.
The corner home on Wilson Avenue was boarded up almost 10 years after the owners abandoned it, said Julia Smith, a longtime neighbor. One day the homeowners "just disappeared, locked the doors and left," Smith said.
The home has become "a hazard" because it's on a corner next to a children's playground, with snow not shoveled getting icy and treacherous, Smith said.
"The city needs to condemn and tear it down or force them to sell it," Smith said. "Somebody owns it, gets the grass cut, why they haven't already sold it I don't know. It's just mysterious."
Mitchell, the Eastwood Avenue neighbor, said he hopes the owner would sell the vacant home, fix it up or "even make it an Airbnb, which may not be great for the neighborhood, but would be better [than] it is now."
The back fence is broken and falling over, the garage roof has collapsed and there's a hole in an upper window and another one in the roof, Mitchell said. The homeowner pays a service to mow the front lawn, he said.
Mitchell reached out to the 33rd Ward office and 311 in May but nobody responded, he said. He messaged the homeowner on Facebook, asking him how he was doing and offering to fix up the garage himself, but he didn't get an answer, he said.
Neighbors said they were perplexed the homeowners — all in their late 50s or 60s, some with new listed addresses in Chicago — wouldn't move faster to sell the homes given appreciating property value in the neighborhood.
The average home value in one of Ravenswood Manor's major ZIP codes, 60625, has risen from $370,304 to $447,659 over the past five years, a Zillow spokesperson said.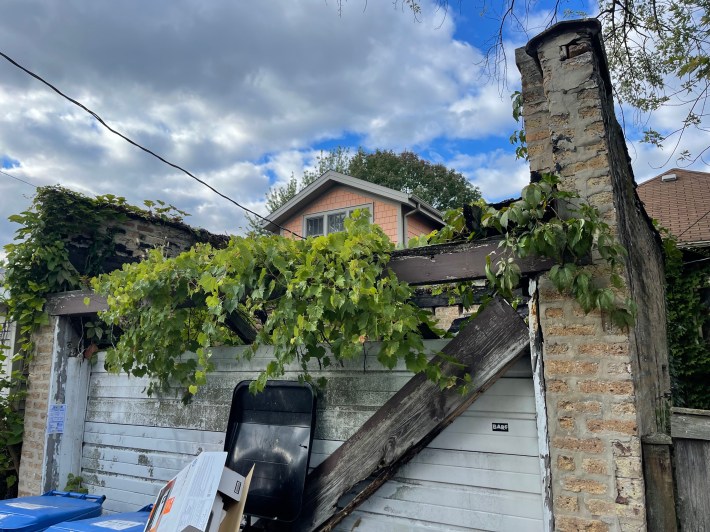 The homes stick out like sore thumbs, Gosh said. They've become hazards and local curiosities — and the city could have done more and done it earlier to enforce upkeep before it got to this stage, Gosh said.
"I'm not a fan of taking someone's house. I don't know their situation, but the way they're maintaining them is bad for the community," Gosh said. "That's when it becomes our problem."
Robertson said he hopes the Sacramento Avenue home is sold, even if it's to a developer who will knock it down for new construction.
A plaque in front of Robertson's house commemorates it as one of Ravenswood Manor's historic Centennial Homes. In his free time, Robertson is renovating his stairway and putting up new drywall, he said.
"People who live here care for the neighborhood," Robertson said.
Watch our "On The Block" TV show on The U, CW26 and MeTV.
Listen to "It's All Good: A Block Club Chicago Podcast":