PILSEN — Archdiocese of Chicago workers temporarily halted efforts to remove a beloved statue from a former Catholic church Pilsen neighbors fought years to save after an hours-long protest.
Former parishioners demonstrated outside St. Adalbert Church, 1650 W. 17th St., as workers moved to remove a replica of Michelangelo's La Pietà statue that sits in the former church. The archdiocese plans to move it to St. Paul Catholic Church in Pilsen, a spokesperson said.
For a month, residents have rotated shifts to watch over the statue, camping outside to block it from being removed. Tearful parishioners who started gathering before 7:30 a.m. prayed in Polish, English and Spanish, and cried as they appealed to police officers. At one point, faithful Bronislawa Stekala threw herself prostrate in the alley — rosary in hand — as she tearfully pleaded to preserve the church.
Other neighbors said they were willing to be arrested to keep the statute in the church building.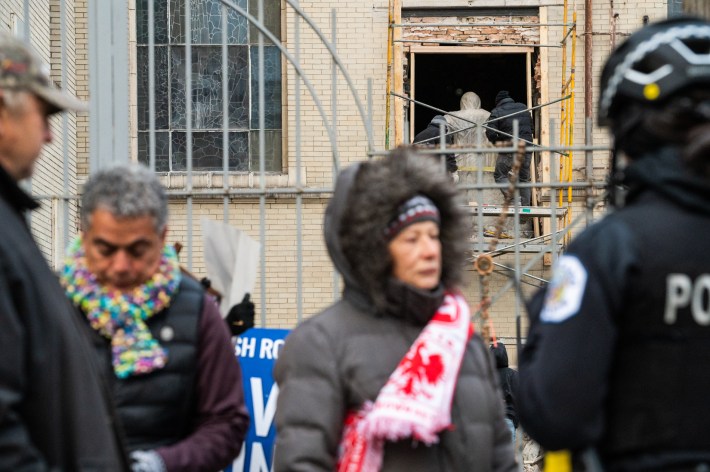 Residents and Pilsen Ald. Byron Sicgho-Lopez (25th) decried the process to remove the statue, stating city officials lacked the permits to do so. After hours of protesting, police Sgt. Sergeant Karczewski told demonstrators the statue would not be removed Tuesday and would be moved at later date.
Demonstrators began leaving around 11 a.m. when police officers and an employee of the city's Department of Buildings left the church. One car, which has been used to house the demonstrators during their weeks-long vigil, was ticketed for blocking the alley.
When efforts to remove the statue began in September, resident Dalia Radecki said she saw and heard drilling from her front porch and went over to ask what was going on. Workers told her they were sent by St. Paul Church to remove the Pieta, she said.
"[Parishioners] are the owners of this church, they're the ones that started this church," Radecki said. "The Pieta was donated. It belongs to them, not to the archdiocese. I think it's horrible what they're doing."
Sigcho-Lopez, who was on site during the protest, slammed the lack of communication between Mayor Lori Lightfoot's office and archdiocese regarding plans for the closed church.
"What we need, immediately, is a response from the archdiocese and the Mayor to sit down with the parishioners to discuss the future of St. Albert openly, transparently," the alderman said. "We need today, more than ever, a city that listens to the parishioners, to the community, to local officials."
RELATED: Pilsen Parishioners Camping Outside Former Catholic Church To Block Archdiocese From Removing Beloved La Pietà Statue
The protest grew more contentious when Pilsen resident Miguel Chacon confronted Sigcho-Lopez and called the alderman a liar, prompting some of the protesters to argue with Chacon.
"He keeps on advocating for stuff that's just not even remotely possible. The church cannot reopen and they are not going to reopen," Chacon said. "What is it that they're trying to save? If they couldn't keep the church open when it was a working parish, what is it that they're trying to save?"
"This needs to be redeveloped," he said.
Residents accused Chacon of being tied to the sale of the St. Adalbert's property, which he denied.
"I actually live in the neighborhood. I have no affiliation with the Archdiocese. I am not a real estate broker selling the property in any way, shape or form," Chacon said. "I have nothing to gain whatsoever by standing on an island of one here."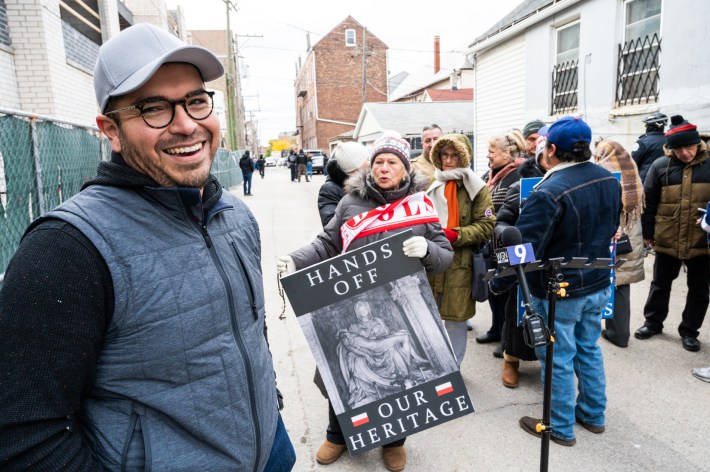 In 2016, the archdiocese announced it would consolidate six Pilsen churches into three, with St. Adalbert closing. The archdiocese cited changing demographics, low Mass attendance and a decline in the number of priests as reasons for the reconfiguration.
Polish and Mexican parishioners fought for years to save the church, which was founded in 1874 by Polish immigrants and built in Pilsen in 1912. The church hosted its final mass in 2019.
Blanca Torres, who was part of Tuesday's protest, is a lifelong parishioner and a member of the St. Adalbert Preservation Society. She said the group has tried to present numerous ideas to the Archdiocese about what could be done with the church site to keep it a sacred place in the community, but they were just met with "lip service."
"I think they missed on opportunities," Torres said. "I think there were viable solutions that could've been talked about, but [the Archdiocese] needed to be part of the conversation as well."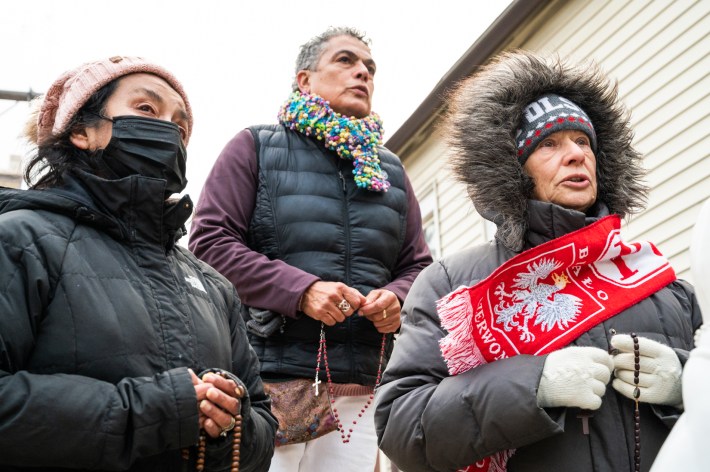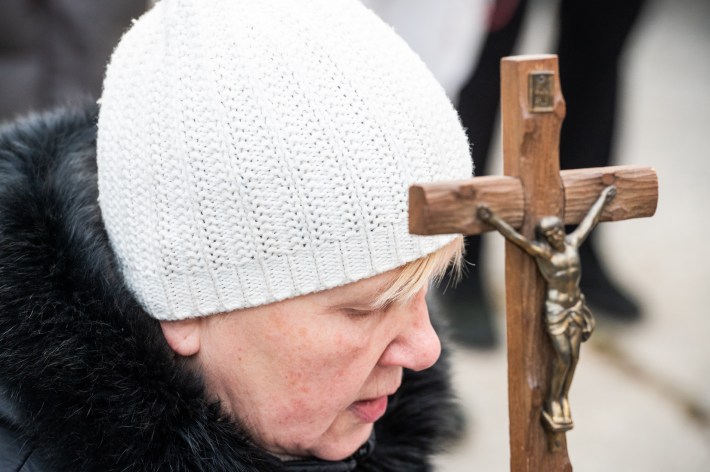 St. Adalbert's future
In the past four years, the Archdiocese of Chicago has twice gone under contract to sell the property — once to a music school and another time to a residential developer — but both deals have fallen through. 
The property — consisting of the sanctuary, rectory, convent, school and a parking lot — spans 2.1 acres in the heart of the changing neighborhood.
Sigcho-Lopez has been working to downzone the church site for years to force any developer to engage with Pilsen neighbors and St. Adalbert's former parishioners.
Sigcho-Lopez's ordinance passed the zoning committee in May, despite a representative from the archdiocese at the time saying it would likely sue the city if it passed. It was set to go before the next City Council meeting, but allies of the mayor blocked the vote.
Sigcho-Lopez subsequently filed a complaint with the Inspector General's office against Mayor Lori Lightfoot, accusing the mayor of interfering in the rezoning to help the archdiocese.
Sigcho-Lopez said the archdiocese should be seeking community input on how to repurpose empty churches rather than working "unilaterally" with developers and the Mayor's Office.
"But instead of that, we have this police presence — 18 police officers to remove parishioners," he said.
RELATED
Pilsen's Alderman Moves To Downzone St. Adalbert Church Site To Block Development As Archdiocese Threatens To Sue
St. Adalbert Parishioners Want To Take Over Their Beloved Church: 'The War Has Not Been Won Or Lost Yet'
In Pilsen, Churches Are More Than Sunday Mass — And Their Closures Are 'Devastating'
Parishioners Mourn 'End Of An Era' As They Say Farewell To St. Ann Church In Pilsen
Could A Plan To Convert St. Adalbert Convent Into A B&B Save Pilsen Church?
Century-Old St. Ann Church In Pilsen Sold, Developer Aims To Transform It Into Apartments Or Condos, Archdiocese Confirms
Watch our "On The Block" TV show on The U, CW26 and MeTV.
Listen to "It's All Good: A Block Club Chicago Podcast":