OLD TOWN — Old Town neighbors who have complained about noise and rowdiness from the area's nightlife are pushing for solutions after a fatal shooting at a rooftop bar over the weekend.
The shooting stemmed from a fight that happened at the J. Parker Rooftop Bar of the Hotel Lincoln, 1816 N. Clark St., police said.
About 1:20 a.m., Allen Cordayl, 35, got in a fight with another man, who fired a shot that hit Cordayl in his chest, according to police and the Cook County Medical Examiner's Office. Cordayl was taken to Illinois Masonic Medical Center, where he was pronounced dead.
No one was in custody Monday while detectives investigated.
Old Town neighbors discussed the shooting during a community safety meeting Monday evening at the Old Town Triangle Association's office with new Ald. Timmy Knudsen (43rd) and 18th District Sgt. Chris Schenk.
"I have a feeling a lot of you are here tonight because of what happened at Hotel Lincoln over the weekend," Knudsen said. "I think this is an opportunity with Sgt. Schenk being here to talk about what we know at this point in time and also some solutions on making our neighborhood and ward safer."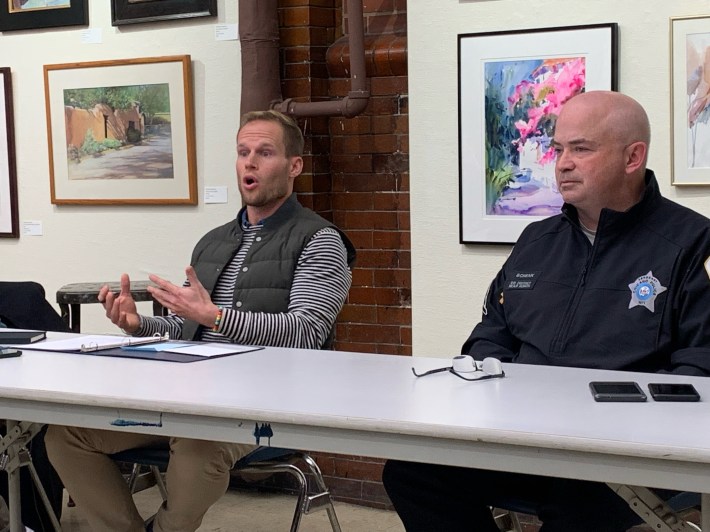 Some neighbors said they felt vindicated in their opposition to Hotel Lincoln's plans to expand its rooftop bar, which were presented during a community meeting last month.
"It makes us feel even more that we were absolutely right with being concerned about their expansion," said Susan Boggie, president of the condominium association for a building directly west of the Hotel Lincoln. "What happened Saturday night is unbelievably sad and tragic, and I feel so sorry for the families involved. But we knew that the direction this bar has been going that there was potential for a lot of threats to our safety."
The hotel was applying for a special-use permit to build a 1,700-square-foot addition to its rooftop patios that would increase the bar's capacity from 120 people to 180, hotel general manager Dan White said at the time. But the hotel has since put its expansion plans on hold.
In an email that was sent to neighbors who attended the community meeting, hotel attorney Andrew P. Scott said the rooftop expansion was paused "well before" the shooting happened.
"There had been a number of hotel capital projects that were under consideration," Scott said. "Ownership wanted to re-evaluate all of them before moving forward with any of them. One of the projects that was put on hold was the rooftop expansion."
But neighbors said issues with the bar's late-night scene had been growing before the shooting, and they were concerned about the bar scene near North Avenue and Wells Street moving further north into what they see as a quiet residential area.
"We already have a noise problem from the music that plays late at night from the [Hotel Lincoln's] current operation and with the neon lights that they have," Boggie said. "We're very concerned that the party scene at North and Wells is going to migrate further north with all of its unruly crowds."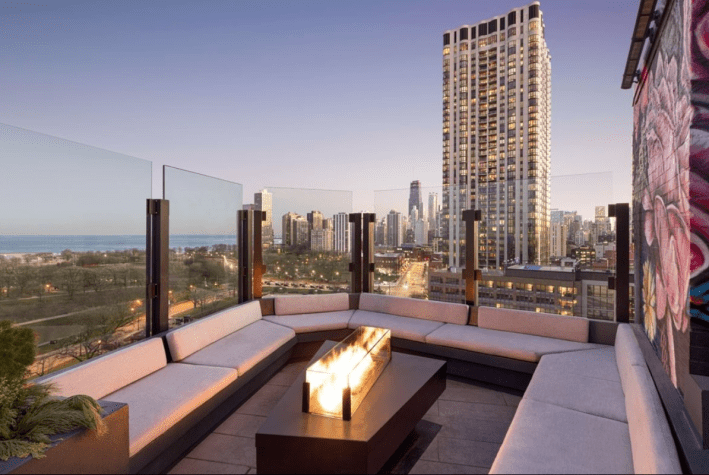 Neighbors said they want the bar to come up with a plan of operation — something that would have been required if it hadn't pulled its special-use permit application — that would address their concerns about noise, rowdy customers and community safety.
"They may not be expanding the roof, but they're still going to have the rooftop, and we're still going to have all those issues," said neighbor Shannon Waterfield.
Knudsen and Schenk declined to comment on the shooting as the investigation is ongoing, but the alderman said he would ask Hotel Lincoln's owners to meet with neighbors again and discuss strategies to address their concerns.
"Things like soundproofing were brought up in the meeting [last month] in a really productive way, [but] that plan of operation is no more because the project is no more," Knudsen said. "So I'm hearing from you that we want to have the conversation with them to make sure something like this doesn't happen again."
Representatives from Hotel Lincoln did not return requests for comment.
Listen to "It's All Good: A Block Club Chicago Podcast":