AVONDALE — A streetwear shop is the latest stitch in the fabric of Avondale.
Kone Ranger, a shop that sells "upcycled" one-of-a-kind pieces and screen-printed apparel and accessories with Western motifs, has opened at 2903 N. Milwaukee Ave.
The business is run by brothers Kone and Kevin Eiring. All of the garments are made and designed by Kone Eiring. Kevin Eiring handles the business operations, but also screen prints shirts and other garments with his brother.
The Eirings decided to take their business to the next level and open a permanent brick-and-mortar after a pop-up in West Town earlier this year. The Avondale shop opened in June.
RELATED: Kone Ranger Pop-Up Brings Custom Streetwear, Screen Printing Studio To West Town
Kone Ranger is built on Kone Eiring's passion for fashion design. The 25-year-old learned to sew at a young age and experimented with screen printing in high school and in college at the University of Illinois at Urbana-Champaign.
"I had always known that I wanted to work in fashion, but I didn't know how I could do it in an unique way and an artfully minded way," Kone Eiring said.
"With my senior thesis, I began to hone in using 'upcycled' garments, so finding garments all over the place, bringing them in and altering them with my photography and hand painting in an effort to create one-of-a-kind garments the most sustainable way possible."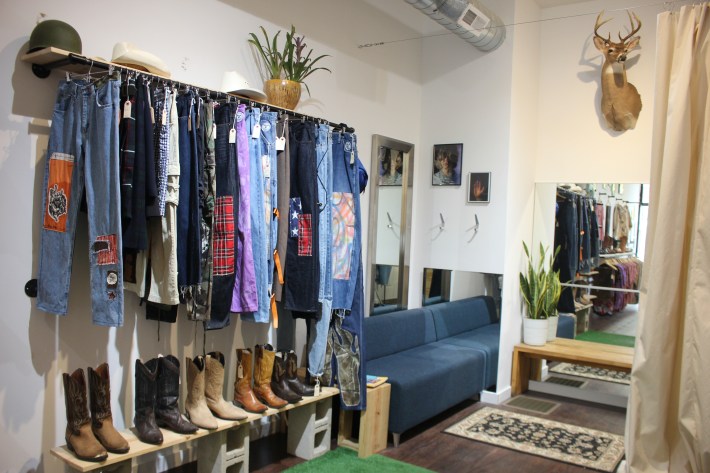 Kone Eiring launched Kone Ranger in 2019 as an online brand when he moved into his brother's apartment for the summer and starting selling his pieces at a local store.
When Kevin Eiring, 28, lost his sales job during the pandemic, the two teamed up on the business and landed a three-month-long pop-up on Chicago Avenue through a West Town Chamber of Commerce program that gives short-term leases to rotating small businesses.
The venture was a success and gave the brothers the confidence to strike out on their own, they said.
"The pop-up shop definitely was a wonderful dry run. It was great to get our feet wet," Kevin Eiring said. "After that, Kone and I looked at each other, and we were like, 'We're not going back into our apartment. We're going to keep pushing this, we're going to find our own space.'"
Like the pop-up, the Avondale shop is filled with an eclectic mix of Kone Ranger pieces, from "upcycled" denim and hand-sewn bucket hats to vintage cowboy boots and screen-printed hooded sweatshirts.
Kone Eiring draws inspiration from the West, a region he's been fascinated with since childhood, and from "The Lone Ranger," his favorite TV show as a kid. The brothers grew up in suburban Barrington.
"It was always a common thread throughout my life that I wanted to be a cowboy and live that life," Kone Eiring said.
"As I got older, I realized that, as a queer person, I would probably feel a bit more comfortable in a city, and also in terms of costuming and styling and fashion, it makes more sense for me to be living in a space like Chicago. But at the same time, I've never been able to shake that element of style from my life, and I have continued to incorporate those Western and Americana tropes in our work."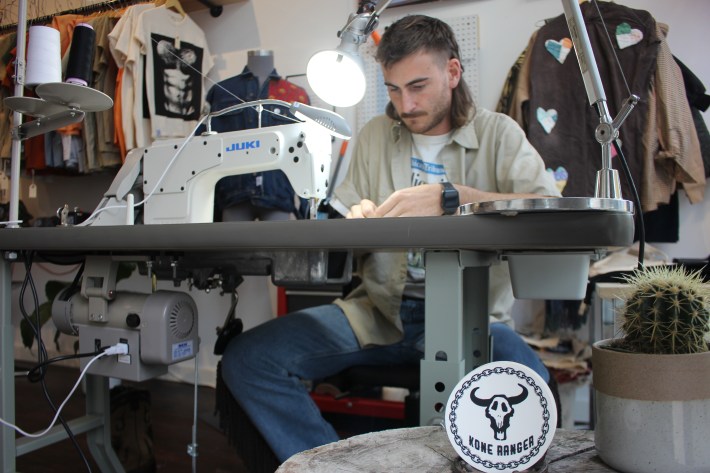 The shop also sells pieces that incorporate camouflage, workwear and other garments found in the rural Midwest. Kone Eiring said growing up, they spent a lot of time at a family cottage in rural Wisconsin around farmers, hunters and snowmobilers — "folks with big trucker hats, big burly jackets, camouflage and big rain mud boots."
"My dream is to be able to bring those garments into a more urban space and share them with people that may not be able to find or access those garments," he said. "Our goal is to elevate those pieces that you can only find here."
The Eirings want the Avondale shop to be a welcoming space where anyone can come in and find a unique piece. The shop is purposely not gendered, meaning there's no women's or men's sections; the racks are open to all.
The shop doubles as Kone Eiring's design studio. Most days, he works on garments at his sewing machine in front while his brother fields orders and manages other parts of the business. The two hope to eventually sell their older brother's custom-built wood furniture out of the store.
Kone Ranger is the latest mom-and-pop shop to join Avondale's Milwaukee Avenue, which has attracted several small businesses in recent years, such as Loaf Lounge, The Brewed and The Insect Asylum.
"I'm fortunate to be able to [make clothes] all day and be here in our own space with someone I trust more than anyone on the planet," Kone Eiring said.
Kone Ranger is open 11 a.m.-7 p.m. Wednesday-Friday and 11 a.m.-5 p.m. Saturday-Sunday.
Listen to "It's All Good: A Block Club Chicago Podcast":