OLD IRVING PARK — Growing up in Guatemala, Mariana Ariza would often pick flowers from her grandmother's garden and arrange bouquets. Now, she's making a business of it.
Ariza, 19, moved to Chicago six years ago and attended Schurz High School. Earlier this year, she decided to open her own flower shop. Walking by an empty storefront along Irving Park Road was a sign to try her luck at being a young business owner, she said.
After two months of remodeling and help from her family, Ariza opened Romance Flowers and Details, 4264 W. Irving Park Road, last week. She's already seen a good amount of clients and made Halloween-themed bouquets, she said.
"Sometimes I still don't believe it, that it really is my shop," she said. "It's very emotional that it's happened. God helped me a lot on this journey because it was not easy."
Ariza previously worked at a floral shop in the neighborhood, but she wanted to use her knowledge about flowers and become her own boss, she said.
With help from her parents, Ariza manages the shop and creates custom floral arrangements and bouquets that start at $15. Romance also sells chocolate and floral bouquets and party tickets and accessories such as vases, decorated boxes, greeting cards, candles and decorated cups made by the owner.
Paintings Ariza created of her native country, nature and flowers line some of the shop's walls. She also painted a large blue flower mural on one of the walls.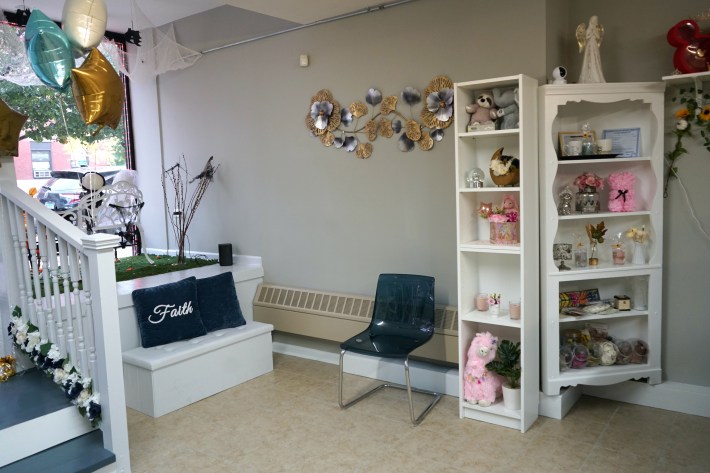 The storefront was once was a tech repair shop, and it needed a lot of work when Ariza took it over in July, she said.
Ariza's dad and uncle, who run a painting business, helped give the space a full makeover with new tiles, counters, paint and wallpaper. It wasn't easy, but Ariza is grateful for the support from her family and a close friend who provided some financial backing, she said.
The business also represents a new chapter for Ariza and her family, who live a few blocks away, she said.
After experiencing death and dealing with economic and health hardships, pumping time, money and energy into Romance symbolizes a fresh — and aromatic — start, she said.
"My brother passed away a couple of months ago, and that was hard on all of us, especially my father," she said. "This has been a way for us to cope and look for a new beginning."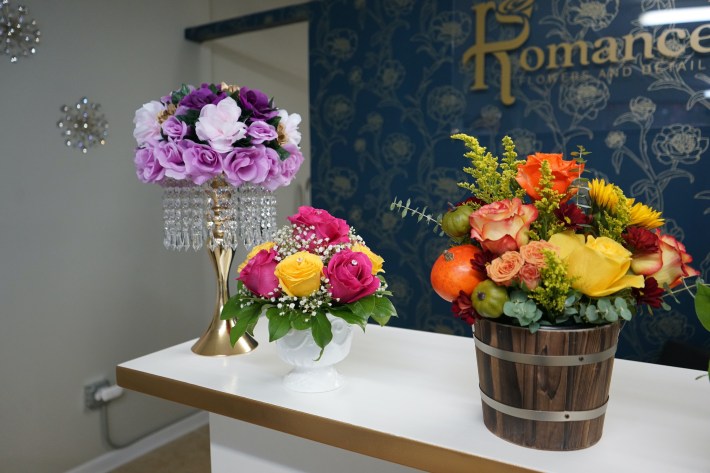 Ariza called her mother, Zonia Ariza, her "righthand woman." Zonia Ariza helps clean the space, goes shopping with her daughter and assists with decorations — but she doesn't touch the flowers.
"I am very happy for her because she always dreamt of having her own flower shop since she was 12 years old," Zonia Ariza said in Spanish.
Mariana Ariza hopes to expand her offerings to include clothing, purses, bags, candles and artwork from her home country and other Latin American countries, she said.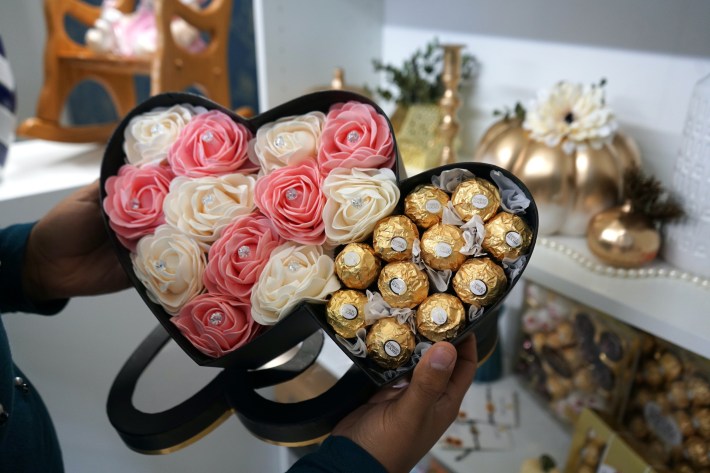 With Halloween — Ariza's favorite holiday for decorating — approaching, she plans to have more orange and black bouquets for sale that can be personalized, and she will give out candy to customers and children Oct. 31.
Ariza isn't ruling out college in the future, but she wants to focus on her new business and bringing more vitality to Old Irving Park, she said.
"I have no words for the neighbor support; I have been welcomed with open arms," she said.
Romance Flowers and Details is open 8 a.m.-8 p.m. Monday and Wednesday-Friday, 8 a.m.-7 p.m. Saturdays and 8 a.m.-3 p.m. Sundays.
Listen to "It's All Good: A Block Club Chicago Podcast":