CHICAGO — Thousands of migrants from Texas need winter gear, toiletries and other essentials, and city leaders are asking Chicagoans to pitch in.
The city's Office of Emergency Management and Communications' website details how Chicagoans can donate and volunteer to support the hundreds of refugees who have arrived in Chicago in recent weeks.
Chicagoans can buy new items off an Amazon Wish List compiled by Instituto del Progreso Latino. You can then drop off items at ward and city offices.
Items range from coloring books for less than $5 to sneakers for about $70.
The most urgently needed items:
New clothing for adults, including winter clothes.
Men's sizes small, medium and large. Medium is particularly needed.
Women's sizes small, medium and large. Medium is particularly needed.
New men's underwear
New women's underwear
New women's sports bras
Long-sleeve shirts: men, women, children, unisex
Sweatshirts/sweaters: men, women, children, unisex
Sweatpants: men, women, children, unisex
Pants: men, women, children
Socks: men, women, children, unisex
Closed-toe gym shoes: infants, boys, girls, men and women 
Shoelaces 
Winter coats: men, women, children, infants
Only new items will be accepted at this time, city officials said. No food donations will be accepted.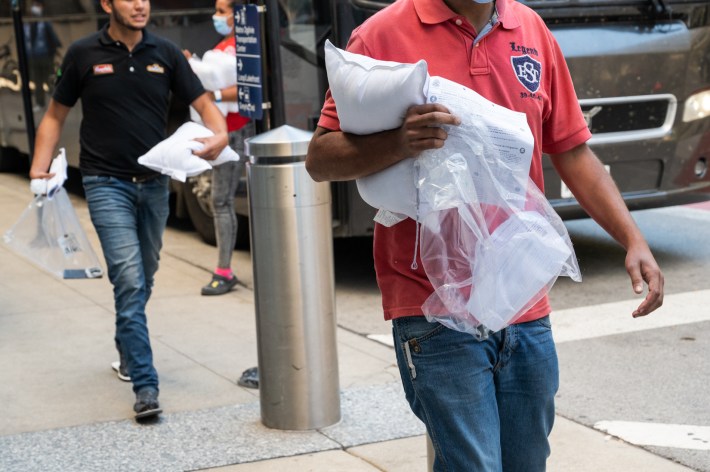 Other needed items:
New hygiene kit items: toothbrush, toothpaste, deodorant, soap, shampoo
Feminine hygiene products
Preference for sanitary pads and pantyliners
Reusable bags, such as duffle bags and suitcases
Backpacks
Bath towels: large towels, hand towels, wash cloths
Baby bottles
Baby carriers
Baby formula
Pedialyte
Diapers
Vaseline and diaper ointment
Baby wipes
Blankets
Nail clippers
Pack n' plays
Razors
Hairbrushes
Chapstick
Ace bandages
Antibacterial cream
Antifungal cream
Band-aids: all sizes
Calamine lotion
Calcium antacid, such as Tums
First aid tape
Gauze
Heartburn medication, such as Famotidine
Hydrocortisone cream
Tylenol/Ibuprofen
Toys and activity books
New clothing for children: 6 months to teens
Underwear for children and teens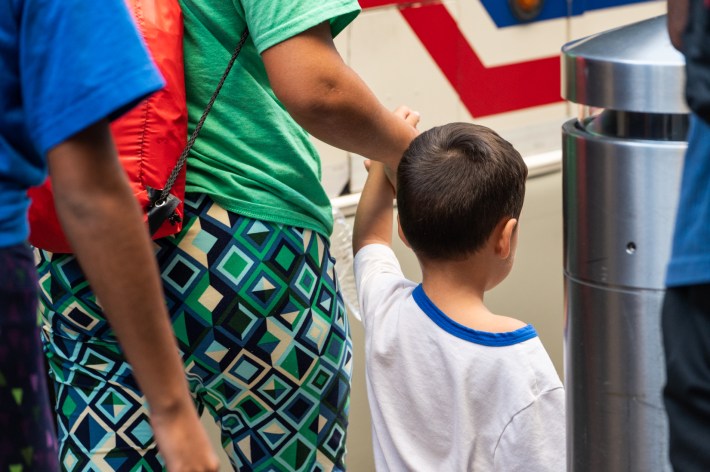 Residents should check the hours of ward offices to make sure they are open for donations.
Dropoff locations:
Ald. Sophia King (4th), 435 E. 35th St.
Ald. Sue Garza (10th), 10500 S. Ewing Ave.
Ald. George Cardenas (12th), City Hall, 121 N. LaSalle St., room 300 
Ald. Marty Quinn (13th), 6500 S. Pulaski Road
Ald. Michael Rodriguez (22nd), 2500 S. St. Louis Ave.
Ald.  Byron Sigcho-Lopez (25th), 2242 S. Damen Ave.
Ald. Roberto Maldonado (26th), 2511 W. Division St.
Ald. Ariel Reboyras (30th), 3559 N. Milwaukee Ave.
Ald. Felix Cardona (31st), 4606 W. Diversey Ave.
Ald. Rossana Rodriguez-Sanchez (33rd), 3001 W. Irving Park Road
Ald. Carlos Ramirez-Rosa (35th), 2934 N. Milwaukee Ave.
Ald. Gilbert Villegas (36th), 6560 W. Fullerton Ave., suite 118-A
Ald. Emma Mitts (37th), 4924 W. Chicago Ave.
Ald. Samantha Nugent (39th), 4200 W. Lawrence Ave.
Ald. Andre Vasquez (40th), 5620 N. Western Ave.
Ald. Timmy Knudsen (43rd), 2523 N. Halsted St.
Ald. James Cappleman (46th), 4544 N. Broadway
Ald. Matt Martin (47th), 4243 N. Lincoln Ave.
Ald. Harry Osterman (48th), 5533 N. Broadway
Ald. Maria Hadden (49th), 1447 W. Morse Ave.
Ald. Debra Silverstein (50th), 2949 W. Devon Ave.
City Clerk Anna Valencia, City Hall, 121 N. LaSalle St., first floor
State Sen. Ram Villivalam, 3851 W. Devon Ave.
Cook County Health Foundation also is taking monetary donations to support families. Money will go toward diapers and baby supplies, toiletries, shoes, school supplies and other needs, according to the website. You can also buy off its Amazon Wish List.
Local shelters cannot accept walk-up volunteers because of security concerns, so city officials urge people looking to volunteer to fill out a registration form online.
More than 3,000 individuals have arrived in the city since Aug. 31, after Texas Gov. Greg Abbott began busing them out of the state in protest of federal immigration policies. Mayor Lori Lightfoot and Gov. JB Pritzker have blasted Abbott, saying he has provided limited information on the asylum seekers' move and is "sowing chaos."
Residents can email DONATIONS@cityofchicago.org with other questions.
Listen to "It's All Good: A Block Club Chicago Podcast":