EDGEWATER — An Edgewater Starbucks is closing this month — four days after its employees were scheduled to start bargaining for their first union contact.
Starbucks, 1070 W. Bryn Mawr Ave., is closing Oct. 30, according to employees and Starbucks Workers United. Workers were told the decision is based on safety concerns, and it follows a string of recent closures for similar reasons across the nation. But workers said they should've had more of a say in what's happening — and the timing is not a coincidence.
A Starbucks spokesperson said the decision to close is "due to ongoing safety issues impacting customers and partners." The spokesperson didn't detail the safety issues. Employees were told about the closing Oct. 6.
Starbucks union leaders said the Edgewater store is the 10th cafe with unionizing activity the company has permanently closed within the past few months.
The location also closed in December 2021 and reopened in February.
The Bryn Mawr Starbucks unionized May 25, one of the first of the cafes to unionize in Chicago. Unionized workers at the Edgewater location have been gathering support and waiting to bargain.
A bargaining date was set for Oct. 26.
Barista Carlos Toral, speaking as a union member, said "it's no coincidence" the closure comes as workers pushed for better pay and stricter health and safety precautions, among other workplace protections.
"Being a part of the union means being a part of the conversation is important, and we were not," Toral said.
With the store now closing, workers will likely get transferred to non-unionized locations, union leaders said.
"While Starbucks is claiming to close down the Bryn Mawr location for safety & facilities reasons, workers at the store have been facing the same problems for years without any action from the Company," union leaders said in a news release. "The store closures are apparent retaliation against union workers."
A Starbucks representative said in a statement the chain will "meet them at the table" if Workers United wants to bargain over the announced store closure.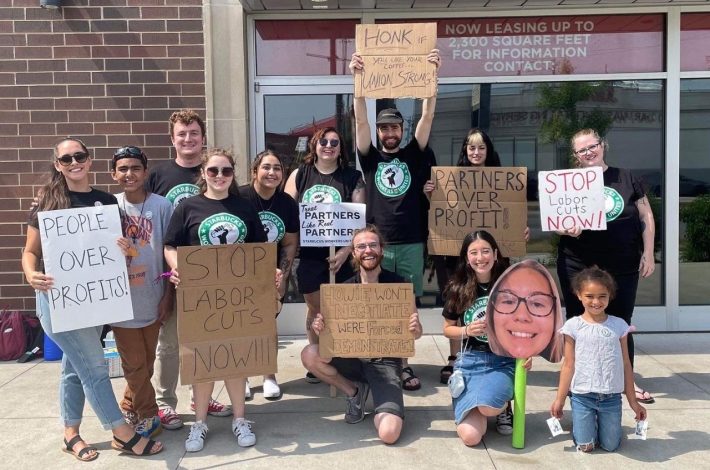 Starbucks has for months faced allegations of retaliating against Chicago employees who unionized or sought to do so, according to the Tribune.
The regional director of the National Labor Relations Board in Chicago filed unfair labor practice complaints over the summer alleging company leaders threatened workers who sought to unionize, discouraged them from organizing and forbade them from wearing pro-union shirts and masks, the Tribune reported.
Those complaints involved the company's conduct toward employees at the Bryn Mawr Edgewater store and the Palmer Square location, 2543 N. California Ave., where a union vote narrowly failed in June, according to the Tribune.
The board also filed a complaint alleging similar threats toward employees at a Hyde Park cafe, 1174 E. 55th St., which unionized in June. That complaint was amended after an employee claimed he was fired for leading some of the organizing, the Tribune reported.
Toral, 21, said he understands management's decision to close because of the safety issues, as sometimes people come into the cafe and harass workers. But he doesn't agree with the way it has happened, he said.
"Initially, I was like, 'I 100 percent support this decision,'" Toral said. "I get it; I deal with [safety concerns] on a daily basis. However, I think it's also really important to note the timing of how all of this has played out."
Toral said he's upset workers weren't included in the conversation about the future of the store.
"Because now we have to kind of figure this all out," he said. "I'm doing school, I'm doing dance class, I'm working a full schedule and, on top of that, managing this. It's super stressful, and they just made this decision for us, and they've given us three weeks."
Rachel Simandl, who also works at the Bryn Mawr location, said the workers were not surprised when they were informed of the closure.
"As much as we understand the reasons, it's really disheartening that all of this work that we've all put in is all of a sudden coming to what feels like an end," they said.
Simandl has worked at Starbucks locations in the Chicago area and surrounding suburbs on-and-off over the past six years, and they said this store "has been one of the best teams" they've worked with "at any job."
"That's the biggest blow," they said. "We're all going to be split up."
The closure is not stopping workers from continuing to fight for better working conditions, Toral said.
"With one store closing, there's others that are starting to unionize," Toral said. "The movement is still going. This store closure for a relatively good reason is not slowing the movement down."
There are seven unionized Starbucks location in Chicago — soon to be six after the Bryn Mawr location closes at the end of the month.
Employees at another Edgewater Starbucks, 5964 N. Ridge Ave., unionized in May and went on strike for two days in July to protest their working conditions.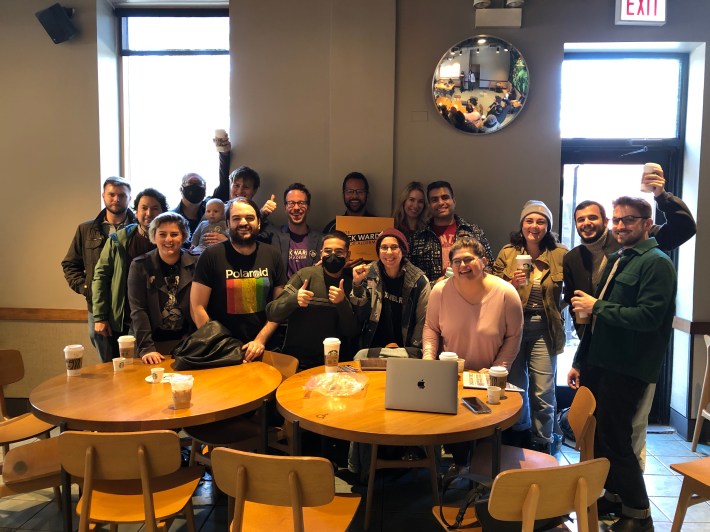 Nick Ward, a candidate for 48th Ward alderman, has been supportive of Starbucks worker's unionizing efforts. Ward worked in the restaurant industry for 20 years starting when he was 17 years old, so the labor movement is "very close" to him, he said.
Ward encourages people to keep up with Starbucks Workers United Chicago to stay informed, get involved in demonstrations such as sip-ins and donate to strike funds.
"It's absolutely not a coincidence that they're seeking to shut down the store at a time in which the stores are looking to bargain," Ward said. "Quite frankly, it's pretty disgusting the lengths that a corporation will go to to press their workers who are asking for basic dignity and respect."
Listen to "It's All Good: A Block Club Chicago Podcast":