NORTHALSTED — The Legacy Walk — an exhibit that recognizes the cultural and historical contributions of lesbian, gay, bisexual, and transgender people — is adding three heroes to its ranks in a special ceremony Saturday.
New bronze plaques along the Halsted Street rainbow pylons will honor transgender medical researcher Dr. Alan Hart, gay AIDS activist and political cartoonist Daniel Sotomayor, and Jose Sarria, founder of the Imperial Court, one of the oldest LGBT groups.
Their stories and contributions will be immortalized alongside those of Audre Lorde, James Baldwin, Jane Addams and Harvey Milk, among others.
The induction ceremonies — free and open to the public — will take place 1-3 p.m. Saturday starting at 3540 N. Halsted St. Each ceremony will take around 20-25 minutes, according to the website.
A reception at Sidetrack, 3349 N. Halsted St., starts at 3 p.m. Ticket sales online are closed but $25 tickets will be available at the door, according to the website.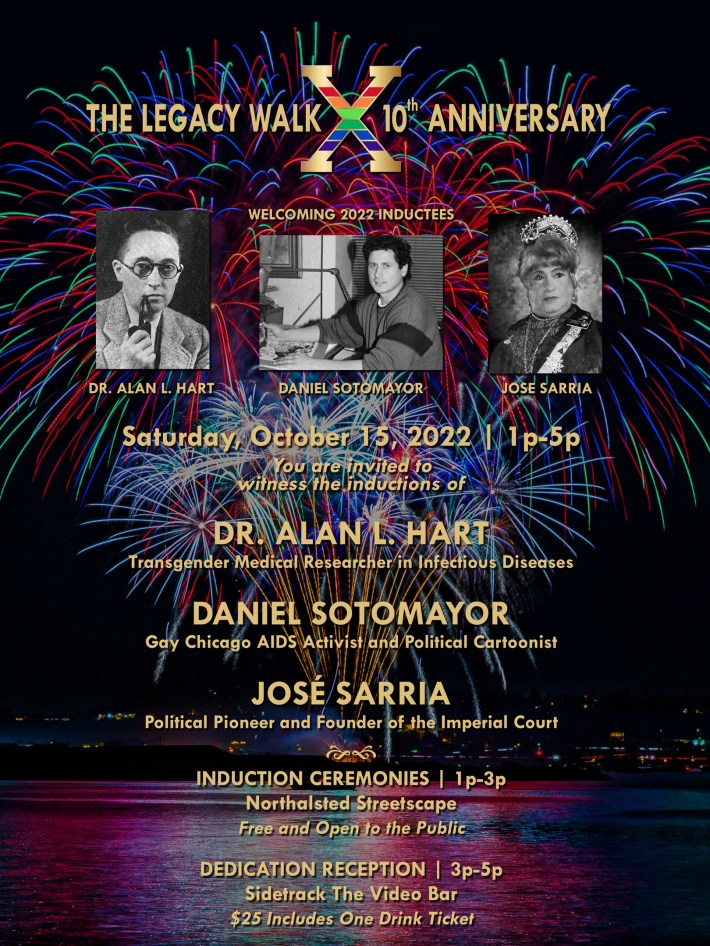 Victor Salvo, co-founder and executive director of the Legacy Project, said the idea for the Legacy Walk was first conceived in 1987. Gripped by growing despair in the face of AIDS, Salvo organized about 5,000 Chicagoans to join the Second National March on Washington for Lesbian and Gay Rights.
"We were losing people so rapidly (during the AIDS crisis)," Salvo said. "Our fear was who will remember who came before us when we're gone, if we don't even know ourselves?"
Salvo said he grew up with no idea that people like him existed, let alone accomplished anything significant, because the school system erases LGBTQ people's achievements in history.
It created a cultural void, making it easy for LGBTQ people to be assaulted with negative messaging and absorb hatred from those around them, Salvo said.
In 1997, Mayor Richard M. Daley recognized Northalsted, then known as Boystown, as Chicago's official gay district, the first of its kind in the United States. The Legacy Project became an established organization in 2010, and the Legacy Walk launched two years later.
The City Council designated the Legacy Walk as a landmark in 2019.
Because LGBTQ history is often overlooked or incomplete, nominees to the Legacy Walk stay in the organization's database until there is new research to complete a person's biography, Salvo said. A committee of about 30 people decides who is inducted, Salvo said.
The Legacy Project advocated to require LGBTQ instruction in Illinois classrooms, drafting a bill with leaders from Equality Illinois, the Public Health Institute of Metropolitan Chicago and the Illinois Safe Schools Alliance. Gov. JB Pritzker signed the Inclusive Curriculum Law in 2019.
"It helps those kids who do struggle with self-esteem issues to understand that they're part of a very long lineage of extremely gifted and blessed people who have made phenomenal contributions. to the world," Salvo said. "When you take away a minority's right to their past, you deny them any reasonable belief that they're entitled to have a future."
Listen to "It's All Good: A Block Club Chicago Podcast":