CHICAGO — The night before Thanksgiving in 1987, dozens of Chicagoans gathered in the frost at Daley Plaza to pray. 
News that then-Mayor Harold Washington, the first Black mayor of Chicago, had suffered a heart attack spread like wildfire. He was only months into his second term as mayor and only four years into his quest to dissolve tensions and build equity in a racially segregated city. 
As the announcement of Washington's death reverberated across the plaza, grief-stricken neighbors sobbed and clung to one another. Children wept.
For Jacky Grimshaw, a top legislative aide to Washington, it was the "most impactful death" she and her children had experienced. 
"I had never been through a death, and I'd never been through the death of someone that was that close to me," said Grimshaw, who led the Mayor's Office of Intergovernmental Affairs. "At the time Harold passed away, my son was broken. I was suffering for him. It was like his grandfather had died. My son and my daughter were absolutely devastated."
"Punch 9 for Harold Washington," a documentary chronicling Washington's ascent as a beacon of jovial light following the dim "Daley Years" to his untimely death, captures the legacy of the man who "planted the seeds of the Obama presidency," filmmakers said. You can watch it for a limited time only at select AMC theaters. Buy tickets here. 
Directed by Chicagoan Joe Winston, "Punch 9" unveils the racist practices that were used to try to stop Washington from gaining office, his battles with the "Three Eddies" and the blueprint he laid for uniting a divided city. 
The documentary relies on candid interviews with Grimshaw, the Rev. Jesse Jackson, David Axelrod, former Ald. Richard Mell, Valerie Jarrett and others to highlight the rise and swagger of Washington and the global impact of his mayorship. 
"There was a time when you said 'Chicago,' and someone would respond like a pavlovian dog, 'segregation,'" Washington says in the documentary. "But now, anywhere in the world you go, when you say, 'Chicago,' you know what they'll say to you? 'How's Harold?'" 
Winston was "too young to really understand the depth and the details" of the Washington administration growing up in Hyde Park, he said. 
Older and wiser during the Obama presidency more than 20 years later, Winston took note of the racial tensions once again sweeping the nation, he said. 
"It was the Obama presidency and the white backlash that, to me, said there was an internal lesson from the Harold Washington experience about how power and race work together in America, and it's a neverending cycle," Winston said. "It felt like a 'Twilight Zone' episode. I couldn't let go of it."
Winston took his curiosity to the Museum of Broadcast Communications, where he watched old newscasts of the 1983 mayoral debates for hours in an unheated parking garage in the winter. 
In the debates, which are also featured in the documentary, Harold uses an expansive vocabulary and political knowledge of the city to trump then-Mayor Jane Byrne and candidate Richard M. Daley. 
"There were four one-hour-long debates. I watched them all the way through," Winston said. "They were completely riveting, every bit of it. It was real and raw, and Harold would say one amazing, smart, funny, biting thing after another. I couldn't believe it."
The "weight of responsibility" to tell Washington's story became clear, Winston said. 
"Nobody else was going to do this, and somebody had to make this movie while there were still people around like Jacky to tell the story," Winston said. "Like a lot of documentaries, it was one step at a time."
It took nearly a decade for Winston to direct "Punch 9," named after the slogan used to elect Washington. Along the way, he met producers Raymond Lambert and Sonya Jackson, who helped bring the film's vision to fruition. 
Many Chicagoans know Washington's story, but for a new generation of voters, Washington's rise and global impact are still a mystery. 
When Asif Wilson, a professor at the University of Illinois at Urbana-Champaign, worked at Harold Washington College, he told two interns the college would soon launch a class dedicated to Washington, Wilson said. 
The interns didn't know who Washington was, Wilson said. 
Wilson asked them to go out and ask 100 people "walking through the colleges' doors" what they remembered about Washington, he said. 
"The unfortunate news is that only 16 of those people, young and old, were able to recognize Harold Washington by name, and only a few were able to articulate something Harold did in his life and something that lasted in their memories," Wilson said.
The lesson inspired Wilson to lead a group of teachers, community organizers and faculty members to design a curriculum for grades 6-12 that educates students about Washington's life. "Punch 9" will be at the center of the course.
"Part of this curriculum is not only sharing the story and the movement of the election that created the opportunity for Harold Washington, but to really remember those things with young people so that they can be activated and take action and transform their lives and their communities and their worlds much like Harold Washington," Wilson said.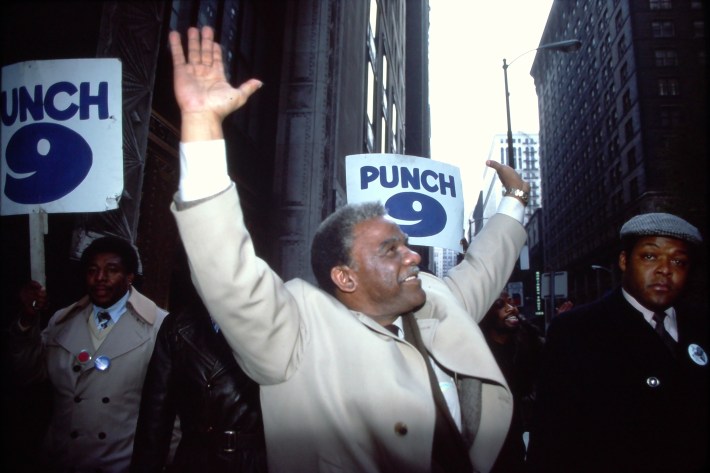 "Punch 9" is playing across theaters in 15 cities. Once the team finds a distributor for the documentary, it'll go to broadcast, Lambert said. Soon, they hope to host community screenings. 
But the team needs viewers' support to continue to share Washington's story, Lambert said.
"Punch 9" is evergreen content, Lambert said. It'll always be important, as moments in history often come full circle, he said.
"I think there's a lot of history repeating itself," Grimshaw said. "Joe has it in the movie with Barack, but it keeps happening over and over. The more things change, the more they stay the same, and those are the lessons that we should learn … ."
Watch our "On The Block" TV show on The U, CW26 and MeTV.
Listen to "It's All Good: A Block Club Chicago Podcast":