UPTOWN — Downstate Donuts is opening its own shop in Uptown after four years of slinging its unique brand of doughnuts at farmers markets and from a custom-made tricycle.
The local doughnut purveyor plans to open early next month at 1132 Wilson Ave., the first brick-and-mortar location for the award-winning, potato-based pastries.
The shop will be open 7 a.m. until it sells out Tuesday-Sunday, said Victoria Quero, sales and marketing director for Downstate Donuts. It will be takeout-only to start, with its brand of potato doughnuts plus Vietnamese coffee drinks on offer, she said.
Downstate Donut's new shop is a major step forward for a brand that quickly grew a fan base on the North Side and beyond before suffering some setbacks last year.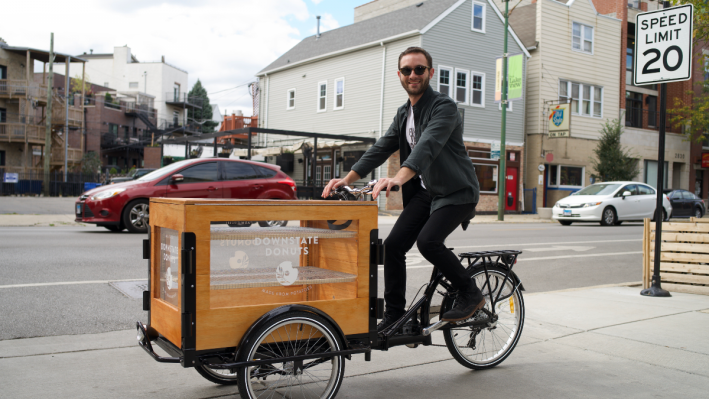 Virgil Roundtree founded Downstate Donuts in late 2018 with friend Peter Guardalabene after sampling a potato doughnut in Portland, Maine.
The duo began making their own version of the doughnuts using organic and locally sourced ingredients for concoctions such as vanilla sour cream and sweet potato maple. In early 2019, Downstate Donuts took the top prize at Chicago's Donut Fest.
The success allowed Downstate Donuts to sell its products at farmers markets, including the one in Andersonville. Roundtree built a "little doughnut trike" that is essentially a bakery display case on wheels to get his product to the people.
The business moved into an industrial kitchen to meet growing demand, but a fire in the space last year grounded operations just as the business was taking off.
Last summer, Roundtree launched a Kickstarter to help fund the next phase of Downstate Donuts, which was to include a shop and kitchen in Andersonville. Roundtree, who lives in Andersonville, bought out co-founder Guardalabene's stake in the business.
The fundraiser didn't meet its goal, causing Roundtree to look for other options for the business, he said in an email.
That led them to the Wilson Avenue space in Uptown. The building is owned by prolific Uptown development firm Cedar Street, which Downstate Donuts has partnered with on events, Quero said.
Cedar Street reached out to Downstate Donuts to pitch the business on moving into the storefront. Located near the Wilson Red Line stop and across from Truman College, the space seemed to work for a doughnut shop, Quero said.
"This one was too perfect to pass up," she said. "It's going to be a great fit."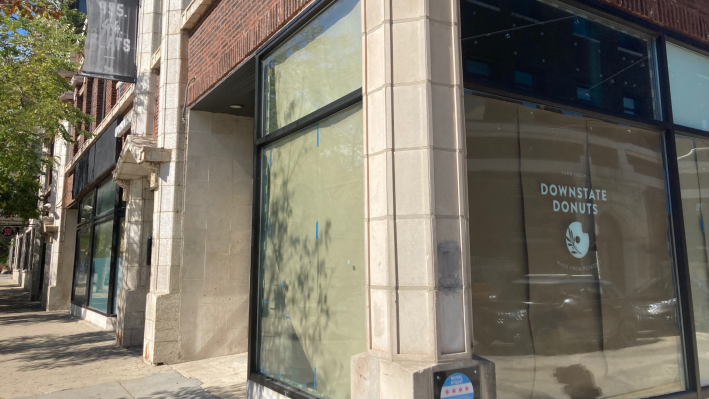 Downstate Donuts' shop will carry its seven flavors of potato doughnuts, including Italian cream cake, chocolate sea salt and brown butter chai. It will also roll out seasonal doughnuts.
The new location will operate as a retail shop as well as the main commercial kitchen for Downstate Donuts.
Eventually, the business hopes to have seating and counter space for customers to dine indoors. There are also plans to add other local business' products to the store to act as an incubator of sorts for small upstarts, Quero said.
The space will produce doughnuts for the store and for its events business and retail partners, Quero said. Downstate Donuts will still operate its mobile bakery trike and be available for catering events.
The business last year got its products placed in Foxtrot, the upscale corner store chain. They hope to be available in more grocery stores in the future, Quero said.
"We're hoping to expand and grow," Quero said.
Downstate Donuts will be the second doughnut shop opening on Wilson Avenue in Uptown. Stan's Donuts & Coffee plans to open in the development underway at Broadway and Wilson Avenue.
For more on Downstate Donuts, click here.
Listen to "It's All Good: A Block Club Chicago Podcast":