GARFIELD PARK — Marshall High School basketball players, coaches and friends will come together for a charity game Friday to push for justice for Dyanla "DeDe" Rainey, who was fatally shot in July.
On July 24, Rainey was pulling into the driveway of her Maywood home when a gunman fired shots into her car, according to the Sun-Times. Rainey, who led the Marshall Commandos to the Class 2A girls basketball state championship in 2018, died at Loyola University Medical Center. She was 22.
The case is still under investigation, Maywood Police Chief Elijah Willis said. In August, police released photos of the car involved in Rainey's killing in hopes of tracking down its driver. But Dorothy Gaters, Marshall's athletic director, said the investigation has "hit a brick wall," leaving Rainey's family without closure.
Marshall is hosting a charity basketball game 6 p.m. Friday at the high school, 3250 W. Adams St., to raise reward money for anyone with key information about Rainey's case.
The co-ed game will feature former star Commandos, many of whom played with or knew Rainey, Gaters said. Chicago Sky legend, two-time WNBA champion and Olympic gold medalist Cappie Pondexter plans to play, Gaters said.
Tickets are $15, T-shirts are $15, towels are $10 and wristbands are $5. Pre-orders can be placed by calling 708-340-2906, according to the event flyer.
"My hope is that this will renew interest in the case," Gaters said. "This family is not going to have peace until somebody is brought to justice for this horrendous crime. But the Raineys will always have an extended family at Marshall."
Rainey was a "coach's dream:" a hard worker who never cheated a sprint, came to practice early and stayed late, "setting the example for the other kids," Gaters said.
Rainey and her twin sister, Miyanda "MeMe" Rainey, were "inseparable," Gaters said. They starred at Marshall together and went off to college together to play at Robert Morris University Illinois.
MeMe Rainey moved on from hoops and DeDe Rainey's career was sidelined by the pandemic, Gaters said.
The sisters were back home in Maywood helping their mom grow a day care business, Gaters said. The coach saw DeDe Rainey at a Marshall alumni cookout a week before she was killed.
"She was always upbeat, and this time she was talking about expanding the business," Gaters said. "She was always moving in the right direction."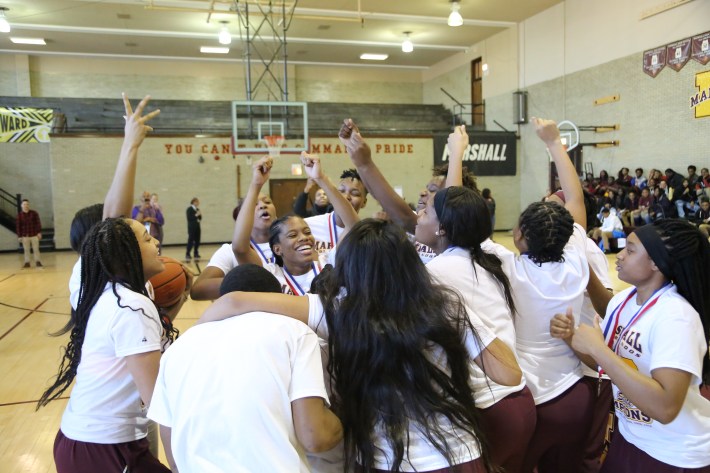 Gaters, the legendary coach who was on the sidelines when Rainey helped win the state title, said she's tired of losing her young people. It would "take both hands to count up the players we've lost because of violence," Gaters said.
"It's devastating. It's happening everywhere. And there doesn't seem to be an end in sight," Gaters said. "The feeling under the Trump administration to going right into COVID, this just seems to be a very negative period. Not just for street violence, but violence in general."
Gaters recently attended a balloon release for the twins' birthday, she said. She'll push forward the only way she knows how.
"Athletics is what we have to help our kids," Gaters said. "We'll save more kids than we'll lose."
Listen to "It's All Good: A Block Club Chicago Podcast":