EDGEWATER — A pioneering sustainable restaurant will close this month after 15 years on Devon Avenue.
Uncommon Ground will close its Edgewater location after a final brunch service Oct. 23 at 1401 W. Devon Ave., co-owner Michael Cameron said. The closure marks the end of an era for a restaurant that — along with its sister location in Lakeview — helped champion farm-to-table practices, including the United States' first certified organic rooftop farm.
Cameron said he decided to close the Edgewater restaurant for personal reasons after losing his father this year and with his mother's health declining. Cameron's wife and restaurant co-owner, Helen, took a step back from the business in 2019, with Cameron juggling the businesses and his family matters.
The original location of Uncommon Ground at 3800 N. Clark St. will remain open.
"We lived the American dream," Cameron said. "A lot of people don't get to own one business of their own. We thought, 'It's OK to scale back a little bit for selfish reasons.'"
The Camerons opened Uncommon Ground in Lakeview in 1991, bringing a sustainable and locally sourced approach to their food service. Last year, the business, which is also known for hosting live music, celebrated 30 years at the corner of Grace and Clark streets.
A second Uncommon Ground opened in 2007 on Devon Avenue, where it was able to take its farm-to-table efforts to a new level.
The restaurant includes a 2,500-square-foot rooftop farm, the first rooftop farm in the United States to be certified organic.
The farm annually produces 1,500 pounds of produce, which are used in Uncommon Ground's Edgewater and Lakeview kitchens. The farm also includes two honey-producing bee hives and solar panels to help power the business with green energy.
In 2011, the Green Restaurant Association named Uncommon Ground on Devon Avenue the greenest restaurant in America. Uncommon Ground in Lakeview was named the second-greenest restaurant.
The Camerons and their businesses have won numerous other sustainable business awards. In 2017, the couple served as consultants to the city of Paris' rooftop gardening initiative.
RELATED: After 25 Years, Uncommon Ground Is Still Low-Key And Keeping It Local
Both Uncommon Ground locations were thriving before the pandemic, and innovations during the pandemic allowed them to survive a period that caused many restaurants to close.
As of now, the Lakeview restaurant is back to 95 percent of its pre-pandemic business levels, Cameron said. The Edgewater location is at about 80 percent of normal business.
So when the couple made the decision to scale back and focus more on family, it made sense to close in Edgewater and condense into the original Lakeview location, Cameron said.
Their brewery, Greenstar Organic Brewery, is in the same building as Uncommon Gound Lakeview, which the Camerons own. There are other tenants in the building that help to support the restaurant venture, he said.
"It was a very difficult decision," Cameron said.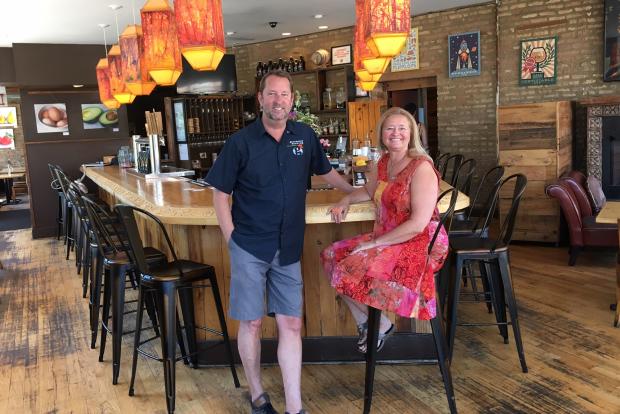 The Camerons also own the Devon Avenue building that houses Uncommon Ground. The building will be listed for sale, and Cameron said he is willing to work with someone if they want to carry on the urban farm.
Crops are still being grown on the farm, with a planned harvest later this fall. There's a full-time farm director who could stay on the job and help a new owner continue the operation, Cameron said.
The building would work great as another restaurant or business that could also operate the rooftop farm, he said.
"We've spent a small fortune completely gutting that space," Cameron said. "I'd love to see someone take what we've created, make it their own and power it forward."
Uncommon Ground in Edgewater will retain its regular business hours until Oct. 23, when it will host a part for staff after brunch service. The Lakeview location will be around for as long as there is a customer base to support it, Cameron said.
"Both Lakeview and Edgewater have been extremely supportive of us," he said. "We wouldn't survive without them."
Watch our "On The Block" TV show on The U, CW26 and MeTV.
Listen to "It's All Good: A Block Club Chicago Podcast":