WEST RIDGE — Police arrested a person of interest after officers found the body of a woman inside a West Ridge home's freezer Monday night.
The person was taken into custody thanks to the quick thinking of one of the woman's tenants, Chief of Detectives Brendan Deenihan said during a Tuesday news conference.
About 7 p.m. Monday, officers responded to call from a tenant in the 5900 block of North Washtenaw Avenue to conduct a wellbeing check on their landlord, police said.
The landlord had been missing for more than 24 hours, police said. 
That check led to officers discovering the landlord's body inside a freezer at the home, prompting detectives to begin a homicide investigation, police said. 
"We have a long way to go, but obviously we believe that the missing person is obviously, unfortunately, the individual we discovered," Deenihan said. 
"That [person in custody] invoked their right to remain silent," Deenihan said. 
The Cook County Medical Examiner's Office identified the victim as Frances Walker, 59. The cause of death was not yet determined.
The landlord was last seen walking around the neighborhood on Sunday before being reported missing by one of her tenants, Deenihan said.
The person who called police told officers the landlord's other tenants were afraid of one of the people who lives at the property, Deenihan said. 
That person hired a tow-truck and carried a "heavy bag" out to the vehicle, Deenihan said. When the tow-truck arrived, the tenant who later called police exchanged phone numbers with its driver, Deenihan said. 
"This tenant, we really want to thank because they did a remarkable job," Deenihan said. "We learned that [the person now in custody] dropped a large plastic bag in the garbage can at Foster Beach."
Detectives found bloody towels in the garbage can, which led to its contents being collected and sent to the Medical Examiner's Office, Deenihan said.
"Based upon that evidence, the detectives were able to go into the residence and they eventually discovered human remains in a freezer," Deenihan said. "At which point we backed out of the residence to secure a search warrant to go back in and, you know, retrieve all evidence properly."
About the same time police were searching Foster Beach and the West Ridge home, officers reached out to the tow-truck driver using the number the person who called 911 had provided, Deenihan said. 
"The tow truck driver actually gave us his location and explained that the person who he was transporting had pulled a knife on him," Deenihan said. "Officers responded to that scene and placed that [person] into custody."
Deenihan and Supt. David Brown did not answer additional questions about the homicide investigation during Tuesday's news conference. 
"I think it's enough for the public to know we're pursuing further investigation and that we have human remains that we believe to be the missing person," Brown said.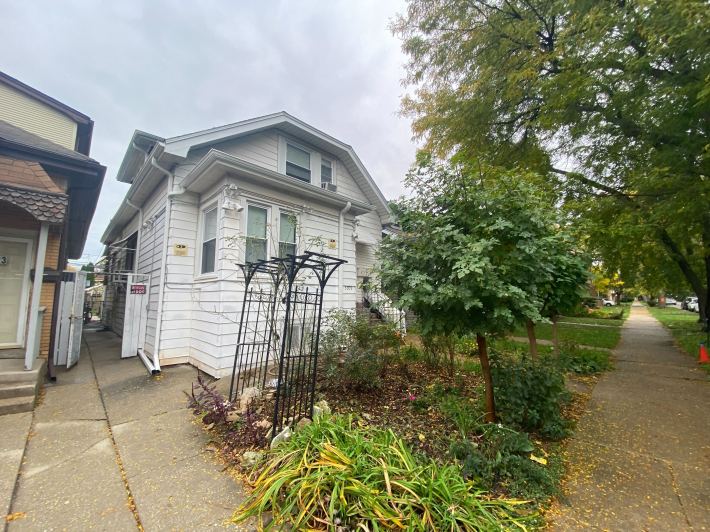 Dominga Fernandez, who has lived nearby for 22 years, said Wednesday she didn't know the landlord by name but would often pass by her home when taking her granddaughter to a local daycare.
"I usually saw her outside in her front garden working on her plants," Fernandez said in Spanish. "I only said 'hi' as I walked by but I would see her outside all the time."
During Halloween, the landlord gave out candy to neighborhood children and would have her small older dog sitting next to her on the front porch, Fernandez said.
"I don't know what kind of dog it was. But I remember her telling people who wanted to pet him to please be careful because he was very old."
Fernandez described the landlord as a woman in her 70s or older but with a lot of strength because of how active she was when working on her front yard's garden.
"I had no idea she had people renting in her building," Fernandez said. "It's good they have someone in custody."
Subscribe to Block Club Chicago, an independent, 501(c)(3), journalist-run newsroom. Every dime we make funds reporting from Chicago's neighborhoods.