PORTAGE PARK — A costume parade and candy giveaway will take over Portage Park's namesake park this weekend to celebrate the spooky season.
Halloween Parade and Trunk or Treat kicks off 7 p.m. Saturday. It's the first of the late-year activities organized by Friends of Portage Park since the pandemic stopped events.
The costume parade is open to kids, adults and animals, and it will begin in the park's playground. Participants will walk to the parking lot and take part in a "trunk or treat" candy giveaway that will feature dressed-up car trunks, organizers said. Neighbors are also encouraged to bring their dressed-up bike to the event.
Cars and bikes will participate in a "best dressed" contest, and the winners will take home two prize packs: free tickets to one of the Patio Theater's "HalloScream" movie showings and gift cards to local businesses, organizers said.
People who want to dress up their car and give away candy need to sign up online. Submissions will be open until end of the day Wednesday.
The event is part of the group's mission to engage with neighbors, which it has struggled to do during the pandemic and after previous leaders retired, said Sophie McNeill, a Friends of Portage Park member who is one of the organizers.
"We're excited to be with our neighbors, and now, after about three years of stagnation, let's do this. We are ready," McNeill said.
After a successful market at the park over the summer and the beginning of fall, group members heard from neighbors who want more kid- and family-friendly events and programs to return, McNeill said.
McNeill is excited about the energy, but more volunteers are needed to plan events, gather ideas and connect the community, she said.
"People often forget that this is not what we do 24 hours a day, seven days a week," she said. "It's very volunteer; we're giving up time and energy to do this. We need some more help, more voices and more people that are good at things we are not good at."
Neighbors who want to join the group and help plan community activities can attend meetings 7:30-8:30 p.m. the second Monday of every month at the Portage Park Senior Center inside the field house of the park, 4001 N. Long Ave. People can also email friendsofportagepark@gmail.com to get involved.
The next meeting was moved because of the holiday weekend and will be held 7:30 p.m. Thursday at the senior center.
An updated website and a newsletter are in the works, as well, group members said.
Patrick Corcoran, who lives nearby and is active in the Portage Park Elementary School's parent board, plans to join the Friends of Portage Park group to advocate on behalf of neighbors and increase a sense of community, he said.
"I think there's a desperate need for affordable family events around here," said Corcoran, a father of two. "Special events and event planning are not easy, [they] don't happen on their own. Everyone has to get the ball down to every last detail, so I understand the challenge. However, soliciting feedback from the community about short and long-term goals for the park, I think is something that could [help]."
Corcoran hopes that by joining the advisory council, more communication and partnerships can be made with district officials working at Portage Park, he said.
In the meantime, the group is focusing on holiday-themed kid events, such as a tree-lighting ceremony, a Christmas sleigh ride through the park with a horse and hot cocoa scheduled for Dec. 10 and brunch with the Easter Bunny in April.
The group has also hosted trash pickup days to beautify the park every other month on Saturdays. One more event is slated for November and will be posted to the group's Facebook page, its leaders said.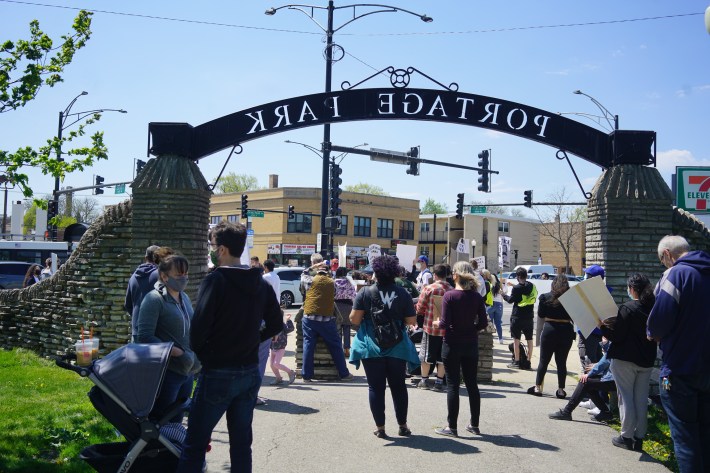 McNeill and Corcoran hope that as more events come back to the park, improvements will follow, such as a newer and safer playground, more trees and flowers at each entrance and newer tables and chairs to make the space more inviting.
The park group also wants to host fundraising events to help them with future programs and support nearby schools and the Park District.
"We live in a phenomenal neighborhood with a lot of really great people,," McNeill said. "It's bringing all this expertise together."
Listen to "It's All Good: A Block Club Chicago Podcast":