PILSEN — The National Museum of Mexican Art has unveiled its annual Día de los Muertos exhibit, featuring ofrendas, sculptures and more from American and Mexican artists. 
Día de los Muertos, Oct. 31-Nov. 2, is a traditional Mexican holiday that honors people who have died by building an ofrenda, or altar, and topping it with photos and mementos to invite back their spirts.
The National Museum of Mexican Art, 1852 W. 19th St., is always free for patrons to visit and is open 10 a.m.-5 p.m. Tuesday-Sunday. The Día de los Muertos exhibit will end Dec. 11.
This is the museum's 36th year producing an exhibit for the holiday, curator Dolores Mercado said. Each year, curators do extensive research and travel to decide what to feature, Mercado said. 
Last year's commemoration included an ofrenda for 13-year-old Adam Toledo, who police shot and killed in 2021, among other pieces.
Similar to past years, the gallery features a variety of ofrendas, visual installations, photographs and sculptures.
Among the pieces is an ofrenda to honor the 19 children and two teachers who were killed in the May shooting in Uvalde, Texas. Students and teachers from Moos Elementary on Chicago's North Side were invited to make the ofrenda, Mercado said.
The ofrenda depicts a classroom with chairs, desk and a chalkboard with 19 butterflies and two angels representing the victims. The scene is decorated with toys and snacks, as well as short bios for each victim.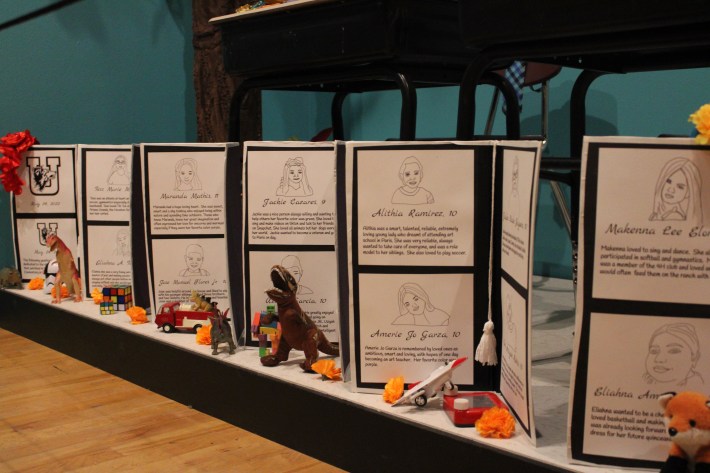 Another ofrenda was designed by the Ukrainian Institute of Modern Art, and it includes traditional Ukrainian art pieces and flyers with phrases such as "Peace for Ukraine" written on them. The pieces come from the institute's Protest Art Exhibition, according to museum information.
"We provided materials in the gallery so that anyone who was willing to contribute was able to voice one's form of personal protest through art, writing, poetry and material cultural items," a statement from the institute next to the ofrenda reads.
An ofrenda by local artist Carlos Flores is dedicated to frontline essential workers who died during the pandemic.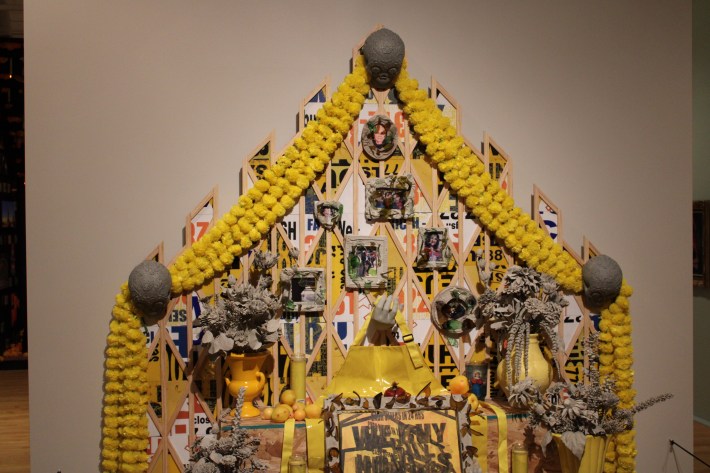 One of the gallery rooms is dedicated to pieces of arte popular, or popular art — a traditional style of Mexican art that can widely range from textiles and pottery to painting and photography. There are sculptures depicting the tree of life, a mold to make calaveras, or skulls, and an ofrenda to honor prominent arte popular artists from Mexico who died this year.
Mercado said honoring this art style is important because as people trained in these artesanias pass away, sometimes their knowledge disappears, as well.
"It's a profession that passes from generation to generation," Mercado said. But sometimes the younger generations might not want to take up the art from their parents or grandparents, she said.
On the outside walls of the exhibition space, three artists from the University of Guanajuato in Mexico painted a sprawling mural, titled "What Was Taken from Us." It depicts three grieving women, inspired by a famous Mexican photographer Graciela Iturbide.
A full list of the contributing artists and titles of there work in the exhibition can be found online.
Watch our "On The Block" TV show on The U, CW26 and MeTV.
Listen to "It's All Good: A Block Club Chicago Podcast":