CHICAGO — There's plenty to do across the city this weekend: an art and antiques show, a multicultural East meets Middle East concert, a Día de los Muertos celebration in Logan Square, Indigenous Peoples' Day festivities, neighborhood tours and more.
Here's a roundup of 18 things to do across Chicago this weekend: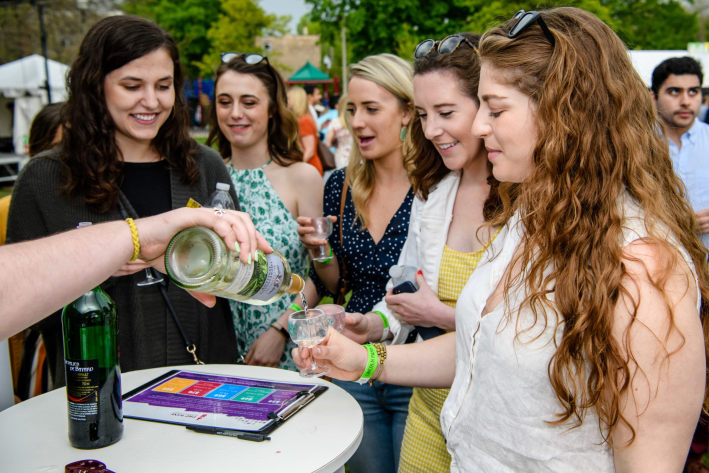 5-10 p.m. Friday, 11 a.m.-10 p.m. Saturday and 11 a.m.-7 p.m. Sunday
Jonquil Park, 1001 W. Wrightwood Ave.
The Lincoln Park Wine Fest returns this weekend for its sixth edition and will feature dozens of wine varietals, live music and vendors selling artisanal items. Tickets are available online and cost $40 for general admission and $80 for VIP passes.
1-2:30 p.m. Saturday
Starts outside the Seminary Co-op bookstore, 5751 S. Woodlawn Ave.
A free walking tour of Hyde Park kicks off this weekend, commemorating the latest edition of the AIA Guide to Chicago, a prime source for local history and architecture. The tour will be around 90 minutes, led by Laurie Peterson and joined by Eric Allix Rogers, a photographer specializing in Chicago's built environment.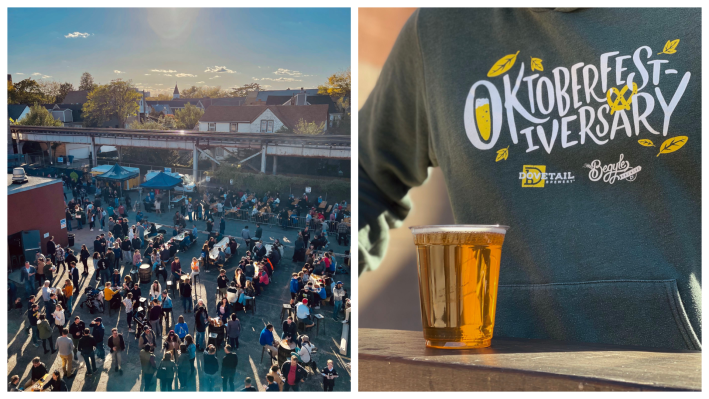 11 a.m.-9 p.m. Saturday and 11 a.m.-8 p.m. Sunday
On Ravenswood Avenue from Warner to Cuyler, on the west side of the train tracks between Begyle Brewing and Dovetail Brewery
This fall celebration hosted by Begyle Brewing and Dovetail Brewery is open to all ages, and you can also bring your dog. There will be live music, food trucks, pop-ups and kids' activities including balloon artists and coloring. Admission is free, and there is a $5 suggested donation to benefit Lincoln Square food pantry The Friendship Center. Your donation can help provide two weeks of groceries to a senior living alone, or about 50 meals.
6-9 p.m. Thursday, 11 a.m.-8 p.m. Friday, 11 a.m.-6 p.m. Saturday and noon-4 p.m. Sunday
222 W. Merchandise Mart Plaza
This antiques and arts show returns to Merchandise Mart this weekend. It features 50 national and international exhibitors presenting fine antiques, decorative and fine arts from ancient times to the 20th century. Tickets are available for $25 online.
Doors open 6:30 p.m. Friday
South Asia Institute, 1925 S. Michigan Ave.
This concert presented by the South Asia Institute and Intercultural Music Production incorporates cross-cultural sounds and instruments from South Asia, the Middle East and North Africa. Tickets are $25 and $15 for students online.
7:30 p.m. Saturday
Harris Theater, 205 E. Randolph St.
You can enjoy a family-friendly performance in celebration of the Indian holiday festival Diwali at the Harris Theater this weekend. Tickets are available starting at $30 online.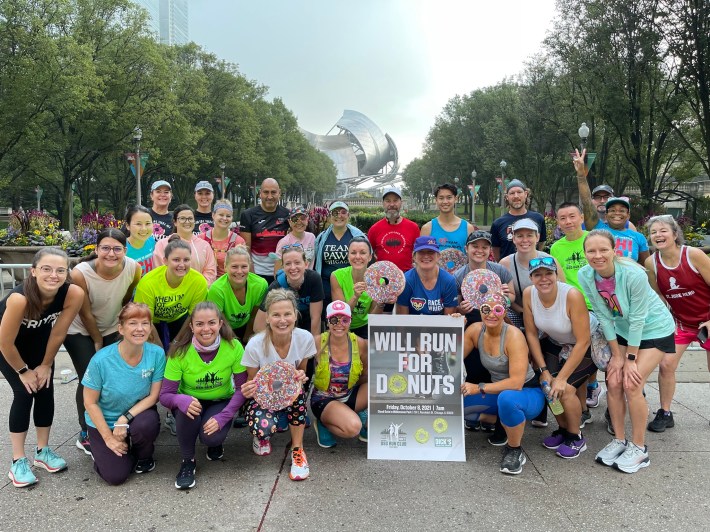 7-9 a.m. Friday
The Bean at Millennium Park, 201 E. Randolph St.
This 2.62-mile donut crawl-meets-marathon hosted by Run for Change starts by "The Bean" and finishes at Stan's Donuts.
9:30-11 a.m. Saturday
Palmer Square Park, 3000 W. Palmer Blvd.
This family-friendly group bike ride tours Logan Square and Avondale. Riders will meet at the "Bunny Park" playground in the middle of the park and depart at 10 a.m.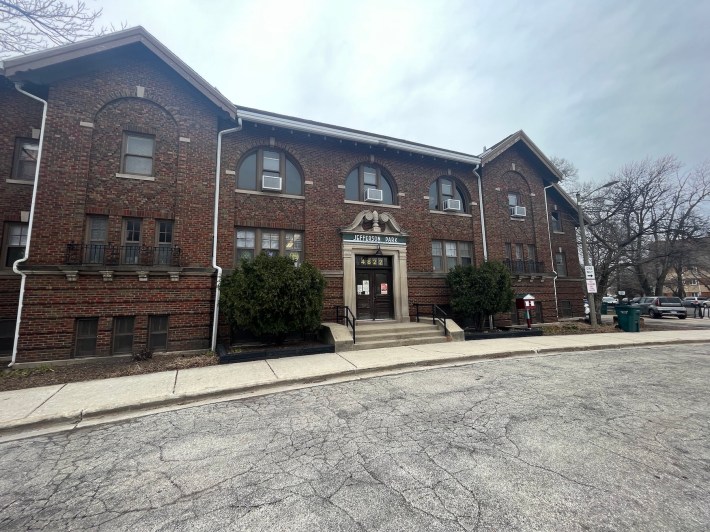 11 a.m.-3 p.m. Sunday
Jefferson Memorial Park, 4822 N. Long Ave.
You can shop local, visit a petting zoo, donate or pick up a Halloween costume, decorate pumpkins and more at the Jefferson Park Sunday Market. Costume donations are accepted now through the event at the Jefferson Memorial Park Field House.
3-7 p.m. Saturday
6645 N. Oliphant Ave.
There will be music, games, a sip-n-paint, food classes, raffles and community resources at this free party for autistic people 14 and over, their friends and family. This annual event is hosted by Unique Sweets and Legion of St. Michael LEMC. You can register and donate online here.
Noon Sunday
2614 N. Kedzie Ave.
You can learn all about Día de los Muertos, the Mexican holiday's origins and evolution at this Logan Square mercadito. This anniversary celebration also features vendors who will have materials to create Day of the Day altars such as flowers and bread.
6:30-10 p.m. Sunday-Monday
Sunday at Logan Square Auditorium, 2539 N. Kedzie Blvd.
Monday at Old Town School of Folk Music, 4544 N. Lincoln Ave.
Sky People Entertainment and the Old Town School of Folk Music are hosting the city's first Indigenous Peoples' Day festival this weekend. This two-night event features musical performances and dancing by Indigenous artists, showcasing a variety of Indigenous rock, EDM, hip-hop, Latin fusion and more. Admission is free and donations will be accepted at the doors. You can reserve online for Sunday and Monday.
4-11 p.m. Friday
2000 W. Roscoe St.
Roscoe Street-ery has been taking place every second and fourth weekend since May and is wrapping up at the end of the month. You can shop and dine local at over 40 participating establishments. There will also be activities for all ages, including a kids' bicycle obstacle course 2-4 p.m. and yoga on the street. You can sign up for yoga, find a business directory and learn more online here.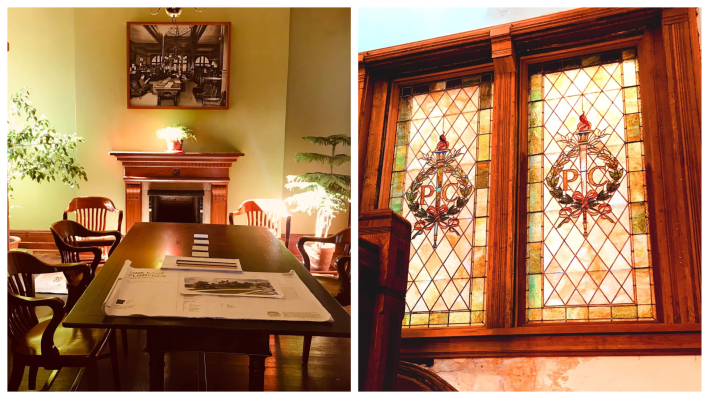 11 a.m.-5 p.m. Saturday-Sunday
Historic Pullman Exhibit Hall, 11141 S. Cottage Grove Ave.
This 49th annual tour returns this weekend, making it one of Chicago's oldest continuing tour of homes. You'll be able to see beautiful homes, select public buildings, exhibit and a video on the history of this landmark district, enjoy music, food and more. Tickets for $17-25 are available online here and in-person, and you can pick them up at the Historic Pullman Exhibit Hall.
11 a.m.-3 p.m. Saturday
Gerber/Hart Library and Archives, 6500 N. Clark St.
You can buy books for as little as $1 for paperbacks and $2 for hardbacks at this annual "spine-tingling" Gerber/Hart fall sale. You can also fill a bag for $15, a box for $25 and purchase DVDs, art books and erotica.
6:30-7:30 p.m. Thursday
North Avenue Beach, 1600 N. DuSable Lake Shore Drive
Light Up the Lakefront returns in-person for the first time since 2019, hosted by Between Friends, an organization working to break the cycle of domestic violence. Attendees will light candles on the beach to mark Domestic Violence Awareness Month and as tribute to all those affected by domestic violence each year. This is a free outdoor event, and ASL and Spanish translation will be provided for all speakers.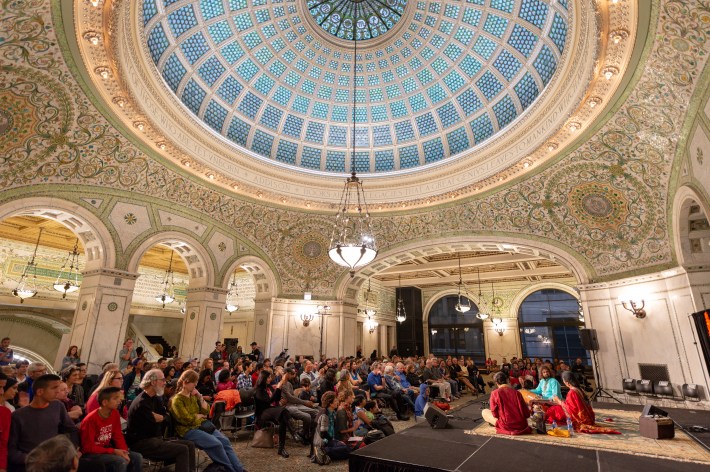 Varying times and locations. See the full schedule here.
The Chicago World Music Festival wraps up this weekend, with performances Thursday-Saturday and a grand finale Sunday at Navy Pier.
3:30-7:30 p.m. Saturday
2341 N. Cannon Drive
You can enjoy food, music and thousands of floating lanterns — that you can make and decorate yourself. You can buy tickets online here, starting at $11.99 for kids ages 8-14 and $25.99 for adults; children under age 8 can get in for free but still need tickets.
Listen to "It's All Good: A Block Club Chicago Podcast":