LOGAN SQUARE — A mural featuring renowned Puerto Rican poet Julia de Burgos is going up in her namesake park along The 606's Bloomingdale Trail, a project years in the making.
Local leaders have teamed up to bring a public art tribute to Julia de Burgos Park, 1805 N. Albany Ave., about a decade after the Chicago Park District named the small, trail-adjacent park for the celebrated literary figure.
The Segundo Ruiz Belvis Cultural Center enlisted artists with Colectivo Morivivi, an all-women artist collective in Puerto Rico, to paint a mural that captures the spirit of de Burgos, who is considered one of Latin America's greatest poets.
The mural project kicked off this week with two community painting sessions, and is expected to be finished by Oct. 13.
The mural is being funded by the Segundo Ruiz Belvis Cultural Center, with help from the Friends of the Bloomingdale Trail group.
"It had to be [the] right timing for artists, right timing budget-wise," said Omar Torres-Kortright, the cultural center's executive director. "Finally, it all came together."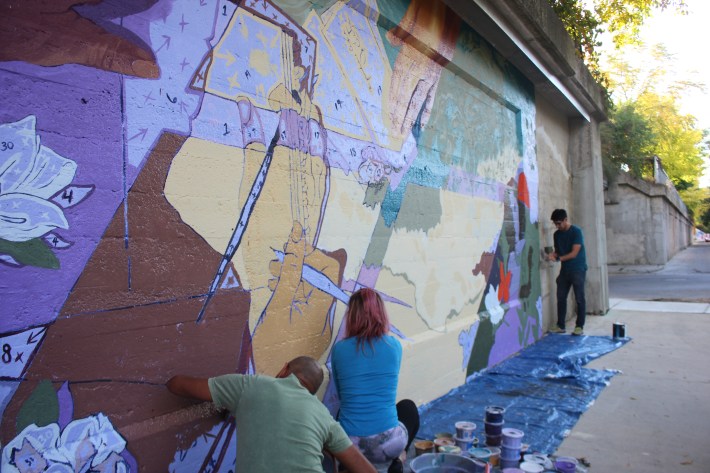 De Burgos (1914-1953) was a poet and political activist who the New York Times said helped shape Puerto Rico's identity. Through her literary works, de Burgos boldly denounced political injustice in Puerto Rico and beyond. She was also a fierce champion of Puerto Rican nationalism.
De Burgos was born in Puerto Rico but spent most of her life in New York, becoming "the literary foremother" of the Nuyorican movement, according to the Times. She died of pneumonia at age 39.
The Logan Square mural, which covers a park wall along Bloomingdale Avenue, shows de Burgos' hands writing at a desk flowing into a landscape of Puerto Rico and a portrait of her.
The public art display is meant to convey a sense of longing, as de Burgos wrote frequently about missing Puerto Rico while living in the United States, Colectivo Morivivi artist Sharon Gonzalez said.
"A Puerto Rican that is trying to make a living, a life outside of the island, can relate so much to her poetry," Torres-Kortright said. "The Puerto Rican community in Chicago reflects all of the themes — resilience, longing for that tropical paradise, but also being very critical of the ills of society and being an immigrant."
Torres-Kortright said Colectivo Morivivi was a natural fit for the project.
"Them being an all-female collective and this being about Julia de Burgos, a feminist and a poet from Puerto Rican, just made perfect sense," he said.
The Chicago Park District named the park after de Burgos in 2012, a few years after acquiring the land. The park became an access park to The Bloomingdale Trail in 2015.
Torres-Kortright said they've talked for years about bringing a tribute mural to the park that would serve as a "visual reference" so when people come to the park, they learn about de Burgos and her artistic and intellectual contributions to our world.
The project has taken on a deeper meaning as Logan Square has gentrified, Torres-Kortright said. Many Puerto Rican families have left the neighborhood in search of cheaper rents in recent years.
"There are still a lot of Puerto Ricans who are very much invested in this neighborhood because generations of their families have lived here," Torres-Kortright said. "It's important to keep that memory alive, and I think we're doing that by paying tribute to the most amazing and important literary figure of Puerto Rico."
Listen to "It's All Good: A Block Club Chicago Podcast":