WICKER PARK — Three candidates running for 1st Ward alderperson gathered in Wicker Park Wednesday to discuss how they plan to approach public safety, development, constituent communication and other issues if elected next year.
Attorney Sam Royko, Logan Square Preservation president Andy Schneider and former Ald. Proco "Joe" Moreno are running to unseat incumbent Ald. Daniel La Spata (1st), who was first elected in 2019.
La Spata, who is running for reelection, was not present at Wednesday's forum at Davenport's Piano Bar, 1383 N. Milwaukee Ave. Event organizers said he had a conflict.
The 1st Ward stretches from the eastern portion of Logan Square down through most of Wicker Park, parts of East Humboldt Park and portions of West Town. Chicago municipal elections will take place Feb. 28, with potential run-offs happening April 4.
All three challengers Wednesday touted their experience working with community groups and constituents to address development, public safety and other issues.
Royko referenced his work with the Greater West Town Community Coalition, a group he formed after his girlfriend Erin Groble was carjacked in Wicker Park in early 2021.
The organization has advocated for public safety improvements in West Town, and last year partnered with other community groups to send an open letter to city and county officials demanding more transparency and collaboration to prevent carjackings.
Schneider emphasized his involvement in development and community initiatives in Logan Square, like converting the Grace United Methodist Church into a community center and working with city leaders to open a food truck plaza on Sacramento Avenue.
Moreno, who served as 1st Ward alderperson from 2010 until 2019, talked up his experience collaborating with local police districts and bringing businesses to the ward while in office.
But he also briefly acknowledged his recent legal and personal woes.
In 2019, Moreno was defeated by La Spata after a series of scandals and legal troubles emerged at the end of his last term in office.
In May 2019, he was arrested on felony charges of insurance fraud and obstruction of justice, with police and prosecutors saying he let a woman he was dating get arrested in the luxury car he loaned her after falsely reporting the car was stolen from his garage. Moreno pleaded guilty in that case last year.
And in January 2021, Moreno was charged with drunken driving. He later pleaded to guilty to a DUI.
Moreno says he's since gone through treatment for alcohol addiction and completed court-mandated community service, and deserves another chance at representing the 1st Ward in City Council.
"With so much encouragement over the last year from community members, I decided to run again," he said.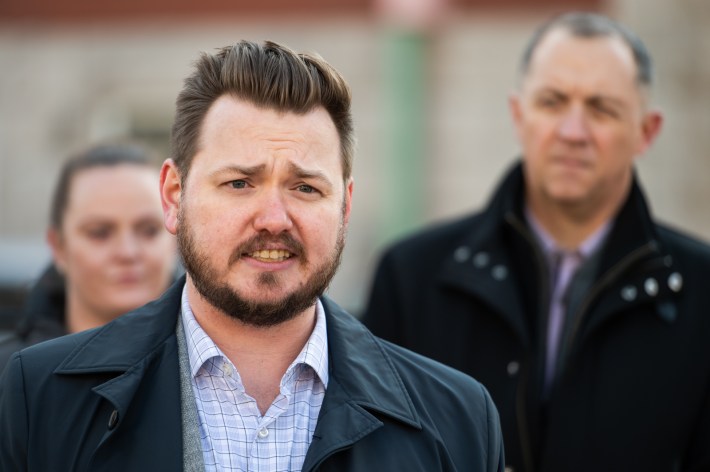 After brief introductions Wednesday, all three challengers answered the same questions drafted by members of the Wicker Park Committee and East Village Association neighborhood groups.
When asked to propose specific policies to address public safety concerns in the 1st Ward, candidate responses ranged from boosting police staffing levels and installing more cameras to tackling root causes of crime across the city.
Both Royko and Moreno stressed a need to deploy more police officers in the ward.
Moreno said he'd like to divert funds currently used to pay unarmed security guards contracted by the CTA to instead hire more cops.
"We have to hire more police officers, and it's tough, because of the leadership there, the morale is so low," Moreno said. "Our police officers are not being hired as they should be. So that is going to be my number one issue."
Royko has based much of his campaign platform on public safety, and said the city needs to look at rules surrounding officer retirements and transfers as one way to increase staffing levels.
He also stressed that the 1st Ward should install more cameras and other technology to identify and apprehend offenders.
"We need to start using the tools that are available especially while we have a gap in manpower," Royko said.
Schneider agreed the city should take advantage of technology like license plate readers to catch carjackers, but also stressed he'd advocate for a "holistic" approach to address systemic issues that cause crime.
"We need to look at the root cause of crime, which includes lack of economic opportunity, lack of investment, housing insecurity and schools. And attacking those issues is certainly going to have to be part of the solution," he said. "As alderman that's what I would look at when we start looking at the budget, and we start looking where those resources need to go."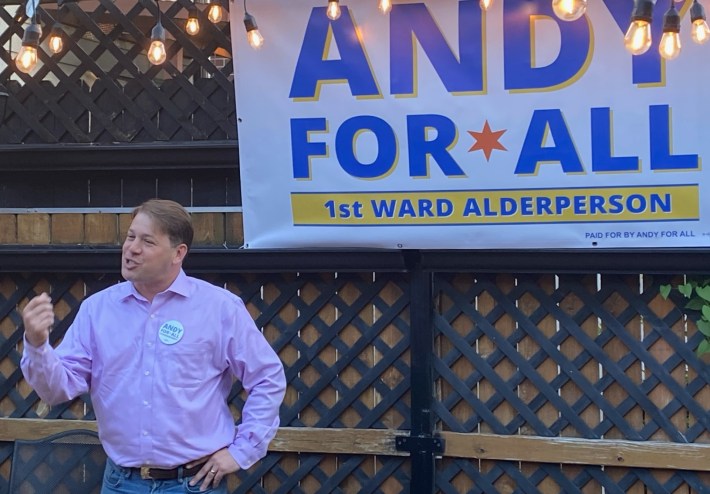 The candidates also said they'd take a community-centered approach to zoning and development issues if elected.
Schneider highlighted his involvement in numerous Logan Square projects over the past decade, and said as alderman he'd make sure residents see the benefits of the ongoing development boom in the 1st Ward.
"You want to make sure … the public official, the person that's in this seat, is standing with the community to make sure that when you hand a zoning entitlement over, that is worth an enormous amount of money to a developer, that some value in that is recaptured for our community," he said.
Royko said he'd be a "cheerleader" for the 1st Ward when it comes to working with new businesses and developers. He said he'd lean on the expertise of the area's many community groups which often weigh in on zoning changes and applications.
"My job really is to be your representative, not your boss. And that's especially when it comes to zoning. Zoning has been an area where aldermanic privilege has ran away. And we want to make sure that we're working with the community to make sure that we're building developments that are supported by the community," he said.
Moreno said during his tenure as alderman, he regularly approached community groups to get buy-in for new developments, and would do the same if elected next year.
"Every single zoning change that came my way that I thought had a chance — because there were many that we didn't refer because they're way out of whack — we referred to the committees," Moreno said.
But as alderman, Moreno faced allegations of coziness with developers who gave him campaign contributions.
A Block Club analysis in 2019 showed many local developers who got zoning approval in the ward donated to Moreno's campaign.
La Spata questioned the Moreno's relationships with developers during the 2019 campaign, and recently criticized the former alderman after he announced his candidacy this summer.
"In 2019, voters were clear: the days of corruption, bullying, and pay to play are over in the 1st Ward," La Spata tweeted in August. "As your Alderman, I've fought for fairness. I believe in a City Hall that represents our communities, not just special monied interests."
Since getting elected in 2019, La Spata has implemented a public-facing community zoning review process, which provides updates on zoning applications. His office also holds a monthly "First Look" meeting at prospective developments and zoning issues that is open to the public.
At Wednesday's forum, the candidates also discussed ways they'd approach communicating ward issues to residents, how to support the arts and artists in Wicker Park, and addressing shortstaffing issues at the Chicago Park District.
They were also asked how they'd handle issues at so-called "4 a.m. bars," which operate on a special license to stay open late on weekends. Each candidate said they favored a case-by-case approach to granting new late night licenses, rather than a blanket ban in the 1st Ward.
There have been several problems involving late night bars in Wicker Park over the past year, including at The Point, 1565 N. Milwaukee Ave. The bar has been shut down since a shooting took place outside the bar in February, the second in four months, although owner Joe Lin has repeatedly claimed he and his staff were not at fault.
All three challengers have lent to or raised tens of thousands of dollars for their campaigns in recent months, according to the Illinois Sunshine database.
Moreno's campaign committee is currently reporting $93,998.40 on hand, $60,000 of which the candidate loaned the committee himself in September.
Royko's committee is reporting $68,000, buoyed by a $30,000 loan from Royko last month. Schneider is reporting $67,003, with the largest donation of $23,053 coming from the 1833 PAC, a group he previously chaired, the Daily Line reported.
La Spata's committee is reporting $90,474, including support from local unions and several 1st Ward business owners.
Watch our "On The Block" TV show on The U, CW26 and MeTV.
Listen to "It's All Good: A Block Club Chicago Podcast":