GRAND BOULEVARD — Thousands of historic documents chronicling Black Illinoians lives dating back to the Great Migration now have a permanent home in one of the city's largest libraries, thanks to a team of dedicated volunteers.
The Bronzeville Historical Society has been working with State Comptroller Susana Mendoza's office to preserve funeral records of Black residents dating back to the 1920s. Those documents will now be housed at the Carter G. Woodson Library as part of the Vivian G. Harsh Research Collection.
Mendoza was on hand Tuesday at the historical society's office, 4455 S. King Drive, to honor them for their work. She was joined by Ald. Pat Dowell (4th) and state Rep. Lamont Robinson.
It has been a labor of love for Bronzeville Historical Society Founder Sherry Williams and her fellow members, who started the project in 2009. The group spent several hours a week poring over documents from Black-owned funeral homes — at times, surrounded by caskets — meticulously alphabetizing the files.
The documents are from Carter Funeral Chapels and Charles S. Jackson Funeral Home. Jackson was the first and oldest Black-owned facility in the country, operating from 1867 to 2012. Mendoza said thousands of files would have been lost forever had her office not obtained a court order to gain access to the shuttered buildings, at times prying off wooden boards nailed to the doors before the building was demolished.
"Today showed that the community can actually record its own voice, that we don't have to wait for some large institution to come around and say 'Let us make a record of those things.' We're capable of recording ourselves," Williams told Block Club. "Those that are here are all volunteers, passionate about preserving their own family history."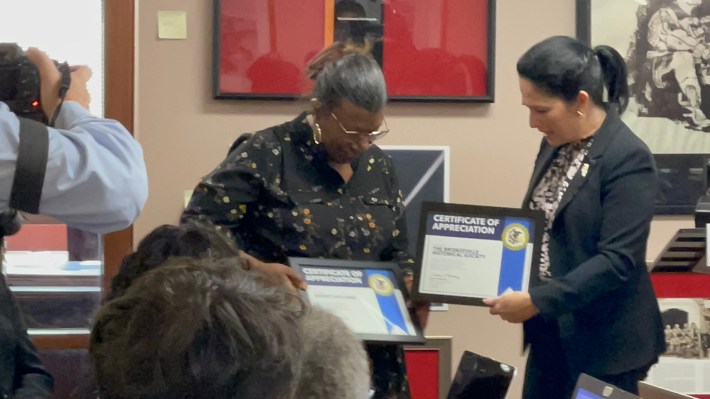 Williams' family arrived in 1942, settling in Bronzeville and eventually branching out to Englewood, the neighborhood in which she was born and raised. Documenting her family's Great Migration journey and those of others has been both educational and cathartic for the historian, whose mother didn't have a birth certificate until the 1970s due to discrimination.
Vital records are not just for establishing identity. They often provide the missing puzzle piece for people looking to find out who they are and where they come from — something that doesn't come easily for Black families, Mendoza said.
For twins Lettie Sabbs and Nettie Nesbury, it was also an adventure, the two often finding themselves sifting through obituaries and contracts in dimly lit funeral sanctuaries, empty caskets keeping them company.
"We were at the funeral homes before it closed. They were still having funerals. They'd have a body all set up over there and we'd be next door. It was scary sometimes," said Nesbury, who added that people often call asking them to look up loved ones.
Williams is now on a mission to put the documents online. Though state law limits what can be shared, the team will be able to scan obituary covers and upload them to the database, Williams said. So far the team has collected 15,000 of them, and Williams hopes to encourage other funeral homes to make a "natural path" for records to be given to a society or library.
"We're hoping to have 'Church Archival Training' to help those who are working in many congregations have some sort of outline as to how they can keep obituaries from services held at their churches," said Williams. "If we do that we won't have to wait for things to be discarded."
The historian said that relatives looking for funeral bulletins of loved ones can get those mailed to them upon request.
Bronzeville Historical Society is still looking for volunteers to help with the project. No record-keeping experience is necessary, just a willingness to "come in and alphabetize" some of the documents.
Watch our "On The Block" TV show on The U, CW26 and MeTV.
Listen to "It's All Good: A Block Club Chicago Podcast":