ALBANY PARK — When Gerardo Cardona and Jocelyn Rios were thinking of baby names for their son, they chose Hermes, the messenger of the gods in Greek mythology who was also responsible for the protection of travelers.
Hermes Cardona-Rios was born in April 2021 with a serious birth defect that required immediate care, his family said. His name was meant to convey strength, Cardona said.
"He had to have a surgery right after he came out of her belly, so I wanted to give him a strong name," Cardona said. "Something that would help him know that he'd be safe. That's why I picked Hermes, because he was always fast and good with people."
Hermes, 17 months, was killed Monday in a hit-and-run crash in Albany Park.
Cardona said he and Hermes were leaving Ruby's Fast Food, 4551 N. Pulaski Road, when the crash occurred around 2 p.m. Monday.
Hermes was being put into the backseat of a car but he was not secured in his seat, police said. He climbed out of the car and walked into the street where the driver of a pickup truck hit him, police said. The driver did not stop after the crash and continued north on Pulaski Road, police said.
Hermes was taken to Lurie Children's Hospital and pronounced dead.
Police released photos of the dark-colored, two-tone Ford pick-up truck Monday night are asking anyone with information about the driver to call detectives at 312-745-4521. The truck was found and the investigation remains ongoing, police said.
Rios told Block Club police contacted her Tuesday night to say the driver had turned himself in Tuesday morning.
Police did not answer questions about whether they had the driver in custody or where they found the truck.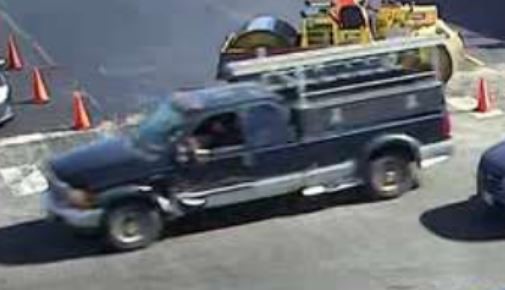 Friends and family created a small memorial to the toddler on a parkway tree near the intersection at Pulaski and Wilson Avenue where he was killed. Rios invited more than a dozen people to the memorial Tuesday afternoon to light candles and pray for Hermes. When Rios arrived at the vigil, she broke down in tears.
Rios said the family is religious and she worried Hermes' spirit was wandering in the area looking for his parents. The vigil was a way to help her son's spirit know his loved ones are around and care for him, Rios said. 
"Throughout the whole of last night I was wondering if my son's spirit was crying, looking for us," Rios said. "Just imagining that makes me cry."
Clarita Recto, Hermes' grandmother, cried into a stuffed teddy bear as family and friends help add candles and photos to the memorial. 
"I'm going to miss you. I'm not going to see you anymore," Recto said.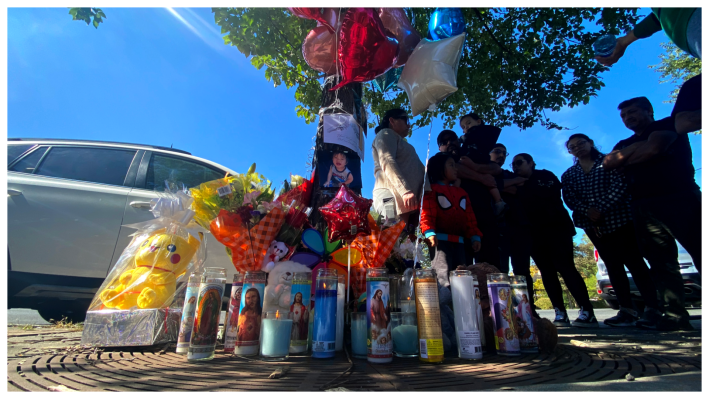 Hermes was born with gastroschisis, his parents said. It's a defect that occurs early in the pregnancy when the fetus has a hole in their abdomen, causing intestines and other internal organs to grow outside the baby's body, according to the Centers for Disease Control and Prevention. Surgery helps put the organs inside the body.
Hermes went home with his parents about a month after his surgery, Cardona said.
"The doctors told us he recovered really fast," Geraldo Cardona said.
Hermes has two older brothers, ages 5 and 2, and a 5-month-old sister, relatives said.
The family dog, Luna, a Pitbull Husky mix born the same month as Hermes, was the toddler's best friend, Rios said. 
"He'd always open her kennel cage just to be with her," Rios said. 
After his little sister was born, Hermes liked to just hang out and talk to her, Rios said. He also loved dancing. The song "Icky Sticky Sticky Bubble Gum" was a particular favorite, Rios said.
"He loved that so much," she said. 
Hermes was also loved food. Even when he was tired and nearly asleep, he would try to hold onto his snacks, Rios said. 
"I even have a picture of him falling asleep with a honey bun on his hand. He slept with it," she said. 
One of Hermes' nicknames was "our little duckling" because he loved to shadow his parents around the house, said Rios and Khalid Jordan, his godfather. 
Jordan said he bonded with his godson the night before he was christened at St Francis Xavier Chapel, 3033 N. Francisco Ave., on Sept. 25. Hermes spent that night with Jordan and his fiancée, family said. 
Hermes cried most of the night but he and Jordan eventually dozed off together around bedtime, Jordan said.
"He's so used to being with them, he was just crying and crying," Jordan said. "I remember him waking up. I don't know what time it was. He woke up and kind of startled me the way he got up, looked around and I guess he was just like, 'Oh, is just you and me?' and he fell back asleep on my chest," Jordan said. 
The pair were having a pretty "chill" time together the following day until the boy caught sight of his mom and dad at the church, Jordan said. 
"Once we got there he saw them and was like, okay, back to mommy and daddy," Jordan said.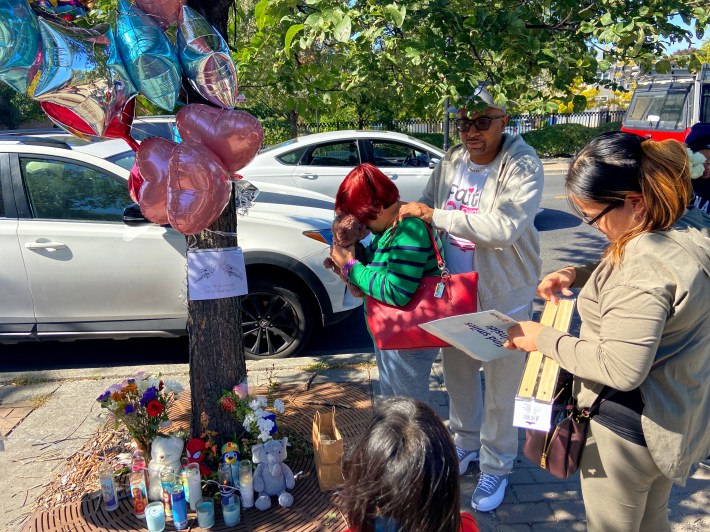 Rios launched a GoFundMe Monday night to help cover the cost of her son's funeral. Donors had contributed more than $5,000 as of Tuesday.
"It's touching that so many people have love for this for this child who had such a short time in the world," Jordan said. "But it's still so truly sad that a child was cut down like that before he even had a chance to live his life."
Listen to "It's All Good: A Block Club Chicago Podcast":