CHICAGO — The city is celebrating the spooky season by bringing back "Halloweek" for the third-straight year.
Halloweek is Oct. 22-31 and will have Halloween events across the city for children and families, according to a news release.
The festivities kick off noon-3 p.m. Oct. 22 with the "UPSIDE DOWN Parade" along Russell Drive in Washington Park. The event "turns the traditional parade upside down" because families in costumes will be the ones walking the parade, according to the news release. There will also be dancers, acrobats, puppetry, sports mascots and complimentary goody bags for kids from Blommer Chocolate Company.
The Chicago-based chocolate maker will pass out thousands of children's costumes at the entrance of the event and host a job fair for those interested in working at their factory, 409 N. Des Plaines St., according to the news release.
Blommer Chocolate has promised 10,000 Halloween bags filled with candy for Halloweek supporters throughout the week, according to the news release.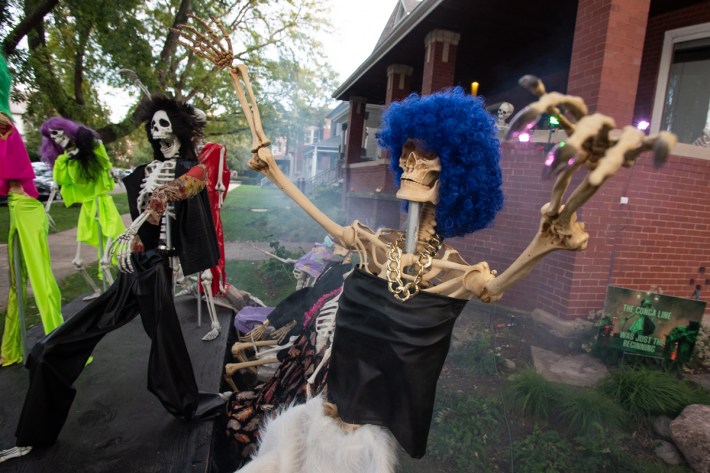 Halloweek continues with 10 community "On The Block" Halloween events with trick-or-treating, according to the news release.
Events below are all 3:30-5:30 p.m. on the listed date:
Oct. 24: Back of the Yards, Seward School, 4600 S. Hermitage Ave. 
Oct. 24: Auburn Gresham, Renaissance Park, 1300 W. 79th St. 
Oct. 25: Irving Park, Schurz High School, 3601 N. Milwaukee Ave.
Oct. 25: Greater Grand Crossing, Parkway Garden Christian Church, 6600 S. Martin Luther King Drive 
Oct. 26: South Shore, Rosenblum Park, 7547 S. Euclid Ave.
Oct. 26: Rogers Park, Gale Elementary, 1631 W. Jonquil Terrace
Oct. 27: North Lawndale, Hughes Elementary, 4247 W. 15th St.
Oct. 27: Austin, Michelle Clark High School, 5101 W. Harrison St.
Oct. 28: South Lawndale, Gary Ortiz Campus, 3000 S. Lawndale Ave.
Oct. 28: West Pullman, Carver Park, 939 E. 132nd St.
The eighth annual "ARTS IN THE DARK Parade" will be 6-8 p.m. Oct. 29 on State Street between Lake and Van Buren streets. The event will feature cultural organizations and artists from across the city, according to the news release. There will be music, dancing, puppets and fire spinners. Kids can get free bags filled with candy before the start of the parade.
A full list of events and spots for city-sponsored trick-or-treating are available here.
The Park District also plans 10 pop-ups on residential streets to provide costume kits for kids.
Chicagoans and businesses are welcome to register their Halloween events on the city's Halloweek site, which are listed here.
Locals can upload a photo of their Halloween costumes here for a chance to win a 10-pound Blommer Chocolate bar.
Listen to "It's All Good: A Block Club Chicago Podcast":