ROGERS PARK — City officials have yet to outline a plan to address the homeless encampment in Touhy Park, but any steps to do so must include housing for the camp's residents, Ald. Maria Hadden (49th) said.
Elected officials, city agencies and neighbors have grappled with how to address the tent city in Touhy Park, 7348 N. Paulina St., for nearly two years. But with Touhy Park's programming relocated to a neighboring park — and with winter on the way — neighbors are pushing for a solution that helps those who are unhoused while also restoring park services.
Any action that is taken to disband the encampment must include housing for those living in the park, Hadden said at a community meeting Monday evening.
"We need to be sure we're housing people and addressing people's needs," Hadden said. "And we need to make sure the park is available and accessible.
"These agencies and departments have done their best to coordinate in working on a compassionate response … but haven't necessarily done a great job in having a plan," she said.
Hadden's comments came at a community meeting where officials from the Chicago Park District and the Department of Family and Support Services were present to discuss how they're handling the Touhy Park encampment.
Park District General Superintendent Rosa Escareño said though the Touhy Park field house is closed, park staff is on site daily to help with cleaning. Security is also there to remind park residents they are in violation of rules regarding park curfew.
Enforcement of those rules, however, falls to the Police Department, Escareño said.
"The Chicago Park District is in the business of recreation and managing parks and park spaces," she said. "We rely on other agencies at the city to specifically address the homeless. Our goal is to continue to work in partnership with those agencies."
The city's policy during the pandemic was to not evict tent encampments from public property. Police have other priorities, including addressing a flurry of shootings that have happened in Rogers Park, Hadden said.
Now, the Park District and other city agencies need to find a pathway to enforcing park rules on curfew, she said.
Such a plan, however, has yet to be detailed to neighbors.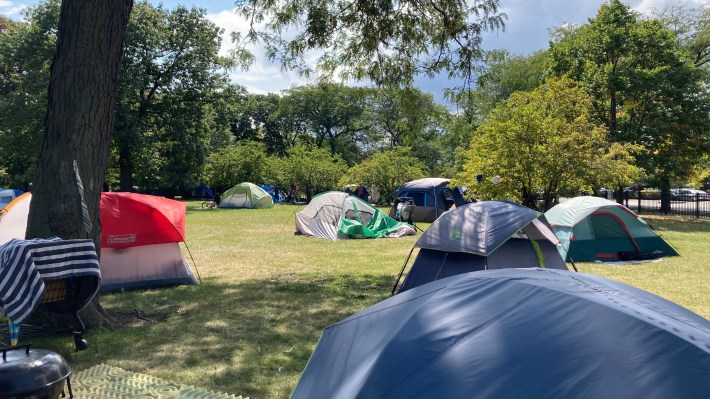 Over 300 neighbors attended the virtual community meeting Monday, where many called on the city to act on the tent encampment or asked how they can help the situation.
The Touhy Park tent encampment popped up in early 2021 as the coronavirus pandemic caused a housing crisis and increase in homelessness.
Its numbers have ebbed and flowed. The city has found housing for 64 park residents since last summer. There are about 30 residents living in the park right now, Hadden said.
Last month, the Park District closed Touhy Park's field house and moved park programming to nearby Pottawatomie Park. A summer day camp was also moved out of Touhy Park out of safety concerns, neighbors and park volunteers said.
Touhy Park is one of nine homeless encampments with 10 or more people, Hadden said at the meeting.
There are plans to host another Touhy Park "accelerated moving event," a rapid housing program conducted by the city that has been successful in reducing tent city populations in Rogers Park and elsewhere, officials said.
Further clean-up efforts at the tent city will take place this month, when the Park District will remove the port-o-pottie that was brought to the park to help with sanitation concerns, Escareño said.
Efforts to clean up the park and remove resources for the tent city must coincide with housing efforts, Hadden said.
"This is what we have to do, is figure out a way to bring the park back in service for everybody. That's going to look like housing our homeless residents. We need to make sure we get people housed by winter."
Neighbors at the meeting implored city officials to find a solution.
"There seems to be a lot of finger pointing and ball dropping," Steven, a Rogers Park residents, said at the meeting.
Some neighbors asked about potential solutions to the problem. Those include using empty private and public buildings to act as shelters, similar to what is being done for the migrants being bused to Chicago.
"At the end of the day, we should have that public space back," said Lloyd, a neighbor. "I really hope we can solve this."
Listen to "It's All Good: A Block Club Chicago Podcast":