CHICAGO — The Chicago International Film Festival is kicking off 12 days of film screenings across the city next week with a block party in Lakeview.
The 58th edition of the festival runs Oct. 12-23 in theaters across the city.
Cinema/Chicago, the festival's presenting organization, will roll out a red carpet outside the Music Box Theatre, 3733 N. Southport Ave., for the ChiFilmFest Opening Night Block Party. It happens 5-10 p.m. Oct. 12 along Southport between Grace and Waveland avenues.
The block party will have live music, food trucks, vendor booths and screens displaying trailers for some of the festival's films.
"This is our first block party, and it's hopefully the first of many," said Vivian Teng, managing director of the festival. "We really want to revolve it around cinema, Chicago and the community, so we'll roll out the red carpet and will have all kinds of film-themed displays."
The block party is partially funded by Special Service Area 27 as part of its Community Event & Placemaking Grant program, which offers up to $5,000 in assistance for unique events and public programs within the SSA's boundaries.
Businesses within the block party's footprint will put of cinema-themed decorations, roll out their own red carpets and do more to celebrate the occasion, said Alyssa Lombardo, events and marketing director for the Lakeview Roscoe Village Chamber of Commerce, which is the SSA's sole service provider.
"The ChiFilmFest Opening Night Block Party could be anywhere in Chicago, but they chose Lakeview, so that speaks volumes to our neighborhood and what we're able to provide," Lombardo said. "It's an ideal location with the historic Music Box right there. This event is going to be so cool."
Tickets and the full screening schedule can be found on Chicago International Film Festival's website.
'Something For Everyone'
After "decentralizing" the festival last year by hosting screenings at various theaters, the Chicago International Film Festival is launching two new venues this year, Teng said.
Some films will now be screened at Englewood's Hamilton Park Cultural Center, 513 W. 72nd St., and Austin Town Hall, 5610 W. Lake St., Teng said.
Other venues include AMC River East 21, 322 E. Illinois St.; the Gene Siskel Film Center, 164 N. State St.; and the Chicago History Museum, 1601 N. Clark St.
"Last year we started this by branching out into other parts of the city and we had such a great reaction to it," Teng said. "It's about finding ways to connect with audiences and inviting them to participate in the festival."
This year's festival features 92 feature films and 56 shorts coming from countries around the world, including Ukraine, South Korea, Spain, Chile, India, France, Mexico and Japan.
Programmers reviewed more than 6,000 films to curate the festival, Teng said.
"There's something for everyone," Teng said. "We have the awards contenders and then these really amazing local gems that have been submitted."
The festival opens 7 p.m. at the Music Box with a screening of "A Compassionate Spy," a documentary by local filmmaker Steve James about University of Chicago graduate Theodore Hall's involvement with the Manhattan Project and how he passed crucial military secrets to Soviet intelligence about the United States' efforts to build nuclear weapons.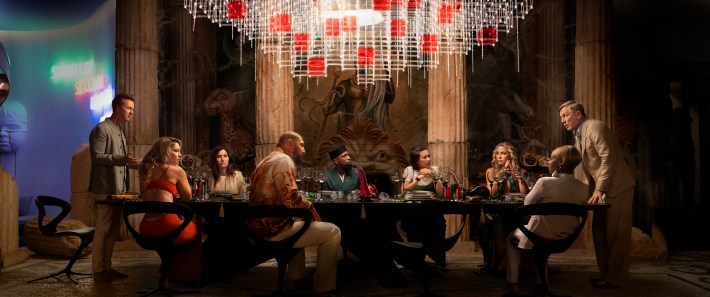 The festival's centerpiece is Rian Johnson's "Glass Onion: A Knives Out Mystery," a sequel to "Knives Out," which screened at a previous year's festival, Teng said. It stars Kathryn Hahn, who will be on hand to accept a Career Achievement Award. "Glass Onion" screens 6 p.m. Oct. 18 at the Music Box.
The festival closes 6 p.m. Oct. 23 at the Music Box with a screening of "White Noise," a "hilarious and horrifying, lyrical and absurd, ordinary and apocalyptic dramatization" by Noah Baumbach about an American family's attempts to deal with mundane conflicts of everyday life in an uncertain world.
The festival will also have a mix of local local stories:
"Art and Pep," a documentary about the couple behind Chicago's LGBTQ bar Sidetrack, directed by Mercedes Kane.
"Rounding," the latest drama and psychological thriller from Alex Thompson, director of "Saint Francis."
"King of Kings: Chasing Edward Jones," a portrait of director Harriet Marin Jones' grandfather, a gambling entrepreneur who was one of the most powerful and richest Black men in America in the '30s and '40s who went head-to-head with the Chicago mob.
Twenty of the festival's films will be available for streaming in Illinois, Wisconsin and Indiana through the festival's online streaming platform and apps for Roku and Apple TV. Virtual screenings are ticketed and viewable from noon Oct. 13 through 11:59 Oct. 23.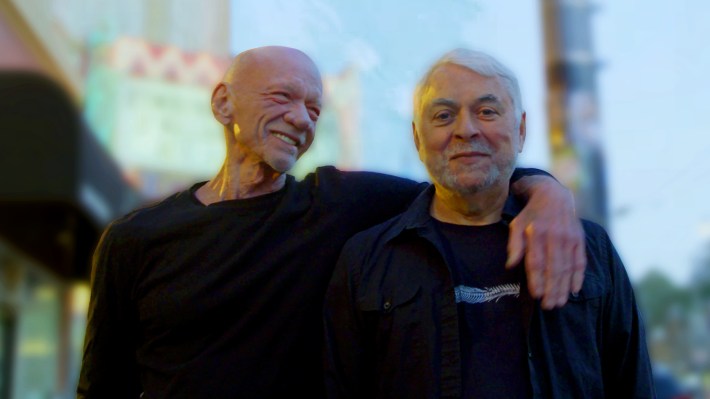 'A Great Selection Of Queer Films'
The festival also will highlight more than a dozen LGBTQ-themed stories as part of its OutLook program, which celebrates the diversity of queer and LGBTQ stories in cinema, said Sophie Gordon, associate programmer of the festival.
"We have a great selection of queer films that can stand alone by themselves in the program — not just because they're part of OutLook," Gordon said. "So a lot of the films that we have in this section are not programmed because they were queer films, but because they were excellent films and are stories we want to share in general.
In "Art and Pep," viewers will get a glimpse at the lives and relationship of Art Johnston and Pepe Peña, whose iconic gay bar Sidetrack has been a cornerstone of the city's LGBTQ community since it opened in 1982.
"This film does a beautiful job mixing archival footage, photographs, interviews and even animated sequences to draw parallels between Art and Pepe being on the frontlines of the fight for equal rights during the '80s and today's context of the COVID-19 pandemic and movement for Black trans lives," Gordon said.
Another film, "Paloma," follows a transgender woman living in rural Brazil who's preparing for her dream of a traditional church wedding with her partner.
The film stood out to the festival's programmers because of its depiction of trans joy, Gordon said.
"A lot of queer films are — and very rightly so — portraying very real experiences of the adversity that queer and trans people have faced historically, and it's important to, in conjunction with that, lift up these stories about queer and trans joy to counterbalance that," Gordon said.
Other OutLook films include:
"My Policeman," a period piece that explores a forbidden romance between two men in 1950's England, starring Harry Styles as one of the leads.
"The Inspection," an autobiographical film by Elegance Bratton that explores the true experiences of a gay Black man entering the Marine Corps during the height of Don't Ask, Don't Tell, a U.S. policy that barred openly gay, lesbian or bisexual people from military service that was struck down in 2011.
"Close," by Belgian filmmaker Lukas Dhont, which portrays the friendship and love between two inseparable 13-year-olds whose relationship starts to become questioned and tested. It's Belgium's submission to the Academy Awards this year.
"Fairy Folk," from Indian director Karan Gour, which is a "magical, realist, deadpan comedy" about a jaded couple that encounters a mysterious woodland being that upends their notions around gender, sexuality, desire and love.
"Every one of these films stands on its own and is an excellent film or story to be showing, especially in today's climate where LGBTQ rights are being threatened all over the place," Gordon said.
Other special programs include Black Perspectives, a collection of films celebrating the richness and diversity of Black and African American stories, and Women in Cinema, which features films by leading women filmmakers.
Listen to "It's All Good: A Block Club Chicago Podcast":