WEST TOWN — For decades, Alcala's Western Wear has been one of the premiere Chicago outfitters of cowboy boots, hats, belt buckles and a range of Western apparel.
Customers travel from throughout the country and world to choose from 8,000 pairs of boots for sale at Alcala's, 1733 W. Chicago Ave., or get fitted for one of the shop's 5,000 cowboy hats.
The expansive West Town store's massive neon sign, complete with rearing horse, can be seen from blocks away.
And today, three generations of the Alcala family work at the store, handling everything from inventory to the cash register, along with their dedicated staff. They work with around 20 boot suppliers, attend rodeos and other trade events, and sometimes spend hours with customers to find them the perfect Western look.
But it wasn't always that way.
"When mom and dad started the business, it was polyester pants, bell bottoms. Western wasn't even a forethought," said Robert Alcala, 63, one of the store's owners and son of founders Luis and Carmen Alcala.
Since opening in 1972, the store has undergone major changes, just like the neighborhood around it. But Alcala's has remained and prospered. In June, the outfitter celebrated 50 years in business, almost all of them on Chicago Avenue in West Town.
Now, Robert Alcala and his siblings are starting to turn the reins over to the next generation, like his son Antonio Alcala and his nephew Jose Magaña, who have grown up in the store.
"Celebrating the 50th was definitely a milestone," said Antonio Alcala, 26. "It's not easy, and it's going take time, but we have a strong family and everything that they've built up. So I think that we can definitely go for another 50 years."
Though it is a West Town fixture, Alcala's started on Commercial Avenue in South Chicago. Luis Alcala opened the store after having sold clothes at the famous Maxwell Street market, Robert Alcala said.
The store sold fashionable clothing like bell bottoms and flowery shirts, as well as work clothes for nearby factory workers.
Not long after opening, the business relocated to Chicago Avenue, initially occupying just the easternmost part of the current storefront.
It was in West Town, then home to a thriving Mexican-American community, where the Alcala brand that lives on today would be born.
"It wasn't until we made the move to the North Side, after a few years of being settled in, that's when the emergence of Western wear came about. So that changed everybody's life," Robert Alcala said.
Robert Alcala said the business really started to grow thanks to support from other Mexican immigrants, many of them from the state of Durango, Mexico, where Luis Alcala was born. They'd often stop in to buy clothes before or after going to local theaters and dances in the neighborhood.
"That brought us mounds of business because all the young Mexican guys would come. They would come shop from my dad, buy their clothes, have them be altered, they'd go to the show. Then after the show, they would come back and get their clothes," Alcala said. "Everybody would shop, get some clothes, get them altered, go to the show. And then after the show, take your date and go to the dance."
Robert Alcala is one of 11 siblings, seven of whom ended up managing the store, he said. When Luis Alcala retired in the early 1980s, they kept the operation going, but slowly started making changes — like stocking a few pieces of Western wear, which was growing in popularity at the time.
"It wasn't until one of my brothers, Richard, he suggested, 'Hey, let's give a try to something different. There's a lot of demand.' People were asking for Western shirts, Western hats and even boots. So little by little, we bring in a few items," Robert Alcala said.
Forty years later, Alcala's prices have quite the range, with one pair of alligator skin boots coming in at more than $10,000. But the store has also strived to offer more affordable options, with some boots starting around $100. Hats can stretch all the way up to $5,000.
Alcala's maze-like interior is lined with wall-to-wall merchandise, old posters and neon signs advertising different products. Near the entrance, customers are greeted by a pair of massive cowboy boots once worn by wrestler André The Giant.
"It's like a playground for them. Some people spend a couple of hours in here. They come in for like 30 minutes, and next thing you know, two hours have passed, and they're still walking around, looking at things, trying to get fitted," said Magaña, 34.
And Alcala's success has tracked the growth of the industry in general, Robert Alcala said. With online sales and social media, the store has shipped to customers in Africa, Europe and Japan.
And often, Robert Alcala said, they'll end up shipping a pair of boots right back to where they were made: Texas.
"We get customers from Texas, who have to come to Chicago to order their merchandise and all we do, we get it from Texas, and we just ship it right back," Robert Alcala said.
"Right now Western is like the hottest commodity out there. There's a lot of competition, there's a lot of demand. But we do have the bragging rights that say we were at one time the only Western wear store in Chicago."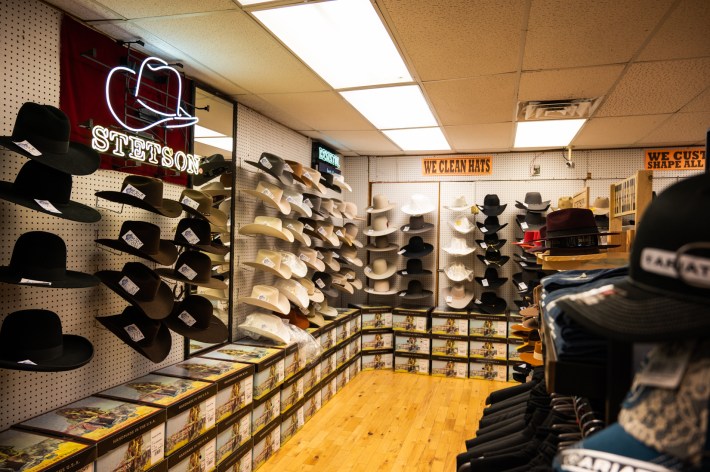 'No Way In The World Did Anybody Ever Dream That 50 Years Later, We'd Still Be Together'
Alcala's threw a huge 50th anniversary party in June, complete with a mechanical bull in their parking lot across the street. Almost four months later, Robert Alcala is still in a celebratory mood.
"I'll be honest with you, I've always felt that as of January 1, 2022 through December 31, we have 12 months to celebrate this accomplishment. And we're going to milk it for everything we can," Robert Alcala said. "No way in the world did anybody ever dream that 50 years later, we'd still be together."
The accomplishment comes against a backdrop of dramatic change and gentrification that has gripped West Town and Chicago Avenue in recent years.
When Luis Alcala opened his store in the neighborhood in the 1970s, it was still home to mostly immigrant-owned small businesses. Many endured for decades, but some of the last holdouts have closed or moved away in the last few years.
Deitch Pharmacy, a block west of Alcala's, closed in September 2021 after more than 100 years in business. And Tecalitlan Restaurant relocated to Lincoln Park after 47 years in West Town, when owners were unable to find a new lease in the neighborhood.
"It's not longer the mom-and-pop type of stores," Robert Alcala said.
Even so, the Alcala's see the change in West Town as mostly a positive, with more people walking around at night and a decline in crime.
But they also feel the pressure of keeping the business alive, especially when longtime neighbors are fading away.
"You just really take everything into consideration, like what you need to do in order to stay relevant in the times, you know, because with everything being at a click of a finger, anybody could go anywhere and find something and little do they know that you're here," Antonio Alcala said.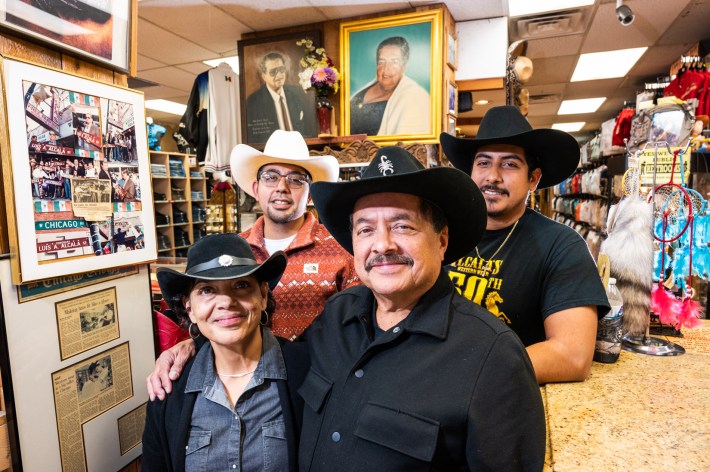 Antonio Alcala and Magaña are part of the new generation — grandchildren of Luis Alcala — who are slowly starting to take over the store from their parents.
For Robert Alcala, it's something he's been looking forward to.
"All the other siblings, we're all in our stage to retire soon. I'm in my 60s, my oldest brother will be turning 70. So we know we're at that point where we're ready to turn over the reins just like dad did to us," he said. "We're headed in the right direction, that's for sure."
Antonio Alcala and Magaña said while they both feel the pressure of carrying on the family's legacy and brand, it's one they feel equipped for.
"I'm proud of the responsibility that's going to come. I definitely have a sense of responsibility, but nothing that scares me. I'm excited for to carry on that responsibility," Magaña said.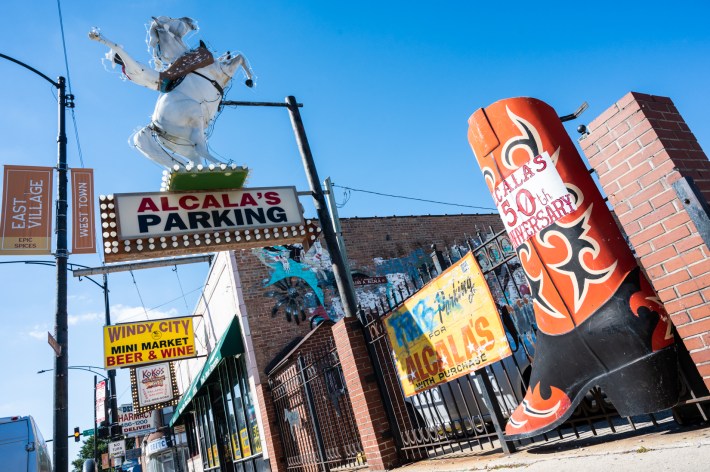 They're also starting to think about a possible second location. The family is keeping an eye on the upcoming Chicago casino, which will be built less than 2 miles east of the store. The Alcala's hope there could be an opportunity to open a retail outpost in the development, which could then bring in more customers to the expansive showroom in West Town.
But in the meantime, the family's focus remains on Chicago Avenue.
"I'm 63. I don't think at the age of 113 I'd be around to to celebrate the 100th anniversary, but it's such a wonderful feeling to know that the family has prospered so much over the years. All we can do is look forward to the future," Robert Alcala said.
"I got a feeling this business isn't going anywhere."
Alcala's Western Wear is open 9:30 a.m.-6 p.m. Sunday-Thursday and 9:30 a.m.- 7 p.m. Friday and Saturday.
Listen to "It's All Good: A Block Club Chicago Podcast":