WICKER PARK — A replacement Halloween fair in Wicker Park's namesake park has been planned for later this month after the original was called off.
Wicker Halloween Town runs 10 a.m.-1:30 p.m. Oct. 22 in Wicker Park, 1425 N. Damen Ave., and will feature pumpkin giveaways, a costume parade, face painting, balloon animals and a live performance from children's musician Mr. Dave.
The event is geared toward kids 12 and younger, and is free to enter.
Wicker Halloween Town is replacing this year's Boo-Palooza festival, which has been held in the neighborhood since 2005 by the Wicker Park Advisory Council.
Boo-Palooza organizers canceled this year's event last month, saying poor communication from the Park District and understaffing at an event contractor left them unable to proceed.
At the time, advisory council member Doug Wood said he and other event organizers were forced to cancel the event after they received no response from Park District staff for more than a month after submitting permit applications in August.
Wood also cited understaffing at event contractor Christy Webber Farm and Garden Center, which has for years provided pumpkins and other supplies for the event.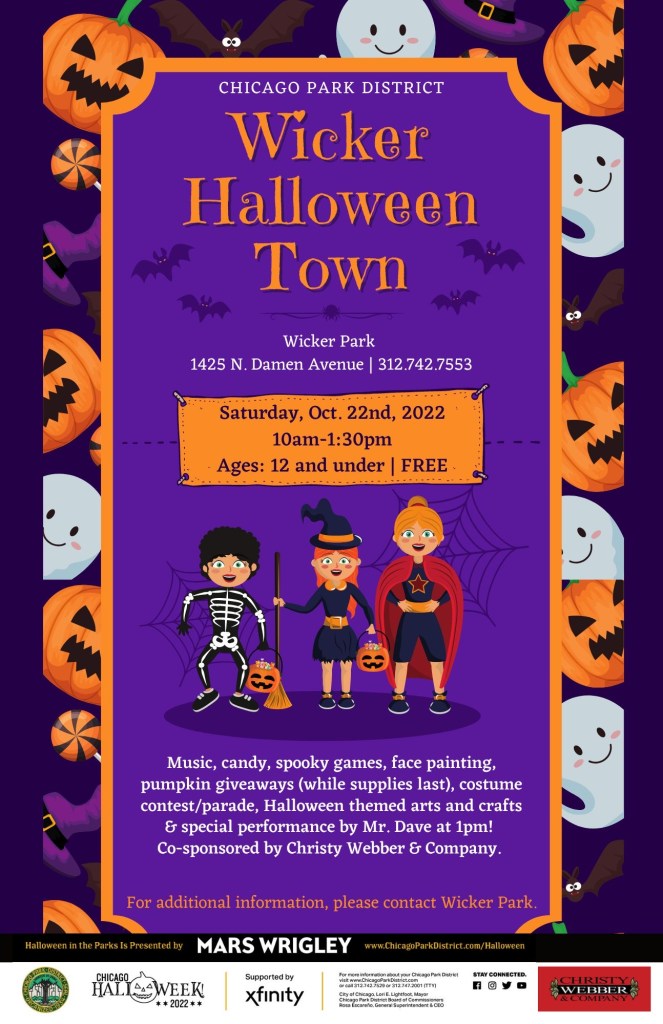 Park District employees responded via email that permits for the event had been processed in mid-August and they expected Boo-Palooza to go ahead Oct. 22. But Wood told them he never received confirmation, and it was now too late to organize the event.
Local restaurant owner Robert Magiet contacted the Park District and Christy Webber in hopes of organizing a replacement.
"A few community members reached out to me to see if I could step in and use my resources to help keep some type of an event going," he said.
Magiet connected with Wicker Park supervisor Keith Jones, and also reached out to Christy Webber, which will be donating 300 pumpkins and other supplies for the new event, Magiet said.
While free, Magiet is still raising funds through his nonprofit West Town Feeds to buy an 200 more pumpkins and pay for live entertainment.
"It's not going to be as extravagant or as great as Boo-Palooza was, that's such an amazing event, but we wanted to make sure that something was going on for the kids in the area," he said.
Boo-Palooza is a major source of fundraising for programs planned by the Wicker Park Advisory Council. Data shared by Wood last month show more than 6,500 people attended 25 events in the park this summer, which were partially funded by dollars raised through last year's Boo-Palooza.
With this year's event getting called off, "that means that we have to obtain sponsorship to compensate for that loss," Wood told Block Club. "We have a whole lot more fundraising to do."
Listen to "It's All Good: A Block Club Chicago Podcast":