CHICAGO — Chicagoans won't face a property tax increase next year as Mayor Lori Lightfoot has officially scrapped the unpopular measure in the lead-up to the election.
Lightfoot on Monday outlined her 2023 spending plan, which includes more pension contributions and increased funding for the Chicago Police Department, along with investments in homelessness prevention, abortion care and more — all without a property tax hike.
The "stability budget," as Lightfoot's office calls it, aims to reduce debt amid the ongoing pandemic and address the city's underfunded pension crisis, while investing in services and programs to attack the city's most persistent problems: poverty and gun violence.
"We've righted the financial ship and we've invested deeply in our people and places along the way. Now, it's time for us to stay the course and strengthen that ship of state so that we enable our residents to sail into a more equitable and inclusive future," Lightfoot said in her budget remarks Monday.
Lightfoot previously planned to ask City Council for a $42 million property tax hike — half of what an inflation-tied policy would've allowed — to help settle the city's finances, even as the city was facing the smallest budget shortfall in her tenure: $127.9 million.
The mayor was facing an uphill battle in getting the measure approved, as property tax increases are notoriously unpopular among members of City Council.
But Lightfoot dumped the property tax plan last week in an apparent move to avoid controversy ahead of the election.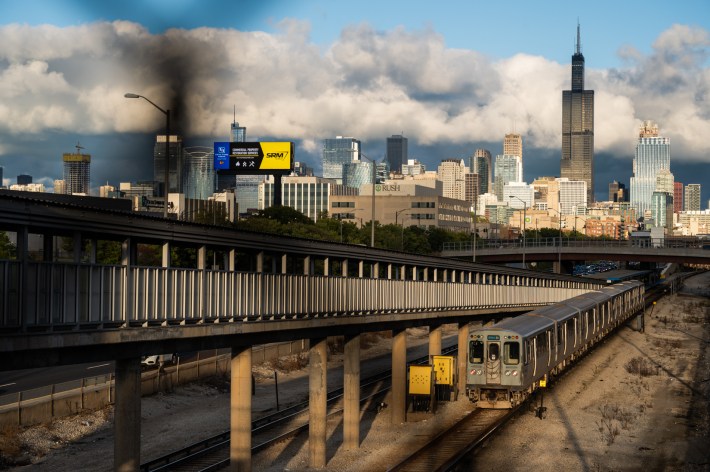 Asked about the reversal at a roundtable interview, Lightfoot said her administration was able to avoid a property tax increase because the city's revenue projections were "substantially better" than expected.
Still, calling off the property tax increase for the upcoming year is a "one-time deal," Lightfoot said.
"As I've said, over and over again, I will not go back to the days, prior to my administration, where we fail to tell the truth to our taxpayers about what our actual needs are, and we go through a series of gimmicks and asset sales and finally we say to the taxpayers, 'Guess what? Now we need this historically large increase in property taxes to address our failure to tell you the truth' … I won't do that," Lightfoot said.
The city's various revenue streams — amusement taxes for events and transaction taxes for real estate deals, along with state income taxes and corporate income taxes — have all seen larger-than-expected gains with the pandemic no longer limiting daily life. Because of that, there's no reason to expect a property tax hike after the election either, Lightfoot said.
"This is not going to be a post-election surprise. The budget is the budget," she said.
Lightfoot's 2023 budget includes more than $100 million for public safety, including "new technologies for officers" like replacing police helicopters and squad cars, and $36 million to fulfill the demands of the federal consent decree.
The Tribune reported the city's police budget will rise from $1.88 billion to $1.94 billion under Lightfoot's spending plan.
Lightfoot's $16.4 billion budget proposal also calls for more than $200 million in spending "to expand services and housing opportunities for individuals experiencing homelessness and housing instability," according to her prepared remarks.
The funding will go toward bolstering the city's shelter system, rapid re-housing, addiction treatment, job training and other "wrap-around services" to help combat homelessness and housing instability that has worsened during the pandemic, Lightfoot said.
An estimated 65,000 people experienced homelessness in Chicago in 2020, according to a report from the Chicago Coalition for the Homeless.
"The investments we've made in affordable housing and in homeless prevention, coupled with our targeted financial assistance programs, are necessary steps toward ending the generational poverty that too many of our families struggle through," Lightfoot said in her remarks.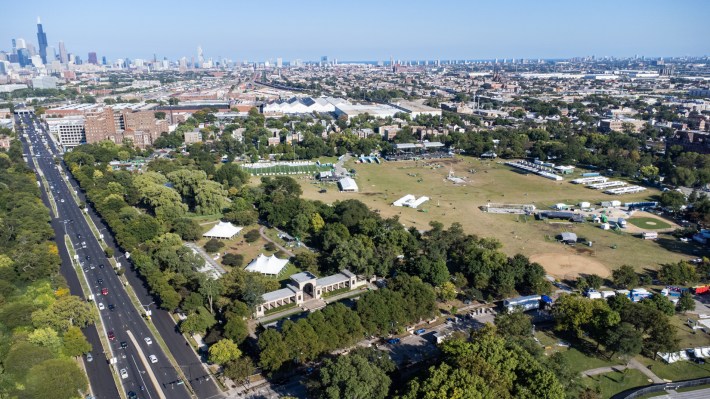 New investments — buoyed by $1.9 billion the city received in federal pandemic relief funds — include $3.1 million in reproductive healthcare, an additional $10 million for homelessness prevention and other similar services, $7.5 million for city hiring, procurement and IT upgrades and $13.5 million for public safety.
In sharing next year's budget, Lightfoot touted her office's financial accomplishments, saying the city has reduced its total outstanding debt by $377 million and increased its annual pension contributions by $1 billion under her leadership.
As part of the budget announcement, Lightfoot also unveiled a new pension policy in which the city will spend an additional $242 million in contributions to begin to pay down the city's ballooning pension credit card debt.
"While we have made significant progress in our pension contributions, we are
essentially making the minimum monthly payment on our pension credit card. We need to begin paying down that pension credit card so that we can stop paying compounded interest," Lightfoot said in a news release.
The budget is the result of "hard work" and smart financial planning, and not because of an influx of pandemic relief funds from the federal government, as much of those dollars have been spent or allocated to city investments, budget director Susie Park said at the roundtable.
Overall, Lightfoot's 2023 budget is considered uncontroversial compared to recent spending plans and isn't likely to spark a battle in City Council, but it's still drawing opposition from the mayor's frequent critics.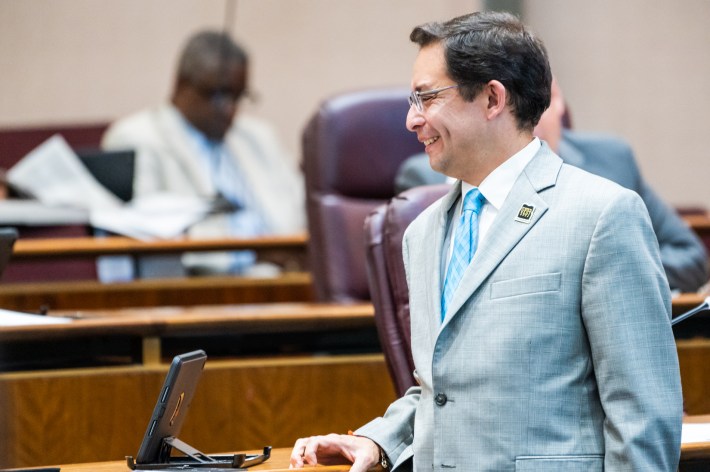 Ald. Raymond Lopez (15th) told the Tribune Lightfoot's budget is "meant to be inspiring on the cusp of her hopeful reelection, but there are many things in this budget that are just wrong."
Lopez added, "And it's a continuation of bloated smoke-and-mirrors budgeting that we've seen over the last two-and-a-half years."
Lopez is among a crowded field challenging Lightfoot for mayor in 2023.
In a news release, the Chicago Teachers Union accused Lightfoot of "balancing the budget on the backs of public schoolchildren," saying she slashed school budgets and "left our most vulnerable students in the lurch" even after receiving nearly $3 billion in federal pandemic relief.
"This mayor has repeatedly promised the moon and delivered nothing. When someone shows and tells you who they are, believe them," the union said in a release.
Listen to "It's All Good: A Block Club Chicago Podcast":