MUSEUM CAMPUS — SUE the T. rex — the fearsome dinosaur fossil at The Field Museum — has some mysterious holes in their jawbone that has puzzled scientists for decades.
A new study showed one of the popular theories — that SUE had suffered an infection from a protozoan parasite — couldn't be true.
SUE the T. rex is one of the most complete, best-preserved Tyrannosaurus rex specimens ever found. That level of preservation helps reveal details about SUE's life, such as the dinosaur's age and their past injuries.
One early hypothesis for the holes — some the diameter of a golf ball — on the back half of SUE's left lower jaw came from a fungus-like bacterial infection, but that was later shown to be unlikely. It was re-hypothesized that SUE had a protozoan infection — microbes with more complex cell structures than bacteria.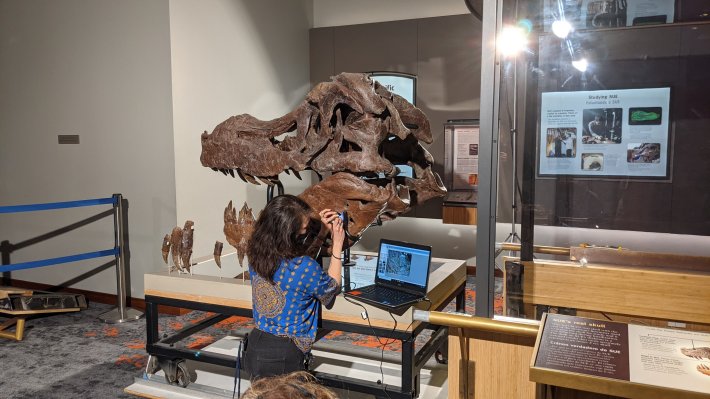 Jingmai O'Connor, the associate curator of fossil reptiles at Chicago's Field Museum and co-author of the study, worked with Field Museum assistant collections manager of birds Mary Hennen to find a bird skeleton in the Field's collections with a history of trichomoniasis — one common protozoan-caused malady caused by a microbe called Trichomonas vaginalis.
There are signs of inflection in the back of the throat on the bird skeleton, but the researchers didn't find any holes bored through the jaw like those in SUE. That finding helped root out the theory of Trichomonas or a similar protozoan being what cause the holes in SUE's jaw, O'Connor said.
Scientists still don't know what caused these holes, O'Connor said. Not even the co-authors of the latest study ruling out the prevailing theory see eye-to-eye: co-author Bruce Rothschild thinks they're bite or more likely claw marks, but O'Connor disagrees.
"The holes are only found in the back of the jaw," O'Connor said. "So if they are bite marks, why are there not also holes at the front of the jaw? And you don't see rows of holes or indentations like you'd see from a row of teeth, even a row where the teeth are different heights. They're just random, all over the place."
Rothschild's hypothesis also suggests the claw marks are the result of courtship behavior, possibly even between two male T. rex specimens. Scientists don't know SUE's sex, but the fossil's size makes some paleontologists think SUE was male, and there are lots of examples of homosexual activity in nature.
"The 'gay T. rex' hypothesis is fun, but I don't think there's enough evidence to support it one way or the other," O'Connor said.
There remain lots of possibilities to explain the holes, and O'Connor said she's keen to keep digging.
"The more I started learning about these jaw holes, the more I was like, 'This is really weird,'" says O'Connor. "What I love about paleontology is trying to solve mysteries, so my interest is definitely piqued."
Listen to "It's All Good: A Block Club Chicago Podcast":