OLD TOWN — Dom's Kitchen & Market is opening its second store next month in an Old Town storefront that once housed independent grocery store Plum Market.
Dom's will hold a ribbon-cutting ceremony 10 a.m. Nov. 1 outside the new Old Town store at 1233 N. Wells St.
The store will be 50 percent larger than its first store, which opened in June 2021 at 2730 N. Halsted St. in Lincoln Park. It will have 12,000 new items, many of which are globally inspired, seasonally driven and locally sourced from Chicago and the larger Midwest, according to Dom's.
"I personally take the selection and purchase of our kitchen and market offerings very seriously," said Bob Mariano, co-CEO of the small-footprint grocery store. "Dom's continues to evolve based on our collective team efforts."
The Old Town store will offer similar services and items as the first store, including produce, which is delivered daily; meat and seafood; a wine library with an expanded assortment of high-end wines; and cheese and charcuterie, including more than 300 cheeses.
There's also a bakery with a new store-made cake program; a pantry with new nuts and grains that can be bought in bulk with reusable containers; and a floral section where people can buy pre-made bouquets, orchids and seasonal houseplants.
The store will also feature numerous kitchens where shoppers can buy pre-made meals to eat in the store or take home, according to Dom's.
Kitchens include:
The Brew, which sells local coffee from Hexe, Metropolis and La Colombe, organic teas from Rishi and breakfast from Doughnut Vault, Howdy Kolache and Corey's Bagel's
Gohan, a Japanese-inspired spot serving sushi, rice bowls and poke bowls
Bonci, which sells pizza
L'Osteria, which features hearty Italian mains with a modern twist, seasonal roasted vegetables and curated sides
Stackup, featuring burgers and sandwiches made with fresh bread sliced in-house daily
Various prepared foods, such as chef-curated hot foods, the plant butcher's salads and other meals
Catering, which offers antipasti, charcuterie boards, shareables and desserts
The Old Town store will have new digital menu boards, electronic shelf labels, self-order kiosks and self-checkout, according to the announcement.
The store's opening will create 180 jobs and support 140 local businesses that the grocery store procures goods from, according to Dom's.
Dom's is led by Mariano, who founded Mariano's after serving as CEO of Roundy's and Dominick's; Jay Owen of Dom Capital Group, a venture investor in food technology and next-generation commerce; and Don Fitzgerald, a former senior executive at Dominick's, Roundy's and Mariano's.
Dom's Kitchen & Market is on track to expand to 15 stores by 2025, according to the announcement.
The Old Town Dom's store fills a hole left by Plum Market, an independent grocery store that closed this summer after its lease was "terminated."
Plum Market CEO Matt Jonna sent an email to its customers February — after the new Dom's store was announced — claiming the business was pushed out of the neighborhood after a "back-door agreement" was made between its landlord and Dom's executives.
"I want to be clear that this was not in our plan and that we were handed this information entirely by surprise," Jonna wrote. "In fact, we have invested in excess of $1,000,000 into improvements and renovations to the space since its opening, and had no intention of closing our doors to this wonderful community."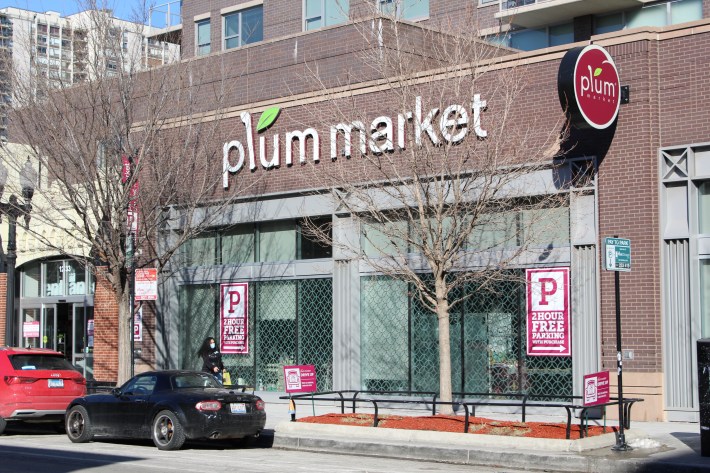 Jonna declined comment at the time, but wrote he never had a chance to negotiate with the landlord to keep the store open.
"It is worth noting that when we caught wind of these negotiations, purely by luck, we specifically asked our landlord to discuss keeping our lease and we did not receive a response to our request," Jonna wrote.
Plum Market had been a part of the Old Town community for nearly nine years since the store opened in June 2013, and became known for supporting local vendors and artisans.
Jonna also criticized Mariano's decision to pursue Plum Market's location as "unconscionable, dishonorable and disgusting."
"Dom's actions certainly cast a dark shadow on independent grocers," Jonna said. "In fact, presidents and CEOs of other local independent groceries have reached out to me personally to express their shock and dismay that Bob Mariano, a grocer that I respected until recently, and the owners of Dom's, would hit with such a low blow."
Dom's leaders called Jonna's claims as an "ill-founded interpretation" of the grocery store's move into Old Town. Dom's was approached about the availability of the Old Town storefront and reached an agreement with the landlord, they said in a statement.
"As an independent grocer ourselves, we know all too well the challenges of operating in this competitive environment," Dom's leaders said. "Our intentions have always been to grow into neighborhoods where we can continue to expand the rich and meaningful food experience we provide."
Dom's Old Town will be open 6 a.m.-10 p.m. daily.
Listen to "It's All Good: A Block Club Chicago Podcast":