RIVER WEST — The family and friends of Sam Bell celebrated his life with a ghost bike and vigil Thursday at the River West intersection where a driver killed him in early September. 
Christina Whitehouse, of Bike Lane Uprising, assisted Bell's loved ones in organizing the vigil, and more than 80 people came to pay their respects, including many local cyclists. 
"The support of people coming out tonight is incredible," said Bell's brother, Daryl Bell. 
Daryl Bell said he wants his brother to be remembered for "what a great" sibling and uncle he was and how he was always there for his family.  
"I think all the grief that our family is going through, all the other families have gone through before us. And, unfortunately, there is probably going to be another" cyclist that is killed, Daryl Bell said.  
Bell, 44, was killed just before noon Sept. 8. He was riding his bike south in the protected bike lane on Milwaukee Avenue, parallel to a crosswalk, when a driver heading north turned onto Huron Street and hit Bell in the intersection, police said. 
Bell died from his injuries.
Whitehouse, who manages the creation of ghost bikes around Chicago, said they are a memorial to the person who lost their life and "also be a little bit of a warning signal to other cyclists that are in the area about the dangers that are in the location." 
Ghost bikes are also placed at the crash site "with a hope that infrastructure will be built in a way that's safer for all of us," she said at the vigil. 
The bike was painted white and adorned with a sign that reads "Sam Bell 1978-2022" before it was chained up and decorated with flowers during the vigil.
"He brought joy, laughter and love into this world, and it wont be the same without him," said Courtney Kashima, who became friends with Bell in elementary school and at church youth club in their hometown of Galesburg in western Illinois.
"If you knew Sam, there are some quintessential and universal experiences I'm sure you've had," Kashima said. "One, he made you laugh. Two, you met some new people. And three, you had more fun than you would have without him.
"Many of us admire his goofy antics, his love of shenanigans and his positive outlook. You could count on Sam to tell you his honest opinion about a situation, give loads of advice and generally one-up you on any wildly fun idea you had."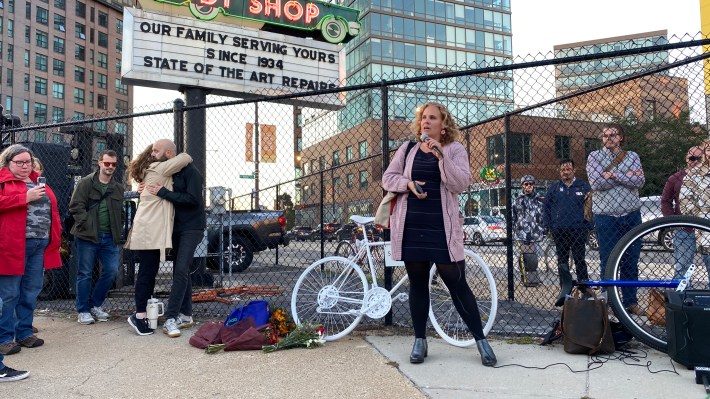 Though Bell's social calendar was often packed, he was "never too busy to travel to see friends, bring people together, help a friend or volunteer," Kashima said. 
Bell moved to Chicago in 2000 after graduating from Eastern Illinois University and spent much of his spare time working with low-income youth through the Midtown Educational Foundation.
"He was such a wonderful individual, he was such a caring guy, he dedicated so much of his time to helping others and to given back to the community. This is just such a loss," Kevin Klein, one of Bell's close friends, said at the vigil.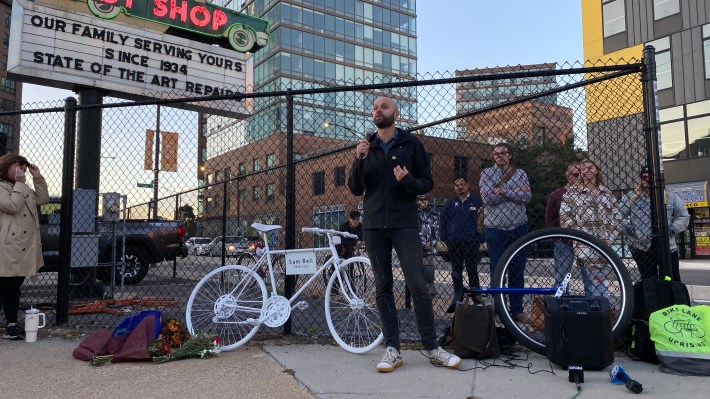 The driver who killed Bell, a 79-year-old man from Forest Park, was cited for failing to yield the right of way on a left turn, police said.
Bell is at least the sixth person since 2016 to be killed while biking on Milwaukee Avenue, a popular thoroughfare for bicyclists. Half of those fatal crashes were caused by drivers making a turn. 
Two blocks north of Bell's ghost bike on Milwaukee sits another that honors Lisa Kuivanen, a 20-year-old Art Institute student who was killed in August 2016 by a flatbed truck driver who hit her while turning right. 
"It's been a really difficult time in Chicago for biking," Whitehouse said. "We've had an unprecedented amount of people being killed while biking."
An average of five to six bicyclists were killed yearly between 2012-2019 in Chicago, according to city data. But nine bicyclists were killed in 2020, and 10 were killed in 2021.
This year, drivers have killed at least eight bicyclists in Chicago. 
Kashima said her children bike to school in Chicago. After she explained to them what happened to Bell, her daughter said she was scared to ride again.  
"If people choose not to bike — it's only going to get worse," Kashima said she told daughter. "So, we bike in his honor." 
Watch our "On The Block" TV show on The U, CW26 and MeTV.
Listen to "It's All Good: A Block Club Chicago Podcast":