ALBANY PARK — City officials are trying to tap federal funding to help Chicagoans who experienced flood damage during this month's "supercell" storm that drenched the North and Northwest sides.
Representatives from the city's Office of Emergency Management and Communications shared the update during a Thursday community meeting about the flooding hosted by Ald. Samantha Nugent's (39th) office. 
Cook County and Chicago need to meet a documented "threshold" of damage from the Sept. 11 storm to ask the Illinois Emergency Management Agency to make a disaster declaration, Nugent said. 
"That could be stamped by the governor to go to the president of FEMA," Nugent said. The aid "would go more toward the uninsured, but it does provide loans. Because I'm hearing from tons of constituents that they're having trouble getting whole after a storm like this."
More than 300 people in the 39th Ward reported flooded basements after the storm, officials said.
Because Chicago and Illinois have a "robust economy" and a high population, the level of damage needed to qualify for federal aid is harder to meet than in other states, such as Mississippi or Louisiana, said Emergency Management coordinator Khalil Muhammad.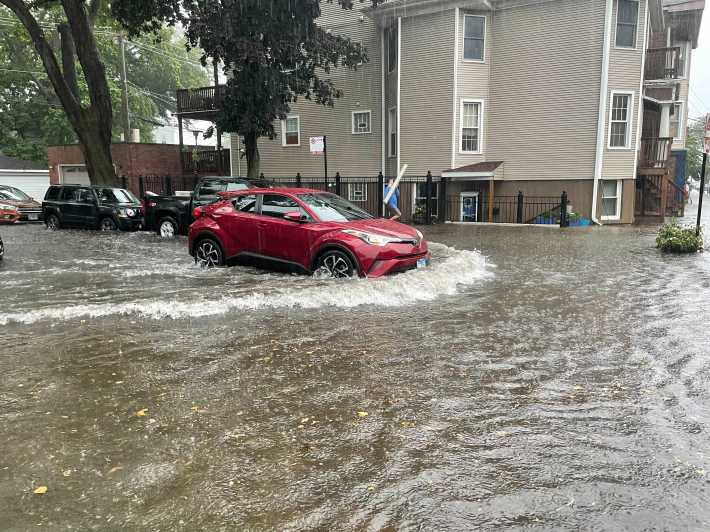 The emergency office has already been collecting 311 data on how many people were impacted by the storm damage and its severity to send that information to FEMA, Muhammad said. 
"Next week, we should have some more finality as to starting that process to see if people can start applying for some type of assistance," Muhammad said. The aid "will mostly be geared towards those that were uninsured. We're still looking on for people that may have been underinsured or are insured, but it won't cover everything."
Muhammad asked neighbors to continue documenting flood damage and repairs with photos and to save estimates on the cost to repair water damage from the storm. 
"These are all things that will be helpful if we can get assistance for you because they need to know what level of assistance you need based upon how much damage you sustained," Muhammad said.
Nearly 2,000 North Side residents reported flooding in their basements after the "supercell" overwhelmed city sewers and created flash floods.
With extremely low wind, the storm stalled over the North and Northwest sides. 
The storm dropped 6 inches of rain at a rate of more than 3 inches per hour, causing water to enter the city's sewers faster than the gravity fed system's pipes could process it, officials said.
Ponnopozz, 4839 N. Damen Ave., was one of the businesses in Ravenswood hit with floodwater, owner Adrianne Hawthorne said.
Hawthorne was at a fair in Wicker Park when she got a call from someone who works at a neighboring store telling her businesses on the block had flooded, she said.
"We did clean it up and are back in business, but me and the other six businesses on our little block on the east side of Damen had water come up through our back drain in our bathrooms," Hawthorne said. "It wasn't sewage, but it was like dirt and other stuff that didn't smell great."
Hawthorne, her fiancé and her employee cleaned up everything. She estimates the total loss and damage caused by the flooding to be $2,000-$3,000. 
"I found out the insurance company isn't going to help me out at all because I don't have some sort of addendum to my policy that covers any water that comes up through the sewer," she said. "We're all kind of eating these costs."
Cassie Brehmer, of Ravenswood, said she went out into the storm to clear sewer drains that were covered in leaves, twigs and other debris to help water drain from the street. 
"It was just pretty chaotic," Brehmer said. "There was nowhere for the water to go.
"I saw posts on Facebook of people begging people who had parked on the sewer grates to please move their cars so they could clear them out. We did have some streets with about 2 and a half feet of water trying to drain down." 
Frustrated neighbors have questioned why the city's sewer system could not keep up with the rainfall, but city officials have said no sewer system was designed to absorb a storm like that. Officials continued to defend the city's infrastructure during Thursday's meeting.
"To put it in context, the storm that was unleashed on Sept. 11 was somewhere between a 50- and 100-year storm event," said Brendan Schreiber, the water department's chief engineer of sewers. "Unfortunately, because of the rarity of those storm events, it's not economically feasible for us to have our entire system designed to accommodate everything Mother Nature throws at it."
Listen to "It's All Good: A Block Club Chicago Podcast":