UKRAINIAN VILLAGE — A store selling vintage furniture, art and historical souvenirs has moved into the former Fox Club in Ukrainian Village.
Thomas Mansbridge opened Olive Jewel Vintage and Antiquities, 1047 N. Western Ave., this month as an outpost for his burgeoning resale business.
The store's eclectic collection ranges from a '70s cushy orange couch, a custom-built massage chair, antique secretary desks and old advertising posters and paintings. Olive Jewel also sells lamps, old ash trays, glasswork and more.
"There's stuff in here that could be 100 years old. It could be 20 or 30," Mansbridge said. "There's a wide variety of age of things. … Everybody's on mid-century modern furniture [now]. I love it. It's awesome. But I want to give other opportunities, like oddity stuff, stuff you don't see."
Mansbridge got into the vintage business several years ago when he started flipping arcade machines and old advertising posters, he said. Similar to other resalers, Mansbridge saw a huge uptick in interest during the pandemic, especially for pinball machines, he said.
After outgrowing a storage unit he'd stage for customers by appointment, Mansbridge started looking for a public-facing location, eventually landing in the former Fox Club.
The vintage clothing and swimwear store moved a few blocks west to Humboldt Park last year.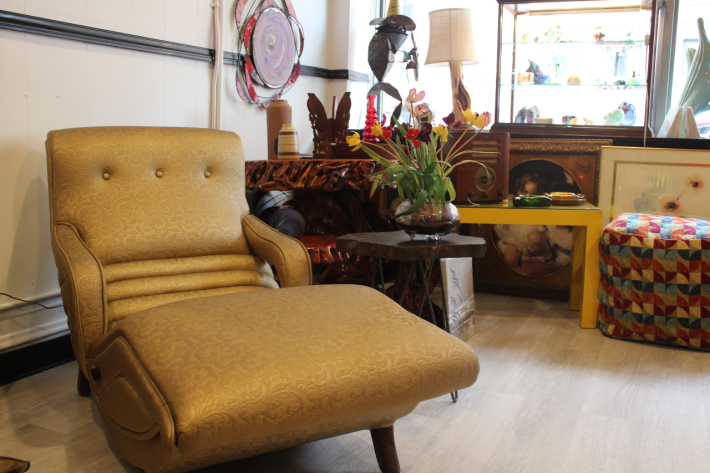 Mansbridge said he finds his wares mostly through estate sales he attends or gets tipped off to through his other job in construction. He's working on launching a website for the store.
"It's really a hobby of mine, to be honest. I enjoy it. I pick the stuff all over, I drive all over the Midwest for this stuff," he said.
That includes several historical items Mansbridge has tracked down the stories behind, like a shoeshine chair that was once used in a South Side barbershop.
Along with the chair, Mansbridge is selling the barber's license from 1910, a stopwatch and some of his tools.
"When I'm buying, it's always trying to find that niche thing, you know? There's always something in here for somebody," he said.
Olive Jewel joins a growing number of vintage furniture stores that opened in the past year in the larger West Town area, such as River Otter and Spot!, which recently moved to Humboldt Park.
The store is open 3-9 p.m. Friday-Sunday, but Mansbridge said he'll stick around later some nights, especially if there's an overflow crowd from the Empty Bottle down the street.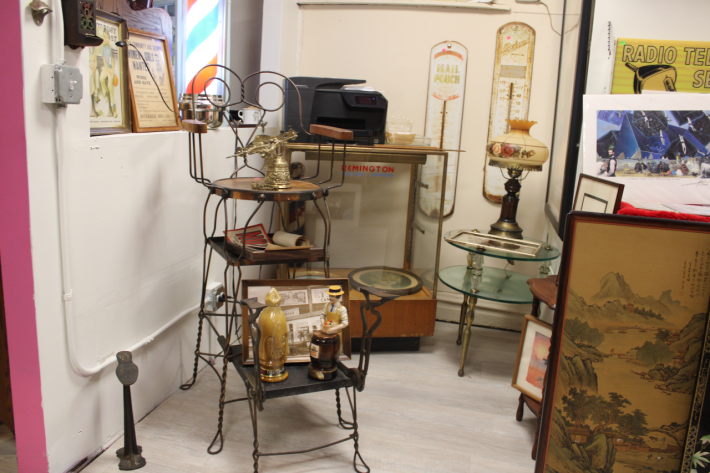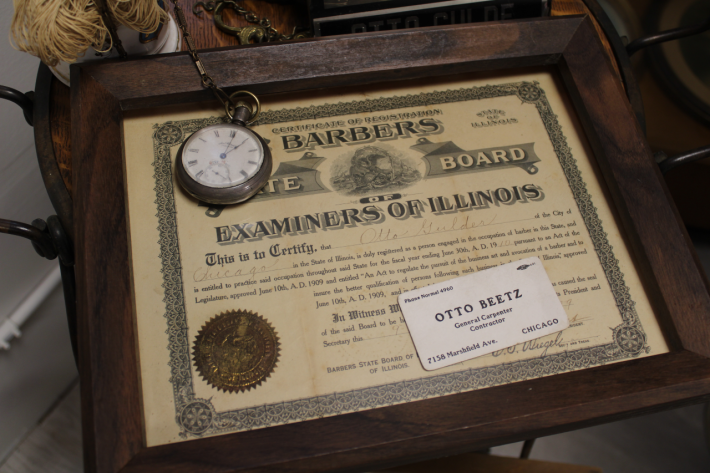 Listen to "It's All Good: A Block Club Chicago Podcast":