ANDERSONVILLE — The closure of Catalpa Avenue for the creation of a public plaza has earned the support of a majority of neighbors surveyed on the issue as well as key city officials, local aldermen said.
City transportation officials are moving forward with plans for a pedestrian zone at Catalpa Avenue between Clark Street and Ashland Avenue. Last month, officials asked neighbors to weigh in on designs for the plaza, including one that would close the one-block stretch of Catalpa Avenue to car traffic.
Neighbors who offered feedback on the car-free design overwhelmingly backed it, said Ald. Andre Vasquez (40th).
Of the 462 people who responded to a survey, 75 percent were in support of closing the street to cars, Vasquez said in an announcement. Twenty-five percent opposed the closure.
That survey comes on top of a Chicago Department of Transportation survey that showed two-thirds of respondents supporting the closure, Ald. Harry Osterman (48th) said in a note to constituents.
With the robust community support, the city's transportation agency and its commissioner, Gia Biagi, support a closure of Catalpa Avenue, Osterman said. The alderman also voiced his support for the plan.
"I firmly believe that a community plaza on Catalpa will be a positive benefit to our community and that it needs to be designed as a welcoming place with the safety of all in mind," Osterman said in his newsletter.
Vasquez previously signaled his support of closing the street for the public plaza.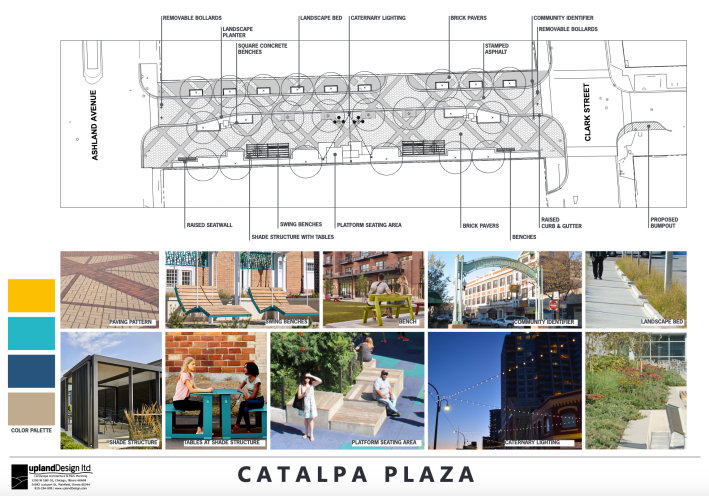 A Chicago Department of Transportation spokesperson said the department will work with neighbors on the design and construction should start in spring 2024.
"A fully pedestrianized Catalpa Avenue between Ashland and Clark will create a vibrant new community gathering space in Andersonville," spokesperson Erica Schroeder said in a statement. "CDOT is looking forward to working with community members throughout the design process to create a plaza that all residents and visitors can enjoy."
Community meetings will be held on the project, Vasquez said.
Plans for the Catalpa public plaza were announced in early 2020 with a preliminary idea to keep the one lane of westbound traffic open while converting parking and other right-of-way space into a pedestrian zone.
In August, a design that would eliminate car traffic was announced at a community meeting.
Doing so would increase the pedestrian space in the plaza and bring more design elements into play, Ellen Schmidt, project manager with Site Design Group, a CDOT contractor, said at the meeting.
With no lane of car traffic, the pedestrian plaza would be 67 feet wide versus about 38 feet wide, Schmidt said.
Catalpa Avenue is frequently closed to car traffic for events, including the weekly farmers market in the summer.
The city's transportation agency conducted a traffic study in Andersonville when Catalpa Avenue was closed for an event and when nearby schools were in session. The study found other east-west streets in the neighborhood can accommodate the loss of access to Catalpa should the street be closed for the plaza, Vasquez and Osterman said.
A street light would be added at Berwyn and Ashland Avenues to accommodate traffic diverted from Catalpa Avenue, officials said.
The new plaza options come after the city expanded efforts to close or restrict car access to some streets during the pandemic as a way to offer neighbors more outdoor space.
"It's an opportunity to bring folks together … and a great way to increase the energy Andersonville has," Vasquez said at the community meeting.
Officials hope to land on a design by the end of this year with the plaza likely to debut in 2024.
Watch our "On The Block" TV show on The U, CW26 and MeTV.
Listen to "It's All Good: A Block Club Chicago Podcast":