GREATER GRAND CROSSING — A team of youth advocates finally has a community center to call home on the South Side after seven years of working out of their cars to serve young adults experiencing homelessness.
The Lyte Collective, a group that supports young adults impacted by poverty and homelessness, opened the doors to the Lyte Lounge Thursday evening. 
The $1.8 million youth center replaced the former Black Methodist Church Renewal, 549 E. 76th St., a nearly 100-year-old church that sat vacant for years as owners searched for the perfect host to take the reins. 
The collective bought the home for a little more than $100,000 in 2017, Executive Director Casey Holtschneider said. Construction started in 2019. The Bowa Group, a Black-owned firm, and DAAM, LLC handled renovations. 
Through three years and the pandemic, the group worked to revamp the old church — tearing down walls, renewing ceilings and floors and adding a touch of personality to each room — to bring the Lyte Lounge to fruition. 
The "bones" of the lounge were up while the group waited to receive an occupancy certification from the city, Holtschneider said. They received the green light Labor Day weekend. 
In the days leading up to Thursday's celebration, members of the Lyte Collective focused on "bringing more love into the space," adding framed photos on the walls and comfortable pillows, Holtschneider said. It's a cozy lounge, she said. 
"When people walk in, you feel that home feeling," Holtschneider said. "It's not another institution."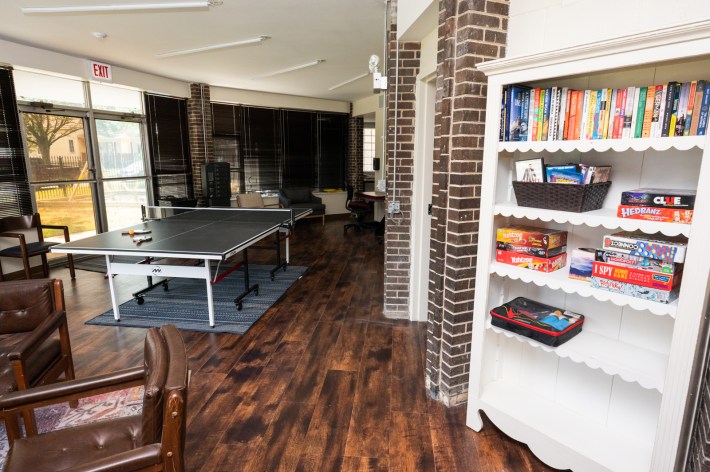 When youth visit the 11,000-square-foot lounge, they will have access to a fully stocked kitchen, overnight and long-term storage and a laundry room, among other services. Fresh meals with ingredients sourced from the lounge's garden will also be available. A clinic staffed by a doctor will offer free exams and unlimited contraceptives. 
An art room will give young people a safe space to express themselves artistically, while the Nest, a yoga room, will give them a place to relax. A glossy new gym will host basketball games, plays, neighborhood meetings or whatever else is needed.
A music studio with gear donated by Reverb — an online marketplace with new, used and vintage musical instruments — has a recording booth and computers equipped with personal audio workspaces. 
Youth can jam out with guitars freely available on the walls or play on a grand piano from 1933. Chief Innovation Officer Carl Wiley, a lifelong musician, will operate the studio and teach classes. 
After years of hard work, the Lyte Lounge is open and ready to "come alive," Holtschneider said. 
"I'm so excited for it to feel like a safe space where you know you're going to receive support, but you can also relax," Holtschneider said. "Watching it come alive and young people being able to thrive in those spaces, it's the whole reason we fought to make it happen: to make a space that's going to help young people get what they deserve."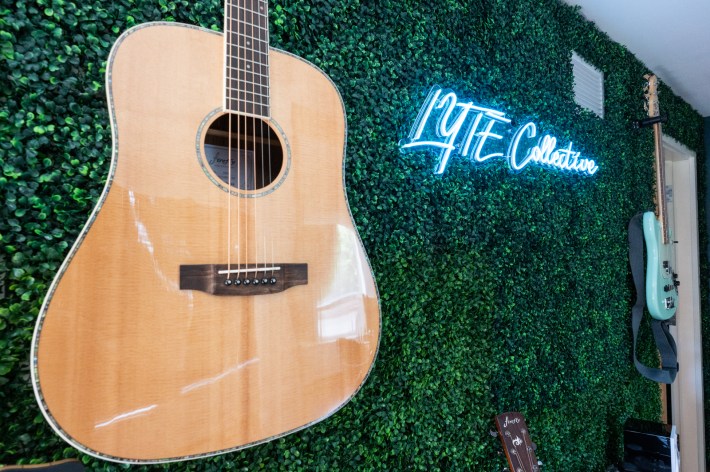 Members of the Lyte Collective will continue to work out of their cars, traveling to McDonald's or Starbucks to meet the young adults who can't make it to the South Side Lounge. But the Lyte Lounge will be the group's headquarters. 
The staff members served almost 150 young people in 2021, Holtschneider said. They expect that to double now that the lounge is open, she said. 
The lounge will be open by appointment only while they figure out a flow, "but if people come to the door, we're not going to turn them away,"  Holtschneider said. 
"We want to do this right and safely," Holtschneider said. "The floodgates won't open all at once."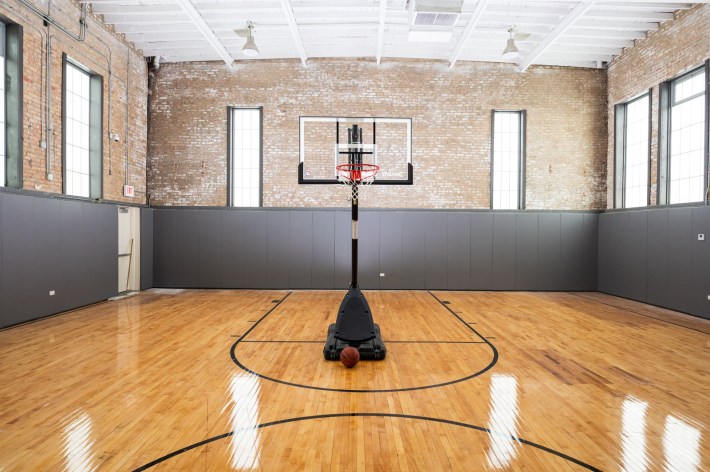 The collective took out a $400,000 loan to reach the finish line. And it'll cost nearly $800,000 a year to operate the lounge, Holtschneider said. They hope to raise money to provide more youth services as the days go on and pay off that loan, Holtschneider said. 
But there's only joy in the days ahead, and it's "emotional" seeing your vision come to life, Holtschneider said. The work is just beginning.
"We feel overwhelming gratitude for the work people put in to make it happen," Holtschneider said. "Young people are going to have a space. Young people deserve a space like this and many more like it. Young people should have a place on every corner they feel is theirs. I'm grateful and excited." 
People ages 16-30 can visit the lounge 11 a.m.-5 p.m. Mondays and Thursdays and noon-6 p.m. Tuesdays. 
You can donate to support the Lyte Collective here. 
Listen to "It's All Good: A Block Club Chicago Podcast":