OLD IRVING PARK — Hundreds gathered Thursday on the Northwest Side to honor German-Jewish poet Gertrud Kolmar with a park dedication in her name.
The park was formerly named for Kolmar Avenue, which referenced a town on the border of France and Germany. Now, with yellow ribbons and a new plaque, it reminds visitors of the under-appreciated poet who died in the Holocaust.
City and community leaders, students and neighbors filled Kolmar Park, 4143 N. Kolmar Ave., at its rededication ceremony with a message to take action against hate and to remember history — or, in this case, her story.
The ceremony came five months after Park District officials unanimously approved the rededication request and almost two years since Northwest Side residents began a campaign to have the playlot named for the writer. Their efforts received international support and hundreds of signatures.
Paul Chodziesner, who lives in Australia and is Kolmar's great-nephew, traveled to Chicago for the ceremony. It was a special experience that was difficult to put into words, he said.
Chodziesner, who found out about the park's rededication efforts through a Block Club story, wants the community to remember Kolmar not only as a victim of the Holocaust but as "one of the great poets of the 20th century."
Kolmar was born in Berlin in 1894 and died in the Auschwitz concentration camp in 1943. She wrote more than 450 poems, two short novels, short stories and other writings, continuing her work even while persecuted by the Nazis before and during World War II.
Although Kolmar was not well-known while alive, her poetry and literary works became successful after the war and have been likened to that of Emily Dickinson. Only after her death and in the aftermath of the Holocaust has her work and influence been celebrated in Germany.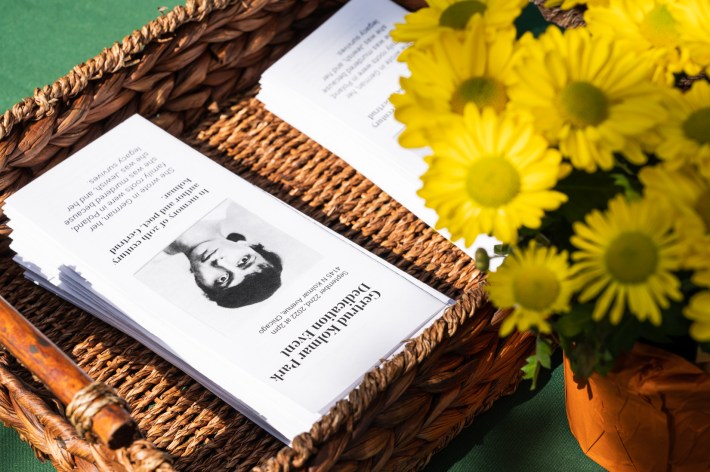 Chodziesner carries his family's history proudly and hopes the park's rededication will teach younger generations about the Holocaust's ramifications on families, he said.
"The duty falls to myself and to my family to ensure that we never forget what transpired, and I hope that, through education and awareness, it can be avoided in the future," Chodziesner said.
Chodziesner is grateful to have been connected to the Chicago community that spearheaded the park's efforts. Through their work, he's been able to meet relatives he didn't know existed who also want to uphold Kolmar's legacy, he said.
Toby Kaufmann-Buhler, a distant cousin of Chodziesner, traveled from Indiana to attend the ceremony after learning about the rededication efforts through Block Club. The video and sound artist focuses on family connections and histories and has incorporated Kolmar's poems into his experimental video work.
"A lot of her subject matter has to do with animals and nature, so [her poetry] is very accessible that way, and that's wonderful for kids who are interested in writing and poetry," Kaufmann-Buhler said. "It's wonderful that [the rededication] is in this small but very much a neighborhood park. Personally, I think she would have appreciated it because the sense of nature and being in a neighborhood were very important to her."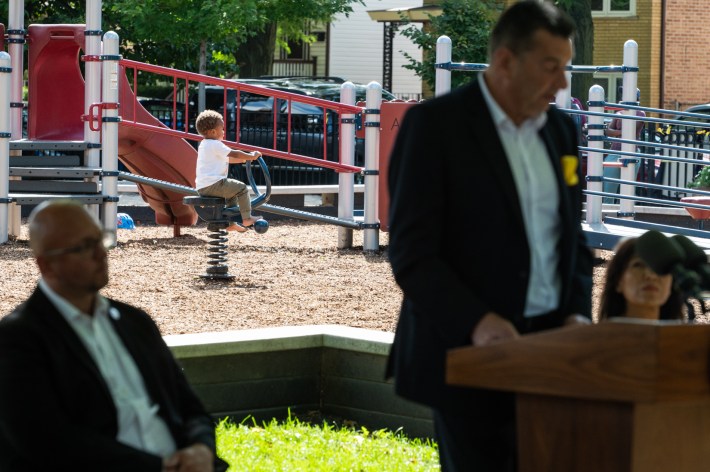 With students from Schurz High School and Belding Elementary School in attendance, city leaders also shared the importance of educating the next generation through Kolmar's literature, highlighting unsung heroes and reclaiming history.
Park District Supt. Rosa Escareno said honoring Kolmar is a reminder to the community to learn about the history of their neighborhoods — and particularly the women who shaped history.
"This is about our young people. … I am honored, as a woman, to know there are 72 parks in the district named after women," Escareno told the crowd. "When you visit parks such as this, their stories are rooted in heroes and sheroes."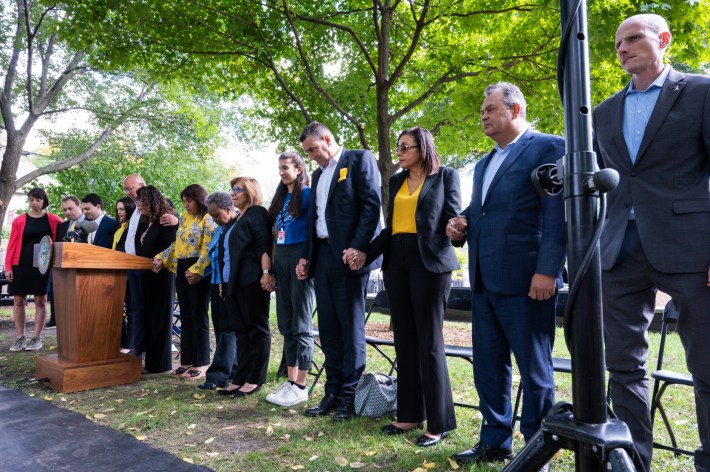 Mayor Lori Lightfoot said the park's rededication — which was inspired by youth's efforts to rename Douglass Park in North Lawndale — can pave the way for other parks and monuments in the city to be renamed after influential women in history.
With atrocities and wars happening in the world today, it's even more important to uphold history and "right the wrongs" through neighborhood initiatives such as the Old Irving Park's renaming push, Lightfoot said.
"If we don't learn the lessons of history, I firmly believe we will repeat it and that's true in our city," Lightfoot said. "That's why it's important for moments like this — we uplift that history, where we give our kids an opportunity to really learn and be the guardians of our truth."
Listen to "It's All Good: A Block Club Chicago Podcast":