UPTOWN — A new feature of Uptown's Clifton Avenue Street Art Gallery marks a first for Chicago: decorative lighting on a public street.
String lights were added in late May to Clifton Avenue just north of Wilson Avenue. The "festoon" lights are strung over the street, providing extra light and ambiance to the area.
The lights are meant to be a decorative element for the growing street art gallery on that stretch of Clifton Avenue, and organizers hope they improve neighbors' commutes during major CTA work, according to the local chamber of commerce group.
They are also a first in modern Chicago history.
City departments had never before authorized the hanging of decorative string lighting over a public street, according to Uptown Chamber of Commerce and city officials.
Similar lighting was added to Sheffield Avenue in Lakeview, which saw upgrades thanks to the city's expanded outdoor dining program, but the lights were not properly permitted, according to sources. 
The only historical example of the city approving such lighting was over a dead-end alley, but it has never been approved for a publicly accessible street open to car traffic, according to the Department of Business Affairs and Consumer Protections.
The city authorized the installation of string lights over Clifton Avenue following a multi-agency review that started well over a year ago, said Justin Weidl, director of neighborhood services at Uptown United, the business development branch of the chamber organization.
"Historically, that's only been permitted over alleys," Weidl said. "Clifton Avenue is a very unique street. It's narrow, has limited car access."
Clifton Avenue is a one-block street between Wilson Avenue and Broadway in Uptown that wraps around the rebuilt Wilson Red Line station.
The street is one-way southbound and functions like an alley, with garbage cans and loading areas. It is home social service agencies and religious organizations.
Since 2019, it has also been home to a street art gallery. That gallery is the focal point of the annual Uptown Art Week, which has helped to add more than 70 murals to the brick walls lining Clifton Avenue.
The idea behind the lights was partially to add to the experience of walking the Clifton art gallery. But the project took on added significance as the local chamber sought to help the neighborhood weather major Red Line work, Weidl said.
With the Lawrence Avenue Red Line stop out of commission for years due to a rebuilding project, Uptown United knew more neighbors would be walking south to the Wilson stop for their commutes.
Adding the festoon lights would help make the walk from Lawrence Avenue to the Wilson Red Line station more enjoyable for commuters, Weidl said.
"We've always seen [Clifton Avenue] as an intentional pedestrian detour," he said. "It's all about, how do we make that walk as comfortable as possible."
The idea needed to be approved by the offices of Business Affairs and Consumer Protections and the Chicago Department of Transportation.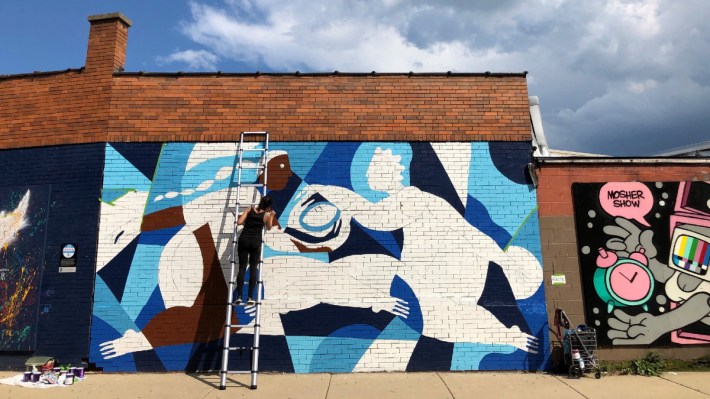 The agencies coordinated on a review of the Uptown chamber's unique public way request, issuing permits for a public way use and the installation of wiring and cables over or under public property, said Elisa Sledzinska, Business Affairs and Consumer Protection spokesperson.
The business department and CDOT's public way use office "has the existing authority, permit types and review processes in place to regulate this occupation of the public way," she said in a statement.
The permit is good for five years, but it can be can be canceled if issues arise.
The lighting has been a hit with neighbors and businesses, Weidl said. The lights are turned on nightly and will be operational for the foreseeable future.
"It's been getting a lot of great feedback," he said.
Listen to "It's All Good: A Block Club Chicago Podcast":