LAKEVIEW — Epic Kitchens, a ghost kitchen housing multiple restaurant kitchens under one roof, has closed its Lakeview location less than a year after opening.
Epic Kitchens' Lakeview store at 3332 N. Broadway recently "closed ['til] further notice," according to a sign. It was not immediately clear how long the closure would last, but the Epic Kitchens sign has been removed from the space.
Representatives from the fast-service restaurant brand did not return requests for comment.
Epic Kitchens opened in Lakeview in October with four brands customers could order from under the same ticket:
BurgerFi, a burger restaurant from West Palm Beach known for fresh, chef-crafted and all-natural foods.
Pokéworks, the nation's largest, fastest-growing poke franchise.
800 Degrees Pizza, a global pizza brand that makes its dough from scratch.
Blue Ribbon Fried Chicken, an eatery from the Bromberg Brothers that serves "flavor-focused" fried chicken.
The concept allowed customers to mix and match orders from the restaurants, pay for everything on the same ticket and have the food served or delivered in one bag.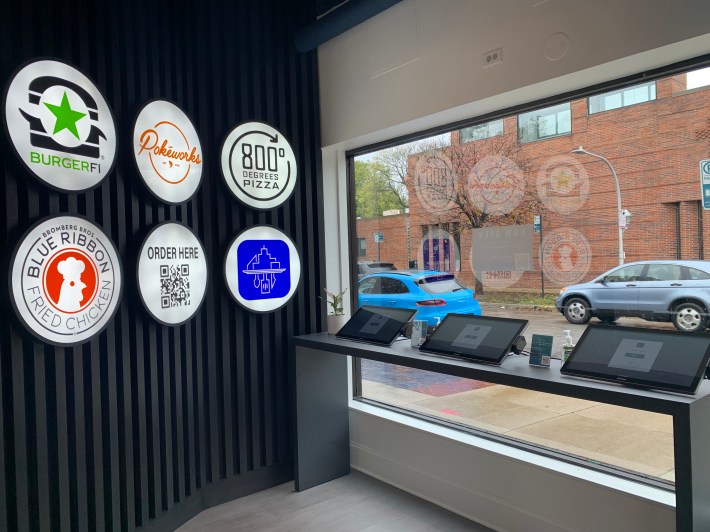 Last year, co-founder and CEO Murad Karimi said he decided to bring the business to Lakeview after the success of its first ghost kitchen in River West.
That location had about 14 brands running out of its 1,000-square-foot kitchen during its peak, Karimi said. That location has since closed as well.
The Lakeview restaurant was organized into two sections: a large dining room for eating in or picking up orders, and a smaller room for delivery drivers to pick up their orders.
The dining room had a service counter, touchscreen kiosks where people could order their food, tables and a drink machine, while the delivery room had lockers where bagged orders are kept until the driver arrives to pick them up, Karimi said.
"We separated the dine-in and takeout experience from the delivery driver experience so its expedited and more convenient for guests and drivers," Karimi said. "This way the dining room doesn't get too crowded with delivery drivers, which makes it a better experience all-around."
After opening, Epic Kitchens expanded to include Pita Heaven, serving fresh Mediterranean food, and Egghead, offering coffee and breakfast, according to its website.
Listen to "It's All Good: A Block Club Chicago Podcast":