WASHINGTON PARK — An anti-violence group that spent the summer hosting softball games to promote peace in Washington Park is now getting the boot — all because of a shooting organizers say had nothing to do with the game.
According to witnesses and police, a fight broke out the evening of Sept. 13 behind Dyett High School, 555 E. 51st St., and someone fired shots, leaving two people dead and eight others wounded.
Khalil Denny, 19, had gone to the park to watch the softball game when he was killed, his mother Linette Denny said. Lionel Coward, 43, was also killed in the incident. The game was organized by Acclivus, a community health organization with a focus on violence prevention.
As a result the shooting, Acclivus had its permit to play in the park yanked by the Chicago Park District.
Linette Denny and others gathered to mourn and honor the victims of the shooting Wednesday night, and Acclivus member Torrence Cooks said the group will appeal to get its permit back.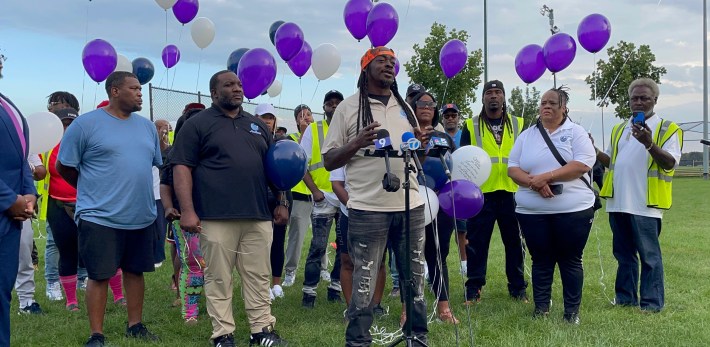 Cooks said the group has been organizing softball tournaments all summer, recruiting residents from Douglas, Grand Boulevard and Washington Park to play. It gave residents a safe, fun thing to do and erased imaginary battle lines in the area. Sworn enemies became friends while playing, he said.
Witnesses agreed, saying the mass shooting had nothing to do with the game and that the gunman had chased someone into the field.
Cooks said the group has even tried to get police to show up to games in the past in case any issues arose.
"I let it be known [to police] that I'm doing this game at this location starting at five or six o'clock. 'Can I get some police presence?' I called before every game," he said. "For them not to come, it's like they wanted to see something go wrong with it because it makes no sense."
Cooks said the only time police appeared was to enforce a 9 p.m. park curfew, forcing a game to be cut short.
Though Cooks said the shooting had nothing to do with the game, Park District spokesperson Michele Lemons said in a statement the decision was made "out of concern for the safety of neighborhood families and under the guidance of the Chicago Police Department."
"This decision was based on park protocol and in response to the incident that occurred in the park last week," Lemons said. "The District will continue to work with community stakeholders and public safety partners to keep the park activated with safety being our highest priority."
Linette Denny said her son, who loved sneakers, died just 11 days before his 20th birthday. A couple of his friends bought him an outfit from Saks Fifth Avenue to mark the occasion, she said.
Instead, he'll be wearing it at his homegoing.
"He had bought some new cologne and had sprayed it all over himself that night. … People were telling me 'He just hugged me and told me he loved me' and I said that's because of that new Dior cologne," said his grieving mother. She had been organizing a balloon release to remember Khalil's brother Vincent, who died from an accident eight years ago this week when the shooting happened.
Now, Linette Denny wants to leave Chicago. Her friend and fellow Warrior Moms member Octavia Mitchell, believes the city or state should help grieving families with financial assistance — including relocation costs — after a violent loss.
"She lost two children and she doesn't want to lose any more to Chicago streets. Let's relocate her. Let's pick her up and move her and her children somewhere else where they can live safely," Mitchell said.
As of Thursday, no one was in custody for the mass shooting, police said.
Subscribe to Block Club Chicago, an independent, 501(c)(3), journalist-run newsroom. Every dime we make funds reporting from Chicago's neighborhoods.