CHICAGO — Alderpeople approved a plan Wednesday to build a training facility for the Chicago Fire pro soccer team on land once home to public housing — even after a City Council committee initially voted against the measure.
The Fire, owned by billionaire Joe Mansueto, hopes to build the $80 million practice facility on the site of the former ABLA Homes, most of which were demolished in 2007.
At the time, the Chicago Housing Authority vowed to redevelop the property with more than 2,400 units of improved affordable and mixed-use housing, partially for displaced residents. The property is is bound by Roosevelt Road, Ashland Avenue, 14th Street and Loomis Street.
But most of that housing was never built, and much of the site has since been used as part of Addams/Medill Park. The plan to now set aside the land for a private sports franchise has drawn criticism from some community members and housing activists.
But at Wednesday's Council meeting, several West Side alderpeople spoke in favor of the development, arguing residents of the remaining ABLA Homes and those living nearby were generally in favor.
"Our job at the end of the day is to represent the residents that we are bound to do so with, and the residents here are in support of this endeavor," said Ald. Jason Ervin (28th), whose ward the facility will be built in.
The measure was approved 37-11 Wednesday by the full City Council.
Voting against the plan were: Alds. Daniel La Spata (1st), Pat Dowell (3rd), Anthony Beale (9th), Jeanette Taylor (20th), Byron Sigcho-Lopez (25th), Rossana Rodriguez-Sanchez (33rd), Carlos Ramirez-Rosa (35th), Gilbert Villegas (36th), Andre Vazquez (40th), Matt Martin (47th) and Maria Hadden (49th).
Ramirez-Rosa said he doesn't believe the Chicago Fire proposal is "the best possible deal" for Chicago residents, and that it won't lead to the construction of direly-needed affordable housing. He and Sigcho-Lopez urged their colleagues to delay the vote on the proposal.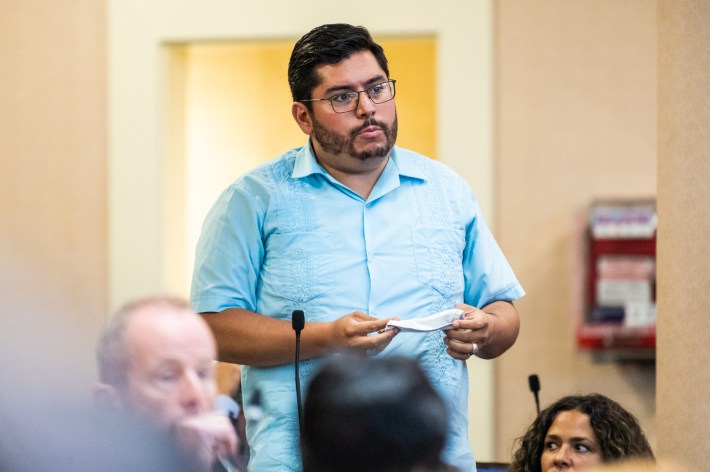 "I've spoken with public housing advocates, many of which have been involved in the work to get affordable housing built for decades, many of which are subject matter experts, and they tell me this is not a good deal for the City of Chicago," Ramirez-Rosa said.
The training facility still needs final approval from the U.S. Department of Housing and Urban Development, Chicago Housing Authority development office Ann McKenzie said this week.
Wednesday's vote came after 24 hours of procedural shakeups involving the facility.
The ordinance was initially voted down 7-5 at a Tuesday meeting of the City Council's zoning committee.
But at the end of that meeting, zoning chair Ald. Tom Tunney (44th) moved to recess the committee and reconsider the proposal 9:30 a.m. Wednesday, just 30 minutes before the full City Council was scheduled to meet. Several alderpeople on the committee were absent Tuesday.
In a meeting lasting about 15 minutes Wednesday morning, the committee then voted in favor of the proposal, with Alds. David Moore (17th), Mike Rodriguez (22nd) and Felix Cardona (31st) switching their votes to yes.
That move drew outrage from Ald. Beale, who said he isn't opposed to the actual plan, just the process by which it moved through City Council.
"Yesterday this item was voted down in committee, just yesterday. So why do we have a committee, if we recess, reconvene, to circumvent the vote that happened yesterday?" Beale said Wednesday.
The proposed Fire complex will include a 50,000-square-foot, two-story headquarters for locker rooms, training and office space, as well as five and a half soccer fields and 150 parking spaces. An inflatable bubble over one of the fields would be installed for winter, officials said.
Fire officials have also discussed starting a youth mentorship program and an after-school soccer training academy.
In a post-City Council news conference Wednesday, Mayor Lori Lightfoot dismissed concerns about the soccer facility, and praised Mansueto for investing in Chicago communities, especially ones that have historically suffered from disinvestment.
"We have this vacant land for which there was no plan. We have an investor, who is not only willing to invest building the headquarters of the Chicago Fire team, keeping them in the city, which is important. It's also going to have a range of opportunities for junior soccer players getting more kids involved," she said.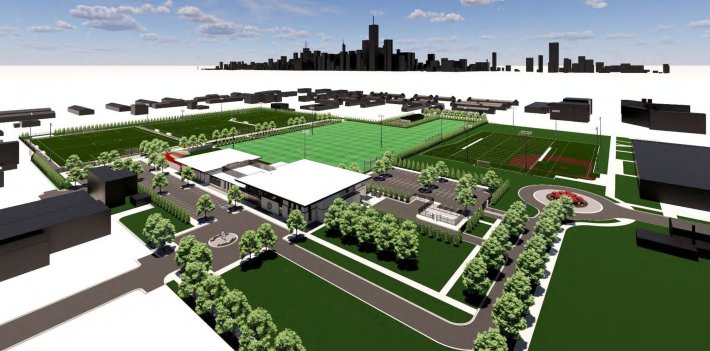 Listen to "It's All Good: A Block Club Chicago Podcast":