AUSTIN — An explosion Tuesday morning in Austin led to at least eight people being hospitalized and a "mass casualty" bus responding, according to the Fire Department.
The explosion happened about 9 a.m. at 5601 W. West End Ave., a 35-unit building owned by West End LLC, according to a statement from the owner. Videos and photos from the Fire Department show a building's windows blown out, its roof partially destroyed and bricks and debris strewn across the ground, with a car crushed by the debris.
Wood from the explosion event pierced a building across the street.
At least eight people were taken to local hospitals, said Deputy Fire Commissioner Marc Ferman. Three people were in serious to critical condition.
About 135 first responders were sent to the scene, Ferman said. People's injuries ranged from burns to trauma, he said.
Residents were also displaced from the building, which is "structurally not sound," Ferman said. It was not immediately clear how many people had been displaced.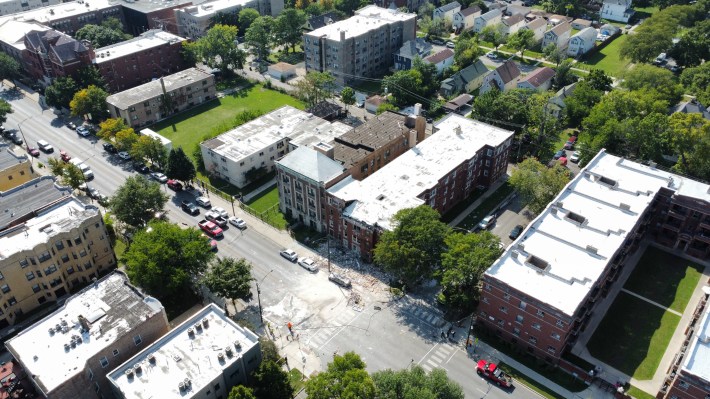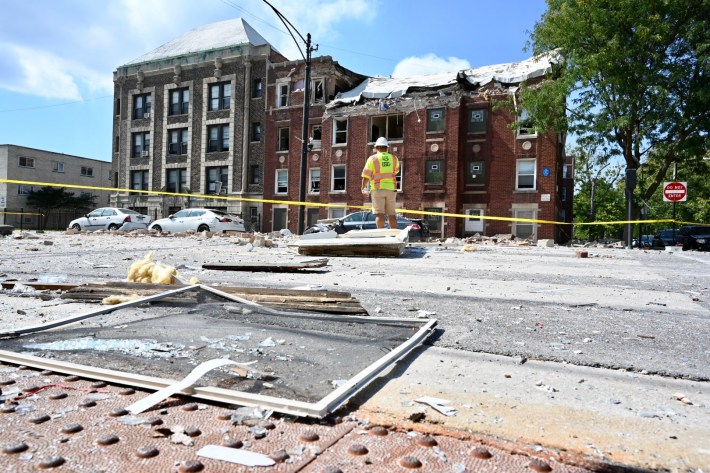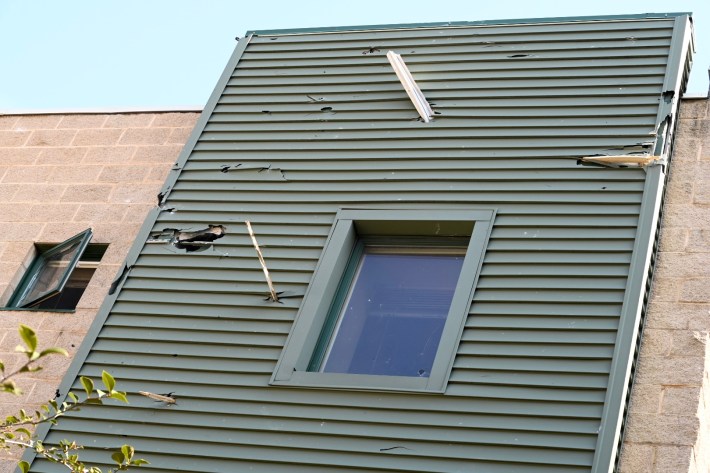 Mayor Lori Lightfoot said the city is closely monitoring the incident.
"My thoughts are with those who were injured and displaced in the building collapse in the Austin neighborhood," Lightfoot said in a statement. "We must also thank the brave men and women of the Chicago Fire Department who are working to abate the dangerous conditions.
There was an explosion, but the cause is unknown, according to the Fire Department.
The Police Department's bomb unit and the federal Bureau of Alcohol, Tobacco, Firearms and Explosives were at the scene to assist, according to the Fire Department.
The building has failed 12 Department of Buildings inspections since February 2010, city records show. The most recent failed inspection, from 2020, says there were six building code violations, including for the inspector not being able to get entry into most of the apartments or being able to verify there were detectors.
"This is a devastating event and we are heartbroken for all of our residents," Roman Viere, owner of the building, said in a statement. "Our first concern is the health, well-being and safety of our residents.
"We are doing everything we can to cooperate with emergency services, and we are ready to do whatever we can to support our residents."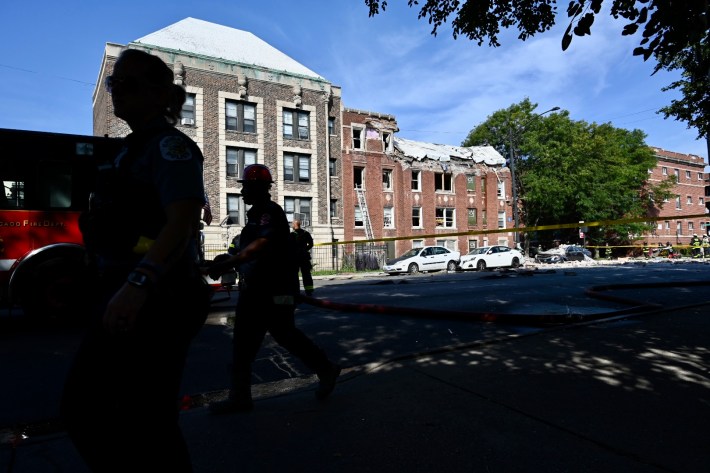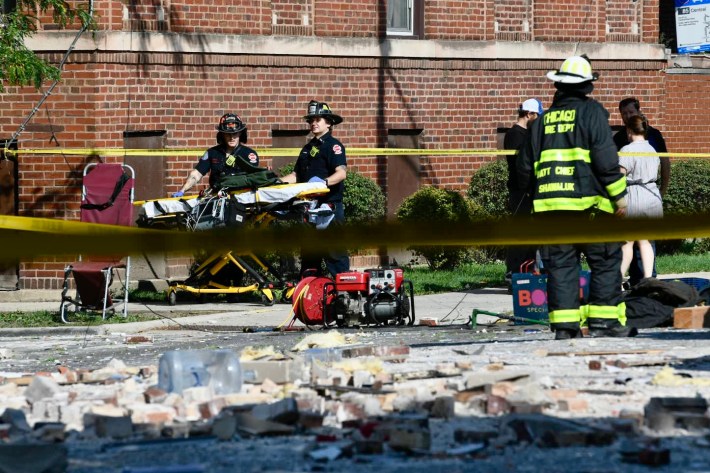 Bryce Collier and Shannon Nelson, who live across the street, ran outside when their home started shaking. There's a strong smell of gas down the street, they said.
"The whole bathroom started shaking, then bedroom was shaking, and the front room window had busted open," Collier said. "It was just like an earthquake in a movie."
At least one man was evacuated on a stretcher with severe wounds from being cut by glass, Nelson said.
Kier Conner, of Austin, was driving her nephew on Central Avenue when the explosion happened, she said.
"You couldn't see anything," Conner said. "Some bricks hit me. … It was impossible to see."
Conner's ears were ringing, she said, and she rushed out of her car to get her 3-year-old nephew to safety.
Joseph Perkins was cooking breakfast next door when the explosion occurred, he said.
"I had finished my sausage and got to my eggs — and when I flipped it over, boom," Perkins said. "Glass just hit me all in the back everywhere. … I looked out the window — I [saw] people pointing and hollering."
This is a developing story. Check back for further updates.
Sign Up For Block Club's Breaking News Alerts:
Subscribe to Block Club Chicago, an independent, 501(c)(3), journalist-run newsroom. Every dime we make funds reporting from Chicago's neighborhoods.