BUCKTOWN — A Bucktown playground is being overhauled after neighbors worked with businesses, the Park District and an alderperson to raise hundreds of thousands of dollars to pay for much-needed improvements.
Tucked away in a residential section of Bucktown, Ehrler Park at 2230 W. Cortland St. hasn't been renovated in 20 years, according to the Park District's website.
The playground equipment and other facilities have deteriorated, leading to safety issues, said Dan Sandler, park advisory council member.
"It was becoming unsafe," Sandler said. "The tiles on the ground were coming up [and] kids were tripping on them. The sandbox … it wasn't a clean and friendly environment for kids, or a safe environment for kids."
Sandler and other neighbors launched a fundraising campaign in 2019 to pay for park improvements.
Through a GoFundMe, the park council has raised more than $50,000 from neighbors and local businesses, including Zen Yoga Garage, Mr. Dave Music and American Bocce Company.
Ald. Scott Waguespack (32nd) kicked in $150,000 from his ward menu money, according to his office. The Park District is also contributing funding, spokesperson Michele Lemons said.
Those funds will pay for playground equipment and a new rubber surface, as well as a fort geared for kids younger than 2, Sandler said.
Construction began on the project last week and is expected to be completed by late fall, Lemons said. The renovation will include a new drinking fountain, water line replacement and sidewalk restoration.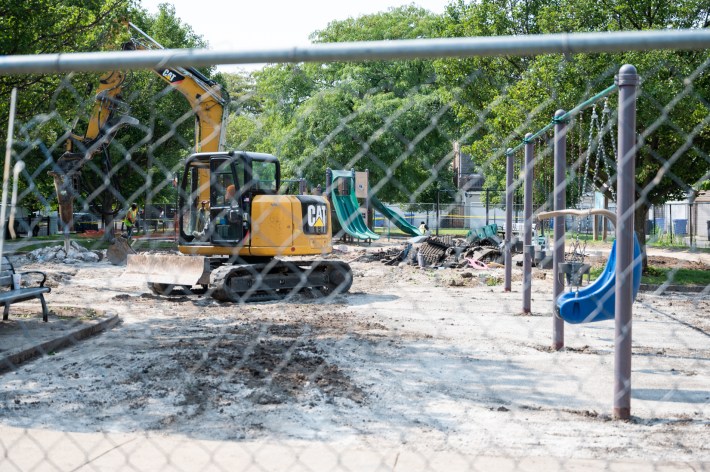 Sandler said the project is a big deal for families in Bucktown, where there are only a handful of options for kids to play outside.
"You want a place that your kids can go play and be themselves and have fun and be safe. It wasn't safe before, and that was the main complaint that we had. I wanted to do it for my kids and all their friends and a place that everyone can gather," he said.
Neighbors hope the new playground will be just the first phase of the park's renovation.
The Ehrler Park advisory council is still raising money through its GoFundMe to fund a synthetic turf field and add landscaping.
Listen to "It's All Good: A Block Club Chicago Podcast":