WEST LOOP — The former home of La Luce Italian restaurant, which gained landmark status last year, has severely deteriorated in recent months, preservationists said.
Residents and preservationists fought hard to save the building and get it landmark status, which was granted in June 2021.
But the former Schlitz Brewery tied house at 1393-1399 W. Lake St. is missing some of its copper-clad siding and has been defaced with spray paint. Up until recently, it was unsecured and people could roam freely inside the gutted building, which had holes in the floor.
Veritas LLC, co-owned by Anthony Giannini and Steven DeGraff, bought the building with the intention of razing it, their zoning attorney previously told the landmark commission. The building has sat vacant since it received landmark status.
Ward Miller, executive director of Preservation Chicago, said he's called the city, Ald. Walter Burnett Jr (27th) and an attorney representing Veritas LLC in an effort to get the damaged fixed.
Because of those calls, inspectors from the city's buildings department visited the property to see if repairs were being made in line with the city's building code, according to a statement from the department Friday.
"After [Department of Building] inspectors visited the building, they referred the case to the Department of Law. The Department of Law is reviewing the complaint. A case has not yet been filed," according to the city.
Ward said it's the second time he's had to reach out regarding the building's condition. In March, he alerted the city the door had been left open and unsecured.
"Six months later and it's only gotten worse," Miller said.
Giannini said he was "disheartened" to hear about the conditions of the building. Tagging had been removed in the past, and the building has recently been boarded up, he said. He declined to comment further.
Burnett, who supported the building attaining landmark status, said he had been in touch with one of the building's investors, Alex Pissios of Cinespace, who told him he was surprised to hear of its deterioration and was confident "everything" would be done to fix it.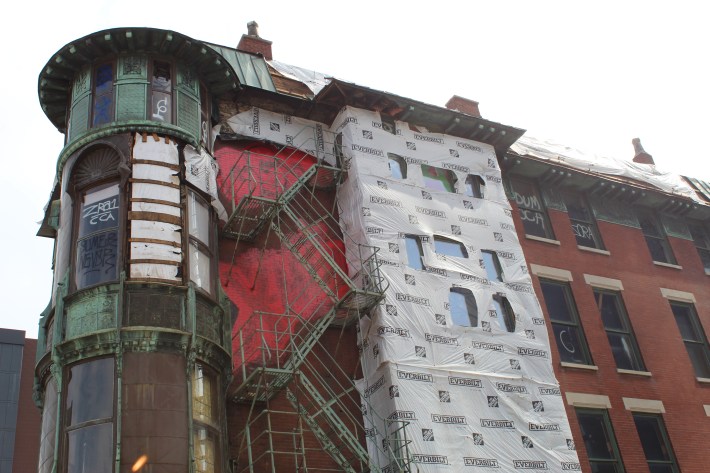 The building is slated to be incorporated into a development and eventually restored, Pissios told Burnett, the alderman said.
"It's my personal opinion is if this owner or developer can't clean up this terrible mess and restore a landmark building, perhaps they should be considered banned from doing business in Chicago in the future," Ward said.
According to the property's landmark designation report, the protected features of the building include all exterior elevations, including the rooflines.
Landmark buildings must be up to the city's building code, but there is no upkeep requirement listed in city's landmarks ordinance.
Watch our "On The Block" TV show on The U, CW26 and MeTV.
Listen to "It's All Good: A Block Club Chicago Podcast":