ENGLEWOOD — Chicago's famed urban historian and an award-winning social justice artist are joining forces to take neighbors on tours exploring the history of Greater Englewood. 
Shermann "Dilla" Thomas, best known as 6figga_dilla on TikTok, and Folded Map Project founder Tonika Johnson will host the Greater Englewood History Tour this month. 
Neighbors can choose between two slots, 10 a.m.-noon and 1-3 p.m. Sept. 25. Tours will begin and end at Englewood's Whole Foods Market, 832 W. 63rd St. Tickets are $45. You can buy them online.
For nearly two hours, guests will learn the "tale of two cities" that is unique to Englewood, Thomas said.
The tour will explore how 63rd and Halsted Street was once the second-largest shopping district in Chicago and the stores that defined the busy district, Thomas said. 
The tour will also make stops at landmarks of historical importance in the community, including Kennedy King College, the Yale Building and the former site of Chicago State University because "not a lot of people know that the school started in Englewood," Thomas said. 
A pivotal piece of the tour will have participants explore the homes featured in Johnson's installation, "Inequity for Sale," a project created in partnership with the National Public Housing Museum to highlight homes sold through land sale contracts in the '50s and '60s. The interactive and visual exhibit examines how Black Chicagoans were denied homeownership for decades through the contracts.
Most recently, Johnson installed yellow and black "landmarkers" in front of several homes, honoring the families who migrated there and blasting the discriminatory practice of land sale contracts.  
"I think history connects us," Thomas said. "When you look at a space, and it's not doing as well as it should be, we think it's because of the people living there at that moment. Understanding the history of a space helps you understand how it got to where it is today."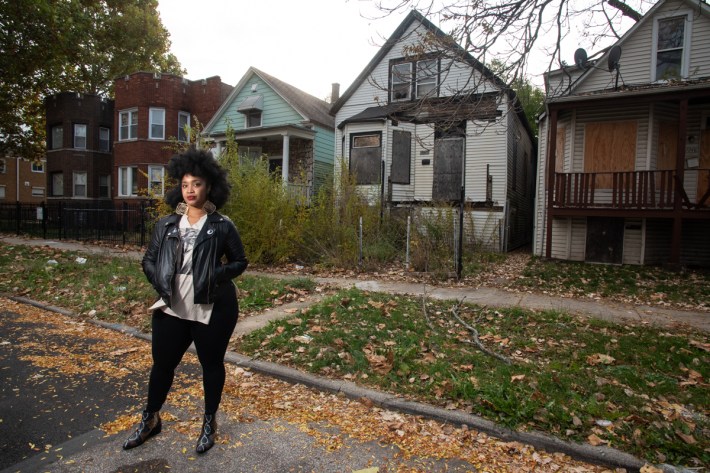 The tour will also touch on history in the making, Thomas said. 
Attendees will see how nonprofits are transforming the neighborhood through community activation, redesign and more, Thomas said. 
"Englewood has done a good job on its own thriving right now," Thomas said. "There's a lot of progress going on, and we'll highlight that. It's going to be us letting Englewood tell its own story."
Thomas spent years in Englewood as a lifeguard at Sherman and Ogden parks, so he'll have stories to add about his time in the community, he said. But Johnson, who comes from Englewood and lives there, will add an extra touch of magic to the tour, Thomas said. 
The hope is to "empower people," Thomas said. 
If a few developers take the tour, see the "amazing opportunities" in the community and bring their vision and investments, even better, Thomas said. 
"We're hoping to change the perspectives about Englewood," Thomas said. "We're hoping to empower people so that they have more respect for Englewood. When you respect something, you treat it well." 
Watch our "On The Block" TV show on The U, CW26 and MeTV.
Listen to "It's All Good: A Block Club Chicago Podcast":