CHICAGO — A City Council committee gave the thumbs up Thursday to a controversial plan to let companies boot cars in private parking lots citywide — and charge as much as $170 to remove the dreaded device.
Private lot booting — different from boots attached to cars on public property by city employees — is already legal in 35 wards as part of a patchwork system that some alderpeople are fighting to keep local control over.
But an ordinance advanced Thursday by the council's Committee on License and Consumer Protection would let businesses across the entire city hire companies to boot parking violators in their lots, regardless of the ward.
The ordinance passed by an 12-6 vote. It will now go before all 50 alderpeople for a final vote at Wednesday's council meeting.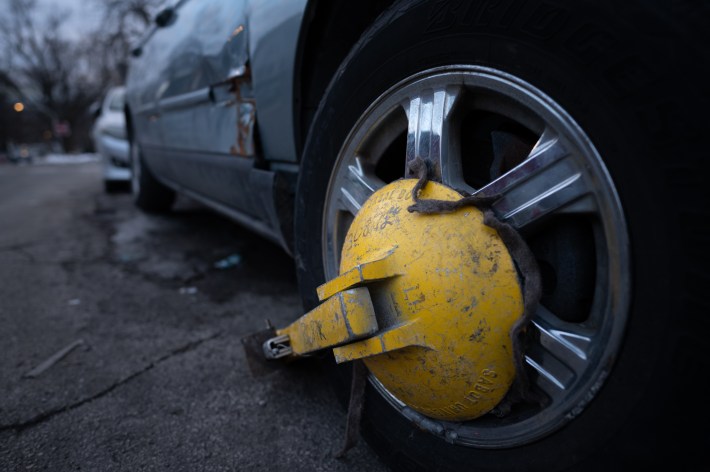 Ald. Ariel Reboyras (30th) introduced the ordinance earlier this year, telling Block Club in April he did so at the behest of former 49th Ward Ald. Joe Moore. Moore now works as a lobbyist for Innovative Parking Solutions, the city's primary private booting company.
Innovative Parking Solutions owner Michael Denigris told Block Club in July his company currently operates in more than 100 lots across the city. Private booting companies are allowed to charge parking offenders a maximum fee of $170 to remove a boot.
The ordinance backed by Reboyras argues every business citywide should have the right to hire a booting company to ensure only paying customers park in their lots.
"This ordinance simply makes sure that any vehicle that's parked on the premises is there to shop at their stores. Not go across the street, not wander off, not to have it as off-street parking unless you're shopping there," Reboyras said at Thursday's hearing.
During a lengthy presentation Thursday, Moore said booting should be an option for businesses citywide because it's a more "humane" approach to parking enforcement than towing. With booting, Moore said, violators pay the fine immediately onsite and then can drive away, instead of having to find their vehicle in an impound lot to retrieve it.
"Instead of towing a vehicle to a distant pound and charging the vehicle owner hundreds of dollars in towing and storage fees, an employee of [a booting company] … removes the boot after informing the owner of the vehicle why they were booted, and the offender pays $170 fine at the location and is free to get in the car and drive away," Moore said.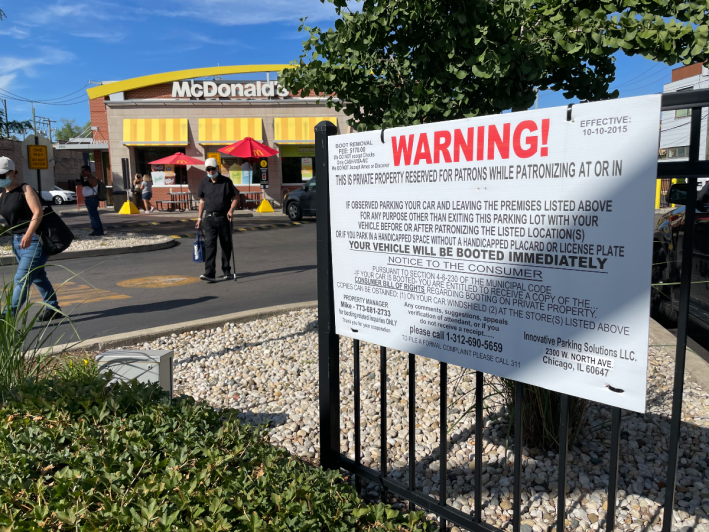 Far Northwest Side Ald. Anthony Napolitano (41st) voted no, saying each alderperson knows what the best practice for their ward is or isn't.
He also said he believes the expansion of private booting would inevitably lead to fights and altercations between parking violators and booting company employees.
"When you come out and find out that your car is booted, whether you're in the right or in the wrong, that situation becomes extremely volatile, especially when an independent company is the one doing it to your vehicle," Napolitano said.
Napolitano said he's witnessed "numerous" fights stemming from bootings in neighboring wards on the Northwest Side, and fears it could become a drain on police resources.
"I just think what we're doing here is, if we're giving someone the opportunity to boot a lot, citywide, we're creating more of a volatile atmosphere than we've already had already."
Alds. Greg Mitchell (7th), Stephanie Coleman (16th) David Moore (17th), Brendan Reilly (42nd) and Matt Martin (47th) also voted against.
Voting in favor of the ordinance was: Alds. Brian Hopkins (2nd), Roderick Sawyer (6th), George Cardenas (12th), Monique Scott (24th), Jason Ervin (28th), Chris Taliaferro (29th), Emma Mitts (37th) Nicholas Sposato (38th), Tom Tunney (44th), James Gardiner (45th), James Cappleman (46th) and Debra Silverstein (50th).
Ald. Maria Hadden (49th), who is not part of the committee, spoke out against the ordinance at the meeting.
Hadden and Ald. Rossana Rodriguez-Sanchez (33rd) had previously introduced an ordinance to ban private booting in each of their wards. Hadden tabled that measure after the citywide expansion ordinance advanced.
Hadden, who beat Moore in the 2019 aldermanic election, called private booting "unfair" and "predatory" and urged her colleagues to vote against the measure. She dismissed concerns businesses need another measure to protect against people parking illegally in their lots.
"People have a right to tow in their private property. … But this is too hard for working people, for folks who are just trying to live their life," she said. "No one's trying to restrict people's private property rights. This is just about a private company that wants to have a free-for-all on the city and expand their market."
Watch our "On The Block" TV show on The U, CW26 and MeTV.
Listen to "It's All Good: A Block Club Chicago Podcast":