SOUTH CHICAGO — Mery Mercado's great-grandchildren heard gunshots near their home as they left for their second day of school Aug. 23.
Mercado, who's lived at the Germano Millgate Apartments in South Chicago for 20 years, ran downstairs and told her kids and others to come back inside and hide in the hallway, she said.
"All the other parents [at the complex] agree that it's better to keep [kids] cooped up in front of the house playing a video game, rather than to have them outside and get killed," Mercado said.
Tenants said they fear for their safety after the recent gunfire on and near the Germano Millgate campus on Burley Avenue from 87th to 89th streets. In addition to the scare that forced kids to take shelter, someone fired shots nearby the morning of Aug. 29, about midnight Sept. 1 and the night of Sept. 6, said a tenant who asked to remain anonymous.
Residents found casings and bullets of different calibers scattered across the Germano Millgate grounds after dozens of shots erupted Sept. 1. It is not clear if anyone was wounded in any of the incidents.
Residents want the property owner, East Lake Management, to add more security guards and cameras at the buildings.
"Security, they just lie around — they don't patrol, they don't make sure everybody's alright," said another tenant, who has lived there 11 years. "I don't blame them, though, because it's always been shootings going on around here."
East Lake officials said they're open to the cameras but will not bring in more guards, saying they "can only do so much" to prevent violent crime that impacts the rest of the neighborhood and the city.
Residents, who joined tenants of T.K. Lawless Gardens in Bronzeville last summer to speak out against living conditions at East Lake properties, said the company must be more responsive to their demands.
"We keep fighting and fighting, and things don't change," Mercado said. "I'm tired of living here. I was ready to go live under a bridge with my kids rather than live here."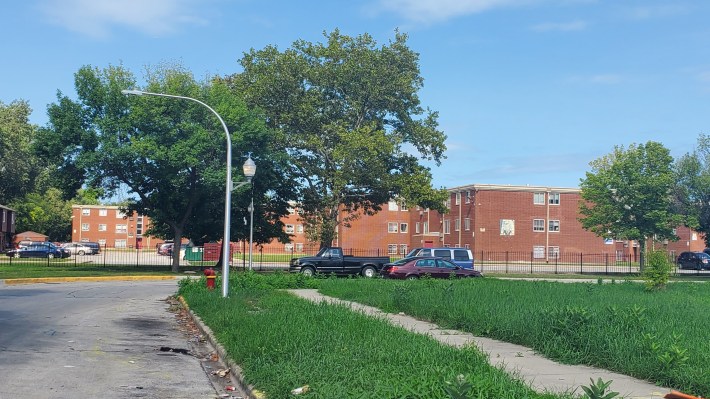 Germano Millgate residents met with representatives from East Lake, police and the U.S. Department of Housing and Urban Development to voice their concerns Sept. 7.
Ald. Susan Sadlowski Garza (10th), whom tenants said was invited to the meeting, did not respond to Block Club's requests for comment.
The tenants demanded East Lake hire two permanent teams of two security officers to patrol the complex, plus another officer to monitor surveillance cameras and stay in touch with police.
The two security officers who now patrol the campus often "are grouped together in one place or socializing with other people," particularly during the evenings, one resident said.
East Lake won't add more officers, as "we believe that the development is adequately staffed," President Eileen Rhodes told Block Club.
Violent crime is "happening all through Chicago," Rhodes said. "Security guards can only do so much to prevent somebody driving down the street and shooting. I'm not diminishing that it feels unsafe, but we believe we have the things in place that are responsive appropriately."
But the security contractor pledged to send more officers to Germano Millgate "in the event of any incident," and extra guards patrolled the complex for several days in response to the rash of gunfire, Rhodes told tenants.
The temporary security boost came after the Sept. 1 incident — where residents heard dozens of shots — and gave residents some peace of mind, Mercado said. She wants that added security to continue, she said.
"It was so quiet that … we let our kids go outside for a little while for some fun time," Mercado said. "But [the extra security came] after a day with a hundred shots. I told security, 'Are you gonna do this every day?' He said 'No.' Then we're still not safe."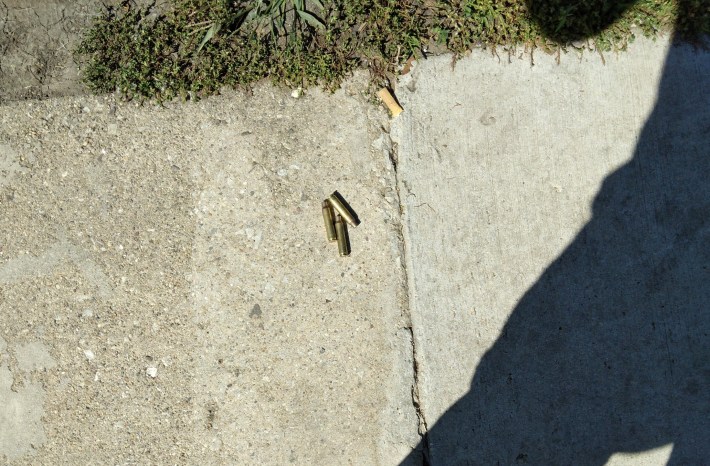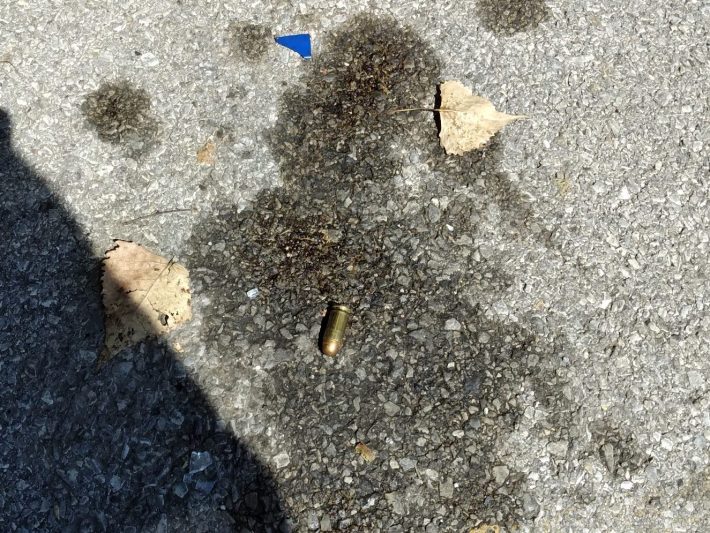 Tenants also called for more cameras to be placed around Germano Millgate to monitor and deter violence in the immediate area.
It's a "great idea" to install more cameras around the complex's perimeter, said Edward Stanford, a community engagement staffer with the Police Department. He attended Wednesday's meeting in lieu of 4th District Cmdr. Keith Milmine.
East Lake pledged to take police on a tour of the complex to discuss adding "a couple more cameras" to supplement existing surveillance, Rhodes said.
"We'll explore that as a possibility to the extent that [police] think it's helpful," Rhodes said. "We're waiting for them to contact us to set it up."
Residents can act on their security concerns by calling the police during an incident and attending community beat meetings, Stanford said.
Police received 18 calls about shots fired and loitering or "illegal parties" July 19-Aug. 16 at Germano Millgate, leading to two arrests, according to beat-level data.
"When [the amount of calls] start getting up there, that gets a faster police response," Stanford said.
But Stanford's advice contradicts the instructions of Germano Millgate security and office staff, who have told residents to call security before calling the police, the anonymous resident said.
"Why would we go to security if we feel like our well-being is threatened? What is the issue where you don't want us to call police directly?" they said. "You're literally allowing us more time to be in danger."
East Lake advises residents to "call the police if they're in danger," Rhodes said, though she acknowledged she doesn't know "what security has said" to tenants on the matter.
"People should do whatever will make them feel safer in the moment," Rhodes said.
Listen to "It's All Good: A Block Club Chicago Podcast":